Amidst the consumerism that tends to envelop us during the holidays, December has also become a time when we're asked to consider the importance of donating our time, talent and treasure to the betterment of the world. #GivingTuesday, a recently instituted global day dedicated to giving back, was created as a counterpoint to Black Friday and Cyber Monday. Women's Entrepreneur Day is another new seasonal event that celebrates and advances the work of female entrepreneurs, with the ultimate goal of empowering women and lifting them out of poverty.
And then there's the International Volunteer Day for Economic and Social Development on December 5th, an event established by the United Nations General Assembly in 1985. International Volunteer Day (IVD) gives volunteers a chance to work together on projects and campaigns promoting their contributions to economic and social development at local, national and international levels. By merging UN support with a grassroots mandate, IVD is a unique opportunity for government agencies, nonprofits, community groups and the private sector to unite around a common effort for good.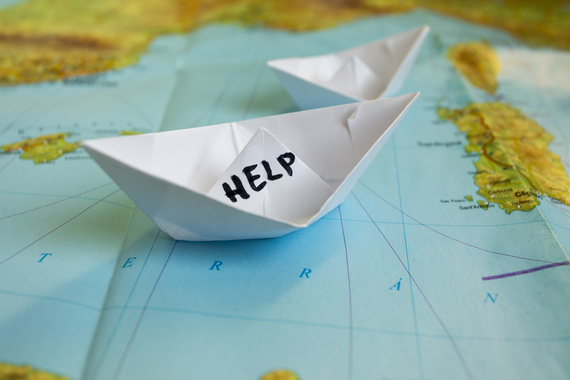 This year, IVD is not only about celebrating volunteerism, but also about paying special tribute to volunteers working to implement the new global goals that the United Nations began promoting in September. The UN hopes to show how individuals can use volunteerism to impact the sustainable development agenda, by mobilizing and engaging governments and communities.
"As we seek to build capacities and to help the new agenda to take root, volunteerism can be another powerful and cross-cutting means of implementation," said United Nations Secretary-General Ban Ki-moon. "Volunteerism can help to expand and mobilize constituencies and to engage people in national planning and implementation for sustainable development goals. And volunteer groups can help to localize the new agenda by providing new areas of interaction between Governments and people for concrete and scalable actions."
In my work helping companies engage employees in their corporate philanthropy, I see so many creative ways that nonprofits are working with the private sector to accelerate positive change. For example, I'm inspired by the work of International Medical Corps, a humanitarian, disaster relief organization which provides lifesaving health care and health related emergency services -- often within hours -- to people in urgent need anywhere, anytime, no matter what the conditions. Think of International Medical Corps as First Responders, offering direct assistance, but more importantly empowering and training locals to be their own best first responders. From Sudan to Lebanon, Nepal to Liberia, Yemen to the Philippines, the stories of how International Medical Corps steps in to help the most vulnerable and wounded amongst us are powerful and inspiring.
International Medical Corps offers volunteer opportunities for employees and individuals to get involved in their international humanitarian work. Causecast is currently working with International Medical Corps and other San Francisco companies to support an Employee Kitting Day, where companies procure items for emergency medical kits and engage employees in helping to assemble and box the kits for International Medical Corps, which then ship containers of kits to countries in need. Businesses such as TOMS have stepped up to procure items for hygiene kits and engage employees in packing kits, all of which reduces the costs to International Medical Corps and allows them to extend their reach to people in need.
International Volunteer Day is also reflected in the ways that Habitat for Humanity engages volunteers to build homes, communities and hope for struggling families. Habitat homes are not free but instead leverage volunteer labor and sponsor support in order to be able to offer qualifying low-income families a zero percent interest 30-year mortgage loan based on the appraised value of the house. Habitat utilizes an average of 20-25 volunteers per house per day, operating builds in 8-day cycles, and relying on volunteers on the weekends, with paid subcontractors scheduled during the week to complete code-related tasks.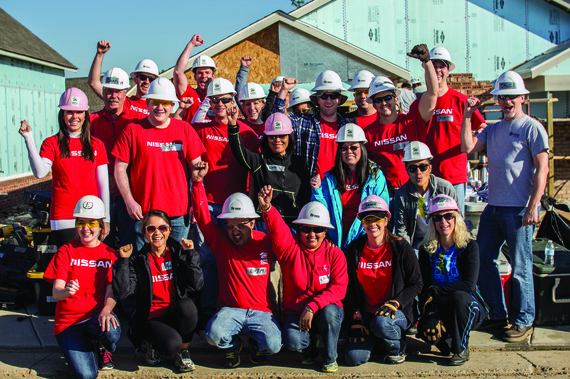 What's commendable is the way that Habitat engages so many community stakeholders to bring the dream of a new home to life. At Habitat for Humanity of Greater Nashville, one of the top most productive Habitats in the country, partner families in the homeownership program invest an average of 200 hours, which include homeownership classes and working on the build site and at their retail center, ReStore, to earn the opportunity to purchase a Habitat home. Volunteers -- including corporate volunteers, like those at local sponsor Nissan North America -- work at the build site and at ReStore but also donate their skills for the homeownership training program, an ongoing effort which can take six to 12 months.
The combined effort has been an unqualified success for Habitat of Greater Nashville, revitalizing "zombie" neighborhoods, building energy-efficient houses, offering team-building and leadership skills to employee volunteers, and giving families the opportunity to buy their own homes, all with delinquency rates consistently less than three percent, below the national average for conventional mortgage financing for similar buyers.
Some other volunteer initiatives inspiring me at the moment: Henderson Engineers is hosting holiday volunteering competitions in both of its offices; Quicken Loans has regional donation campaigns benefitting their nonprofit partner, with over 300 volunteer projects scheduled in the next six weeks; Marketo just completed its first-ever global volunteer month, along with U.S. fundraising to purchase over 300 turkeys for a local food bank; and New Relic completed Nerdvember -- a holiday toy, food, and warm clothing drive across their offices worldwide.
However your company chooses to give back, International Volunteer Day is an occasion to celebrate and promote the gift of volunteering, and to highlight the power of individuals to change the world, one small step at a time. The U.N. invites the public to post and read about volunteer actions all over the world and to download useful tools and information here.
Let's all come together to engage the world in the power of volunteering. Join volunteers and change-makers around the world by posting your selfie on the IVD site or on social media tagged with #IVD2015selfie before and on December 5th, filling the IVD global map to show how volunteering makes all the difference in achieving the Global Goals by 2030.
Calling all HuffPost superfans!
Sign up for membership to become a founding member and help shape HuffPost's next chapter