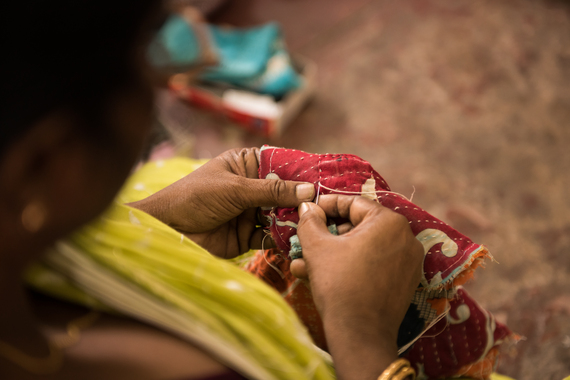 International Women's Day is a celebration of the great successes of women throughout world history. It's also a time to reflect on the challenges that so many continue to face in the developing world today and the power of extraordinary resilience. It's the work of organizations such as Sari Bari in India, Mamafrica in Democratic Republic of Congo (DRC) and The Root Collective in Guatemala that prove that with education, skills training, and economic opportunity, some of the world's most vulnerable women have a chance to improve their and their families' lives..
Today, according to the World Bank's consumption-based threshold, an estimated one billion people around the world live on less than $1.25 a day. Research shows, however, that women and girls tend to be disproportionately affected by extreme poverty. According to the United States Agency for International Development (USAID), women and girls are more susceptible "to extreme poverty because they face greater burdens of unpaid work, have fewer assets and productive resources than men, are exposed to gender-based violence (GBV), and are more likely to be forced into early marriage..." This reality is not limited to those in extreme poverty; globally, women are disproportionately affected by war, disease, and slavery. Yet, many argue that investing in women is the safest bet to ending extreme poverty.
Wide-ranging research indicates women are wise spenders; they invest in their children's futures by improving nutrition, health and educational opportunities. Women who control their household income are more likely to keep their daughters (and sons) in school and for every year a girl is in school it boosts her earning potential by 10-20 percent.
In India, the Global Slavery Index estimates there are some 14 million people in modern slavery, this estimate includes "inter-generational bonded labour, trafficking for sexual exploitation, and forced marriage." India is home to a third of the world's child brides, and about half of Indian women were married before they turned 18. Child brides are more common in rural areas where young girls are 48 percent more likely to be married before they turn 18.
One organization, local TO THE MARKET partner, Sari Bari, is working to make a dent in these statistics with commercial sex-workers in Kolkata, India. Kolkata is home to 22 red light districts and 60,000 women commercial sex workers. Sari Bari was created to give women in Kolkata choices, for both those women already in the sex trade and those vulnerable to it. Sari Bari provides women with a safe and healthy workplace, educational opportunities, and new skills training. The women of Sari Bari produce beautiful Kantha products. Many of the women at Sari Bari have been trafficked and the dignity of safe and meaningful work at Sari Bari helps restore these women and helps to give them a the life they deserve.
In the Democratic Republic of Congo, a country that has been plagued by violent conflict for more than 20 years, women face immense challenges. Rape and sexual violence against women continue to be used as weapons of war Eastern Congo. According to The Guardian newspaper, in South Kivu in Eastern Congo local health clinics report some 40 women are raped everyday. The violence has eroded entire communities and left women and their children stigmatized and abandoned by their families. Mamafrica, a local TO THE MARKET partner based in Bakavu, DRC, is trying to rebuild a community for women who have been displaced or abandoned as a result of the conflict. By teaching women handicraft skills and providing them with a safe work environment, along with a wide-ranging pyscho-social and physical health care program, Mamafrica women are cultivating a community of survivors.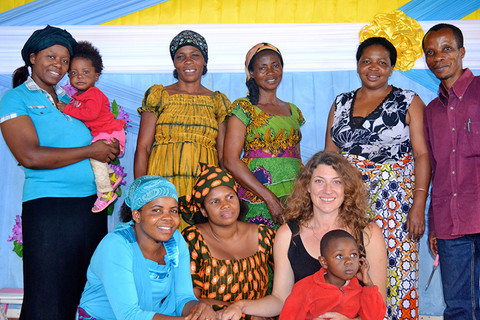 In Guatemala, a 36-year long civil war and now gang violence has ravaged the country. Women and families, in particular, have paid the heaviest price. During the civil war, many families had loved ones go "missing," and some 200,000 men and women ''disappeared'' or were kidnapped during the conflict. The World Bank estimates 58 percent of Guatemalans live in extreme poverty and 90 percent of the country's indigenous population lives on an income that is lower than $1.25 a day. The Root Collective, a local TO THE MARKET partner, is looking to change these figures by empowering local weaving cooperatives of indigenous women in the Guatemalan highlands and connecting these women with cobblers in some of the most economically distressed urban areas of the country. The results are a value-added economic proposition, beautiful shoes, and sustainable employment for youth and women in Guatemala.
International Women's Day is an important reminder about the challenges that many women face all-around the globe, as well as a celebration of the resilience and strength of women everywhere. Empowering women through economic opportunity leads to women having choices and control over their decision-making. She who controls the purse makes the choices--which means children often go to school longer, get better healthcare, and eat more--creating a healthier, better educated, and more prosperous society. Christine Lagard, head of the International Monetary Fund put it simply, "women's empowerment is not just a fundamentally moral cause, it is also an absolute economic no-brainer."
This post is part of a blog series produced by The Huffington Post in conjunction with International Women's Day, celebrated on March 8, 2016. A What's Working series, the posts address solutions tied to the United Nations' theme for International Women's Day this year: "Planet 50-50 by 2030: Step It Up for Gender Equality." To view all of the posts in the series, click here.
REAL LIFE. REAL NEWS. REAL VOICES.
Help us tell more of the stories that matter from voices that too often remain unheard.