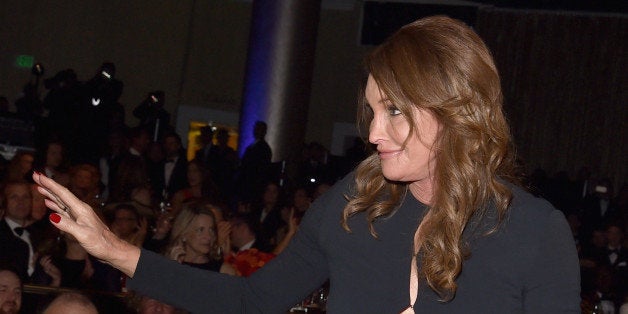 Yesterday was International Women's Day, and here in the U.S. this month is Women's History Month, so it's an opportune time to declare that Caitlyn Jenner is just another woman, and, even more importantly, just another human being.
Over the past week the news broke in an interview that Jenner hopes to be Ted Cruz's "trans ambassador," and on the season premiere of "I am Cait" she made more declarations to the fact that she's a proud conservative and that Republicans don't hate trans people. My friends, Professor Jenny Boylan, who's clearly been enjoying her time in the media spotlight but has become increasingly exasperated with Jenner's politics, and Dawn Ennis, who interviewed Jenner for the Advocate, have led the chorus of condemnations. Brynn Tannehill joined in as well, offering up explanations for Jenner's support of Cruz. Even the generally transphobic New York Post chimed in to gently berate her.
Jenner, in her interview said,
I hope that for the first time, someone will know a trans person that is happy, that is successful -- I think that's important -- and that they would just like to hang out with me or my girls. I think that makes it better for everybody. I think it normalizes this experience as much as it possibly can.
The trans experience ultimately comes down to this -- we are people who struggle mightily because of incongruence between our brain sex and our genital sex. That's all. The portion of our brain that tells us who we are as sexual beings -- our gender identity -- is not only not linked to sexual orientation (Jenner may prefer men while other trans women prefer women, or both men and women), it is not linked to political persuasion, character or personality.
There are some really wonderful human beings who happen to be trans, and there are some with whom you'd never have a beer or a glass of wine. There are many who are very skilled yet get fired because of anti-trans discrimination, but there are also some who get fired for the same reasons others get fired. Trans people come in all sizes and shapes, all races and creeds, all religious beliefs and political orientations.
The life of a trans person -- dealing with the fear and anxiety, the indignities that occur to some on a daily basis, and the violence visited upon others -- should help trans people become more virtuous and compassionate. The courage it takes to either hide the truth or finally grapple with it through a gender transition should make trans people less authoritarian (the typical cover for self-loathing), more considerate and willing to help those less fortunate. Even the New York Post recognizes this:
It's plainly a strong heart -- you don't set an Olympic record in the decathlon with anything less.
And it seems to us that if your heart can dictate your gender, it certainly ought to be able to set your politics, too.
Well, not really. We've known since the 2008 presidential exit polls that anywhere from 25-33% of gay people vote consistently Republican. That's one quarter to one third. Why should trans persons be any different? Brynn thinks it's primarily those over 50 who led successful careers while living as men who come easily to conservatism, but I doubt that to be the whole story. Not everyone who has accumulated assets simply wants to horde them; there are enough wealthy Democrats to put the lie to that belief.
Roughly 45 percent of women have recently voted Republican, yet there is little in any Republican platform of the past half century that appeals to the economic and social needs of women. Maybe Caitlyn is just another Republican woman. She came out a year ago as a "conservative and a Christian." That's a political statement, and given that she chose to share that part of her identity with Diane Sawyer in her debut led some of us to believe that her primary identity concerns are more in line with being conservative and Christian. Her gender transition only fixed a developmental difference; it didn't change her soul.
That's the point of gender transition -- it is not necessarily an ideological, philosophical or spiritual transition as well. Some of my family members were relieved, when they met Dana for the first time, that they recognized the real me; they thought a gender transition may have somehow transformed my character. Even my father feared that all my medical knowledge had somehow been siphoned off. People who are ignorant are going to wonder, and I for one can't blame them since they have no foundation from which they can easily understand. Remarkably, Jenner has stated that she made no effort to understand the trans phenomenon as it related to her life before she transitioned. In that respect she is one of Trump's "poorly educated." Having made no effort herself, and now coming into the community fully born, are we really surprised that so little has changed with her?
Other trans persons, however, who know full well that their own transitions were rarely full transformations of their character and personality, should know better. The Standards of Care don't include therapy to require changing party affiliation, nor are there state legal requirements that one be a good person to change one's name or sex. That's a good thing, too.
Jenner is not the first LGBT person to announce support for Cruz, either. Two gay men in New York held a fundraiser for him last April and were excoriated by the gay community for doing so. I'm not surprised at the reaction, since a President Cruz, who greatly respects his religiously extremist father, is the most likely American to intern LGBT people in re-education camps. He's made no secret of his hatred for the community, but some people, like Jenner, are in denial about that deep-seated hatred.
Still, there's something admirable that she's hopeful that she'd ever get to talk with a President Cruz, let alone lobby or advise him on helping the trans community. In order to pass the Equality Act, and, more importantly, derail the slew of anti-LGBT bills currently wending their way through state legislatures, we need to persuade the persuadable Republicans. Jenner is one of very few who can gain that access and use it to the advantage of all.
Maybe one day we'll be grateful that she remained a conservative.