 When women come together, there is great power. I have become a loyalist to one such gathering -- and this is the Global Summit of Women. It has been ongoing for almost two decades thanks to the initiating and sustaining power of its Founder and Summit Leader Irene Natividad, President of GlobeWomen Public Affairs Firm based in Washington, D.C. And Co-chair of the Corporate Women Directors International, which promotes the increased participation of women on corporate boards globally. This year, the Summit was held in Greece. I thought it fitting, as we were there during the country's most difficult economic and political time, reeling at the brink of financial insolvency and caught in the vortex of negative international media exposure. But it was perfect "to be here, now," I told myself, as I drank in the beauty of classical architecture, staring at the Porch of the Maidens at the southern side of the Erechtheum, a smaller temple in the Parthenon, temple of the goddess Athena. Here, the Caryatids or the temple priestesses stood through time, carrying the roof's portal above their heads with such grace and femininity. Yes, it was fitting to be here... for women held up the roofs of life, held up the spirits of men, and nurtured life.

The Summit brought together closed to 800 from around 70 countries that come to network, build business alliances, learn/teach and inspire/be inspired. But more so, this was an international gathering that sought to give voice to the Feminine Power arising. Women go where they are needed, stated power-woman Irene Natividad. And Vietnam's Vice President Nguyen Thi Doan echoed this sentiment when she underscored the need to show solidarity with Greek women. This year's theme was Women: The Engine of Economic Growth. Our informal Philippine delegation was lead by former Ambassador Delia Albert, now a Senior Adviser for SGV/Ernts and Young. I was fortunate to have been invited as a a panelist to discuss ECHOstore's direction of building partnerships for business growth while my businesspartner Chit Juan, President of the Women's Business Council of the Philippines spoke in the green business panel.
Supporting and working for women's economic empowerment is key to shift the whole cycle of energy and power in our world today. One megatrend cited by Micheal Halbye, McKinsey's leader for Europe, Middle East and Africa, was that emerging economies will be the driver for growth in this century. And women are crucial to this as their influence is felt not only on this generation, but on their children who they birth and nurture into the next generation.
Improving women and girls lives include a whole gamut of issues: healthcare; the need to break from traditional roles that inhibit skills, talents and voices to be heard; education and skills training to get them out of poverty and into livelihood productivity; higher entry into the labor force; enabling laws and policies that include gender sensivity; breaking gender stereotypes in the workplace; and financial access to capitals.
The push for more women in leadership positions -- as board members, government leaders and heads of institutions -- has been a conscious and recurring discussion during these Summits. Networking and alliances built during the Summit work towards this direction all year round. World data on women (given to me by friends from WEConnect International, a corporate led non-profit that helps to empower women business owners to succeed in global markets) shows that 70 percent of the worlds poor are women; that women have a disproportionally positive impact on poverty more than men especially when income streams are concentrated in the hands of women which will positive impact their children's lives. In the Philippines, micro-financing statistics show that when money is loaned to women, there is a 100 percent payback as compared to a lower rate for men. One hundred percent! This is reflective of the value and discipline women place on the little capital they can access. If we have an enabling environment to push for women or women-led businesses (of any scale-MSMEs, SMEs, big business) to thrive and be as productive as men's, there is enormous potential for enhanced economic growth and poverty reduction. The key direction is to move women businesses into higher growth sectors. But because majority of women business are small or concentrated in sectors with low productivity, they need help.

Locally, at the ECHOsi Foundation, in partnership with the Philippine Commission for Women (PCW), and under the Canadian International Development Agency (CIDA)'s Great Women Program, we have started a nation-wide women's economic empowerment program specifically on up-valuing women MSMEs products so they can access better markets. We are only focusing on packaging and new designs for products so we can help them sell these at ECHOstore and other markets who have pledged to help with retail distribution.
Insights from the ground show how much women hunger to more about business and how to be financially independent from their spouses. Majority are caught in the balancing act of family and livelihood, often forgetting their own health and well-bing. We trumpet the success stories of empowerment whenever we can because this inspires other women, and men to...to see the positive changes it can do to the home, the family and community. As an emerging economy, the Philippines is poised for sustained economic growth. It will be to our country's advantage to economically empowering our women.

Athens was my second Global Summit of Women that I have attended and all I can say is that it continually inspires me. Add to this all the international linkages I have created. As I sort my photos of my trip to Greece, I am reminded of the many side conversations I had with the Greek women I connected with. And despite their depressed outlook then, I have no doubt that these businesswomen will be the force to steady their country. They only need take inspiration from the quiet steady, graceful Caryatids that stand at the shadows of the Parthenon.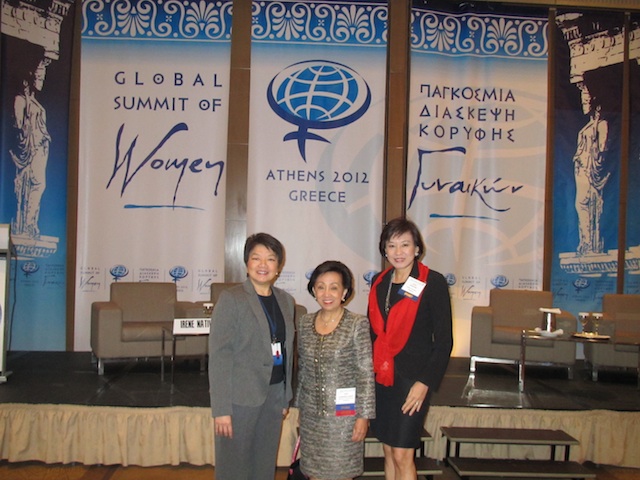 L-R: Chit Juan, President of the Women's Business Council of the Philippines and ECHOstore, former Philippine Secretary of Foreign Affairs Delia Albert, Jeannie Javelosa, President ECHOsi Foundation
Calling all HuffPost superfans!
Sign up for membership to become a founding member and help shape HuffPost's next chapter