Thomas McEvilley, July 13, 1939 - March 2, 2013
Thomas McEvilley, the internationally esteemed art critic, cultural historian, and scholar of Greek and Indian philology, died Saturday morning at the Memorial Sloan-Kettering hospital in New York. His good friend, the poet Charles Bernstein, published the first obituary online, in which McEvilley's passing was confirmed as due to complications from cancer.
McEvilley is best known for his influential essays on contemporary art and criticism written over a span of twenty years for the trade journal, Artforum, during which he also enjoyed a brief tenure in the early 1990s as editor-in-chief of the Italian and American art magazine, Contemporanea. With the new millennium, McEvilley shifted his focus back to his beloved Greek and Indian classics, from which he authored The Shape of Ancient Thought: Comparative Studies in Greek and Indian Philosophies, 2001, and Sappho, 2008. According to Bernstein, at the time of his death, McEvilley was at work on a study of the Greek anthology.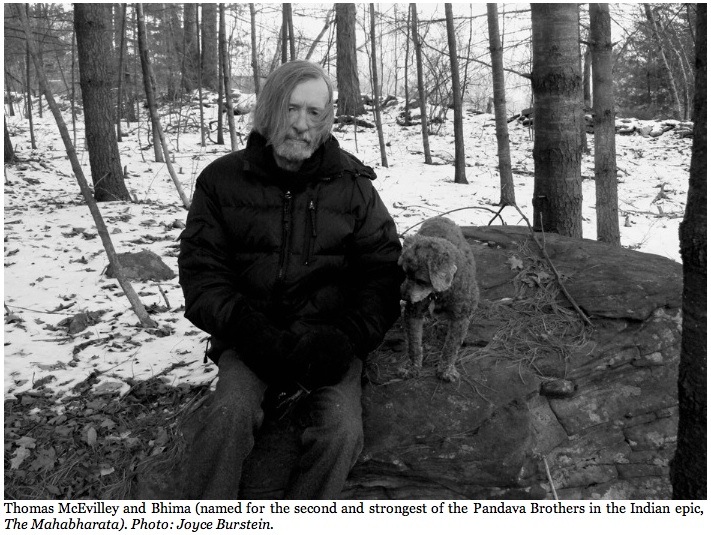 McEvilley also left his mark on thousands of students whom he taught as a distinguished lecturer in art history at Rice University, from 1969 to 2004, along with those he reached as a visiting professor at Yale University and the School of the Art Institute of Chicago. He ended his teaching career in 2008, but not until after he founded the M.F.A. Art Criticism and Writing program at the School of Visual Arts in New York in 2005, and served as the Department Chair for three years.
Bernstein noted that among the many awards honoring McEvilley, are the Semple Prize granted by the University of Cincinnati; a National Endowment for the Arts Critics grant; a Fulbright fellowship; and the 1993 Frank Jewett Mather Award for Distinction in Art Criticism from the College Art Association. In addition to the essays and books on art criticism I comment on below, McEvilley authored Sculpture in the Age of Doubt, 1999; Yves the Provocateur: Yves Klein and Twentieth Century Art, 2010; Art, Love, Friendship: Marina Abramovic and Ulay, 2010; and The Triumph of Anti-Art: Conceptual and Performance Art in the Formation of Post-Modernism , 2012. Among his noteable monographs, catalog essays, and critical reviews are those on the artists James Lee Byars, Carolee Schneemann, Julian Schnabel, Les Levine, Pat Steir, Antoni Tapies, Sigmar Polke, Dennis Oppenheim, Kara Walker, Nancy Spero, Thornton Dial, Leon Golub, Richard Tuttle, Agnes Martin, Joseph Beuys, Paul McCarthy, William Anastasi and many others.
He is survived by his wife, the artist and writer, Joyce Burstein, and two sons from a former marriage, Thomas and Monte. A third son, Alexander, died some years earlier. No funeral plans were disclosed.
Toward A New Global Criticism: The Influential Essays: 1980-1995
The Thomas McEvilley best known to the world was active as a publishing art critic chiefly between 1980-2000. It was at the beginning of the 1980s that he was invited by Artforum editor, Ingrid Sichy, to become a contributing editor for the magazine, after she had read an essay McEvilley wrote for the Menil Collection in Houston.
Despite their philosophical depth, logical analysis, and discriminatory nuance, the essays that McEvilley published in Artforum and elsewhere are also marked by a clarity that makes them enthralling to read for their remarkable correlation of the then-newest art and theory produced in North America and Europe with a comprehensive understanding of the classical, tribal, and contemporary art and ideas of ancient and non-Western civilizations and cultures. His criticism embodies the difference, say, between placing the contributions of an artist such as Ad Reinhardt in a context shared only by contemporaries like Barnett Newman and Kenneth Noland, or even with precursors like Malevich and Mondrian--as did a writer like Clement Greenberg--and placing Reinhardt along with both his contemporaries and the writers and artists of Buddhist texts and Taoist mandala manuals.
By the early 1990s, the most renowned and influential of McEvilley's essays were assimilated into two titles published by McPherson & Company: Art and Discontent: Theory at the Millennium, 1991, and Art and Otherness: Crisis in Cultural Identity, 1992. A third compilation, The Exile's Return: Toward a Redefinition of Painting for the Post-modern Era, was published in 1994 by Cambridge University Press. These are the essays I wish to remark on, as they are the ones that altered the discourse of art at the cusp of the millennium. They are also the essays I selected to write on when, in 1995, the art publication editor, Saul Ostrow, asked me to publish commentary on a significant critic of my choice. Without hesitation I named McEvilley as my subject, and within a week I made my selection of his most consequential essays for the book I named, Capacity: History, the World and the Self in Art and Criticism, and which became one of the first editions in Ostrow's series, Critical Voices in Art, Theory, and Culture.
I chose the title Capacity to convey the extent to which McEvilley has opened up the discourse of art from its former, severe closures imposed by an earlier generation of formalists, particularly the Minimalists whose exceeding austerity in concept and form had taken hold of the Western art market and theoretical discourse with a tyrant's grip.
But then what other writers on contemporary art were equally fluent in the writings and productions of Modernist aesthetics, postmodernist anti-aesthetics, T'ang dynasty Taoist painting manuals, the doctrines and rites of Tantra and Yoga, Pythagorean and Platonic mysticism, and Aristotelian logic and empiricism? Or for that matter, conversant in the philosophies of German and French Romanticism, the inscriptions of Old Kingdom Egypt, Buddhist Abhidarmic and Prajnaparamita literature, 19th-century occultism, Anglo-American Analytic philosophy, language analysis and Logical Positivism, pre-Socratic philosophy and pre-Homeric literature, the doctrines of the Essenes, the Kabbalah, the Asian materialists, Kantian epistemology and aesthetics, the skeptics of all eras, sub-atomic physics, Afrocentric revisionism, postcolonial political theory, and contemporary technology?
McEvilley's command of the history of world cultures accounts for his ability to distinguish the singular contributions of contemporary Western artists and critics from among the often confusing and controversial convergence and collision of styles and ideas that competed for the attention of viewers. His encyclopedic range of cultural histories and their world views facilitated his ability to see beyond the shortsighted contemporary visions that divided up history into falsely successive, separate and insulated schools and modes of production and industry that we've come to, rather bureaucratically, call "premodern", "modern", and "postmodern". It was as if McEvilley possessed some reflex "sensor" of connections and discontinuities ranging across space and time that allowed him to see that the premodern, modern and postmodern not as separate entities or epochs, but together forming a living continuum in the present. This isn't to say that McEvilley didn't distinguish the three modes of production and culture--he understood implicitly that all three--the premodern, the modern, and the postmodern--represented discreet kinds of industry and expression. But McEvilley, like Daniel Bell who no doubt turned his head, also saw the three modes of industry and expression as operating in the world not in mere succession to and displacement of one to the other, but as simultaneous and vitally symbiotic models in the evolution of art and industry.
Taken together, the essays McEvilley produced throughout the 1980s and 1990s stood in stark contrast to the art writing found in the majority of art trade journals and exhibition catalogues then and now--much of which reads more like advertising copy than criticism. Or in the hands of academics, criticism is too often approached as if it were supplying scientific treatises, rather than the subjective modeling of world possibilities criticism really is. On an ideological front, the criticism of the Left had in the 1980s stalled in a dated, Frankfurt-schooled Marxism that failed to comprehend the damage done to Marxist ideology by the decades of corrupt and brutal state authoritarianism and repressions issued in its name.
It was against this backdrop of homogenizing commercialization and institutionalization of criticism that the writings of Thomas McEvilley offered a rare and measured balance of the contemporary and the historical, the Western and the global, the pragmatic and the idealistic, the logical and the poetic. In this sense, McEvilley was reminiscent of an earlier poet-critic, Harold Rosenberg, especially in that his famous debate with the Museum of Modern Art's William Rubin and Kirk Varnedoe mirrored the legendary ideological battles Rosenberg waged with Clement Greenberg, the father of eurocentric reductionism, at least on the American shore.
I'm referring to what is perhaps his best known essay, "Doctor, Lawyer, Indian Chief: 'Primitivism' in Modern Art at the Museum of Modern Art." Published in the November, 1984 Artforum, as the title acknowledges, McEvilley responded in print to what the MoMA curators regarded to be a seminal survey of the art in its collection, supplemented by loans of the leading Modernist painting and sculpture, along with a parallel selection of tribal art from America, Africa, Asia, Australia, and Oceana. The essay was followed by Artforum's publication of the letters of response from the museum's curators, William Rubin, who was also MoMA's director of painting and sculpture, and his protégé and subsequent successor, Kirk Varnedoe, in the February and May, 1985, issues. The challenge that McEvilley publicly posed to the museum, and in particular to Rubin, concerned what McEvilly found to be the largely eurocentric and colonialist, if not discreetly white supremacist, privileging of European art over the indigenously tribal arts represented in the exhibition--though represented not for their own merits, but as sources of the visual forms and motifs that informed key European Modernist painters and sculptors in what became known as the founding of Modern Art.
From McEvilley's point of view, Primitivism was a banner exhibition for all the central principles of Modernist eurocentrism. He saw the show as embodying the Kantian doctrine of universal quality; the Hegelian view that history is a narrative of Europeans leading the world toward spiritual realization; and the cartographic model of the West's centrality and the non-West at its margins. McEvilley used the exhibition as an opportunity to go on record as being among the first art critics to denounce the mainstream practice of exhibiting and discussing non-Western production without naming the artists or dating their arts. He also took the entire Western institutionalization of art to task for reducing tribal and other pre-modern sources as so many footnotes to Modernist production, "illustrating something other than itself".
This confrontation with the high church of modernism and one of the most powerful men in the artworld not only made McEvilley's new globalist vision something of a cause célèbre in the artworld of the mid-1980s, it also made his landmark article the model for all future critiques on eurocentric practices in art history, curatorship, and art criticism. The exchange proved to be a pivotal point in the formation of a new and globally-relevant criticism. As McEvilley took the lead in reconfiguring this criticism from a post-colonialist standpoint, the exhibition Primitivism itself became infamous for signaling the demise of Modernist eurocentrism, however unwillingly. The exhibition also ultimately led to the 1989 mega exhibition, Magiciens de la Terre, at the Centre Pompidou and Le Halle de la Villette in Paris, in which McEvilley's writings instigated the French curator, Jean-Hubert Martin, to travel the globe in search of artists from all continents and representing the range of artistic productions from contemporary conceptualism to tribal shamanism. (See more on McEvilley's relationship to the Primitivism show in my February 2013 response to the current MoMA exhibition, Inventing Abstraction: 1910-1925, and its reprisal of many of the same eurocentricisms that plagued Primitivism nearly thirty years earlier.)
The debate between McEvilley and the MoMA curators is only one example of how his criticism altered the relationship of the critic to the museum, and specifically to that most iconic of Modernist institutions. But McEvilley also targeted the commercialism, academic entrenchments, and ideologically-stalled thinking that made other criticisms offered at the outset of the 1980s appear logically flawed and narrow in their proscriptions. By contrast, McEvilley's writing held out encouragement for a wide array of artistic developments in its capacious surveying of inquiries and productions, and as such indicated art should expand beyond the commercial and positivist fixations of a Western modernist sensibility that was in danger of settling for art that was increasingly shortsighted and devoid of pleasures--at least for the emerging generations of artists around the world.
To my mind, McEvilley issued the best kind of art criticism for its day in both acknowledging the anterior authorities informing art while remaining irreverent to and sparring with them. He understood the market's necessity while remaining resistant to its manipulations. A handful of art critics nurtured us through the art market circus of the 1980s and the political, social and sexual identity clashes of the 1990s. McEvilley was one who could consistently respond to the art of the day with a display of erudition enabling him to reference the new art off some history of world civilization while maintaining an acute sensitivity to the the features and aura of writing itself.
As art at the millennium grew virtually unlimited in its changing capacity, especially art of the global arena, McEvilley's writing evolved into a reflexive criticism of criticism that could only keep apace with artistic developments in the world if it did not bog down in central or authoritative ideologies or static systems, while allowing the subjective, poetic faculties of individuals to intercede and mediate our many differences. Although McEvilley didn't promote nomadism in name, he possessed a proto-nomadic attitude toward culture that was open to diversity in production and ideology. In this he was too resistant to strict methodologies--too pragmatic and adaptable--to name or describe a single approach to art, even if it was an approach that embraced all open systems of artistic production. He preferred a changing, responsive method, one allowing him to enter and egress models from their own diverse global origins, while considerate of the defining features and principles of those models--be they local, national, ethnic, religious, scientific, gender specific, or personal. McEvilley critiqued a cultural production, a discourse, or an artist, according to the criteria they established for themselves--so long as it proved capable and reflective in its self-vigilance. This is why the span of McEvilley's knowledge is so important to note: for it was McEvilley's capacious understanding of world cultures that enabled him to enter models of cultural production that most of us consider too exotic or esoteric, even too alienating, to understand.
But McEvilley also redefined the terms in which we spoke about art in the 1980s and 1990s by denying validity to the notion of universal form and content. After bringing the issue down to earth--always exceedingly important to him in a way it wasn't to other intellectuals of the day--he placed emphasis on the changing nature of value judgements in its place: "It's a matter of the framework shifting around the act of judgement", he wrote in the 1992 essay, "Revaluing the Value Judgement". Although he doesn't always discuss context as such, it is implied when he speaks of a consensus of opinion built up over time and persisting through history as a received wisdom. And, again, when he opines that all changes in value are made in reference to this received wisdom. Putting the form-content debate in the light of context, McEvilley enabled us to see that the different ways that form and content recombine do not imply that they must reconcile with some guiding and universal standard of harmony, but rather in coming to terms with the contingent values and functions established for form and content by the general consensus of authorities that prevail.
To show how this mediating context works, McEvilley referred usually to history and geopolitical terrain. But the histories and geopolitics McEvilley cites aren't restricted to the West's aesthetic model developed from Plato-via-Kant-to-Greenberg, nor to the Giotto-via-Manet-to-Warhol model of painting that most Western art critics and historians were citing in the 1980s. All cultures and calendars offer rich rewards in his analysis. For example, in tracing back the nascence of the painted monochrome, McEvilley doesn't confine his study to Europe, as do so many art historians. Nor does he claim that modernism begins with Goya's politicized sketches of torture and war, or at the point in the 1840s when Turner's seascapes deliquesce into effulgent color. In his 1982 essay, "Head's Its Form, Tails It's Not Content" and his 1988 "Seeking the Primal Through Paint: The Monochrome Icon", McEvilley wages two powerful arguments against the claim that modern artists invented abstraction, citing the producers of imagery in the Paleolithic, Neolithic, and Bronze Ages and, millennia later, the artists of Tantric and Islamic systems, as having successfully eliminated representational elements from their production and thus exposing and weakening late modernism's implicit conceit that abstraction and formalism were the intellectual pinnacles of a linear and progressive Western civilization. It is indicative of his value system that no world civilization or pre-civilization would be considered ill-worthy of citation alongside the formidable Western canon of masterpieces and modern contexts so long as the comparison seems relevant and respectful to both worlds views.
As McEvilley's background in the classical and tribal literatures and productions of the world enabled him to reread the formalist notion of pure form as a manner of "selective seeing", his background in logic similarly enabled him to see through and dispel the Modernist myth of "art for art's sake". McEvilley's recourse to various world histories made him keener to seeing that a succession of "Modernist" and "Postmodernist" movements extending back to the Greeks of the 6th century BCE, and likely before, precede and contextualize our own "reprised" modernism and postmodernism. From this inference, McEvilley proceeds to compare the golden ages of the Egyptians, Sumerians, Greeks, Romans, and Indians with the activities of Duchamp, Picabia, Schwitters, and Warhol. By conducting his discussion of artistic production within a span of millennia rather than a few decades or even centuries, McEvilley easily sees the omissions of the formalists--Clement Greenberg, Michael Fried, Sheldon Nodelman, Susan Sontag, Suzi Gablik, and the early work of Rosalind Krauss--who together represent the claim that mankind had never before the mid-20th century so perfectly realized such pure, abstract form.
McEvilley's vision ran counter to all these views, and immediately put the formalists on the defensive as he forged the argument that content is implicit in all abstraction, citing how the ancient traditions were comfortable with reading content in abstract form and that, besides being a reality in itself, abstract form is an alternate language about reality. McEvilley argued that the formalist criticism that dominated the 1960s came to be autocratic and self-aggrandizing in comparison to the more ancient knowledges. In fact, McEvilley charged that critics like Clement Greenberg were disseminating a cultural prejudice that had disguised itself as a natural law when in actuality it operated like an absolute, theological doctrine. From his lead we began to see that the formalist critics were themselves divided on the metaphysical status of art, or that the language they used to impel their arguments was inconsistent to the point that the metaphysical aspects of their thought was tacitly pointed to the very writings that were supposed to refute art's metaphysical underpinnings. In one instance, McEvilley finds the discrepancy glaring in Greenberg's thought, and he accuses him of resorting to "theological diction" when, in speaking of art's formal status as an absolute, he is ladling his argument "with hidden transcendental implications".

Arguments such as this inform us that many of McEvilleys essays from the 1980s are marked by a formal logic that refutes the arguments of his opponents to the extent that McEvilley's own use of logic proved to be one of his most effective stratagems against formalism. Although logic is standard fare in theoretical discourse, it is infrequently used by art critics so explicitly and decisively. But McEvilley uses logic to test the flawed writings of Ad Reinhardt and Joseph Kosuth, in which he shows both artists issue propositions that, when logically analyzed, the consistency of their arguments break down. For instance, Reinhardt's dictum that "art is art and art is not not art" was (and still is) heralded by many critics as a radical conclusion to the formalist argument for reduction.
But McEvilley adeptly shows in his 1982 essay, "Head's Its Form, Tails It's Not Content", how Reinhardt's "radical formalism" is nothing more than Aristotle's Law of Identity restated, which "applies equally and alike to all things in the realm of discourse". In other words, everything, insofar as it is anything, is itself and not not itself (A=A and A/= -A), a law which does not confer special status to art, but rather "demonstrates that art exists on the same ontological footing as anything else". McEvilley then relentlessly argues that "recognition of the Law of Identity does not mean that we have come to the end of a line of reasoned thought, but that we are now ready to begin thinking". In other words, after logic, the stuff of life proceeds and relevant meanings are born.

Setting his sights on the most hyperbolic text of late Modernism, McEvilley proceeds to dismantle passages from "Against Interpretation", Susan Sontag's early lapse into formalist criticism. Among Sontag's most careless propositions, McEvilley cites: "it is possible to elude the interpreters by making works of art . . . whose address is so direct that the work can be . . . just what it is". Another of Sontag's less rigorous analyses states that, "The function of criticism should be to show how it is what it is, even that it is what it is, rather than to show what it means". Here McEvilley takes the analytic pragmatist's position that Sontag begs the question, for "just what it is" has not yet been established. Sontag's erroneous departure point leads her to form a faulty chain of reasoning, for she fails to see that what a thing is, is equivalent to what a thing means; in other words, all things are what we deductively, and through the use of language, define them as.

In the 1985 essay, "Penelope's Night Work: Negative Thinking In Greek Philosophy", McEvilley shows an inclination to believing the subjective experience is the only experience. And in "Seeking the Primal Through Paint: the Monochrome Icon", he held even that the transcendental experience is viable at least as an expression or experience of art. Transcendentalism is not, and cannot be an objective or universal condition; it seems even doubtful that much of its experience can be shared linguistically and symbolically through description. But we cannot argue whether or not transcendentalism is an experience that is real to the individual for which it mentally takes place, in this case the formalist. In his essay, "Heads It's Form, Tails It's Not Content", McEvilley shows the formalists were at fault in assuming the formal mode of transcendence was a universal condition which could be placed at the apex of a systematic, cultural hierarchy governing all humanity and legitimately claiming hegemony over all other modes of expression and interpretation.
Because of these essays, many readers believed McEvilley to be an anti-formalist. This is by no means true. He was against the hegemony and dogma of formalism, and of formalism that is based on false or poorly-conceived claims. Formalism as an optional practice and exercise of sensory play was viewed by McEvilley as perfectly legitimate. Even reductionist claims are not under attack so long as they acknowledge the ineluctable deduction that reduction to form is itself a signification and that a simple monochrome field is itself a sign--even if only a sign of abstraction. But as the 1980s seemed less and less hospitable to formalist ideology, McEvilley's writing became unjustifiably identified with these more polemical writings.
McEvilley's influence, both that understood and mistaken, can be seen on the artists who came of age in the mid-to-late 1980s, a generation whose productions were marked by a highly critical form of art, with some artists constructing elaborate theories of a critical nature. Such a climate often made it seem that there was no room for simple formalist art. Painting that appeared abstract, like that of Philip Taaffe, Sherrie Levine, Peter Halley, and to a lesser extent Pat Steir (who chose rather to, in the tradition of Chinese and Japanese painting, reconcile abstraction with realism), was heavily invested with ironic reference. McEvilley's critique against formalism's hegemony was by no means the only one at the time, nor was it the first. It even built upon the anti-formalist writings of previous critiques by artists and critics. But it was argueably the most devastating and decisive article, and the one to nail the formalist's coffin shut.
The timing of the ironic painters, Taaffe, Levine, Halley and Steir is unmistakably concurrent with the publication of McEvilley's 1982 essay, "Heads It's Form, Tails It's Content", and though there is no documentation showing that they were influenced by it (both Taaffe and Steir disclosed to me in the early 1990s that McEvilley's writing had much to do with the way that they conceived of their crosscultural assimilations), the critical climate was made more timely for them by McEvilley's analysis of the relationship of representation to form. Given that their ironic abstractions were concerned with referencing some of the same authorities and artists that McEvilley rattled, he undoubtedly charted a terrain that was among the most relevant for the painters of the day.
But McEvilley's attacks on Modernism, particularly the metaphysical and spiritual underpinnings of its theories and criticisms, had an even more profound influence on postmodern artists who sought to overturn everything they disliked about Modernism, especially the clarification of spiritual and positivist meanings in art. McEvilley may have failed to see, at the outset of writing "Heads It's Form, Tails It's Not Content", that his ironic identification of formalism with theology and sacred ritual would help inspire a hegemony as rigid and proscribing as any proposed by the formalists--a positivist and materialist marginalization of metaphysical and spiritual expressions found in contemporary art. In this respect, McEvilley's later essay, "Seeking the Primal Through Paint: The Monochrome Icon", sets his misinterpreters straight by considering sacred, mystical, and metaphysical practices alongside, and with equal consideration and integrity, of the more culturally-based interpretations of art. And this diplomatic feat came to mark the postcolonialist and crosscultural art criticism of the 1980s and 1990s.
To my mind, Thomas McEvilley is the first critic to displace Greenberg by upstaging him with his own beloved appeal to history. In extending Greenberg's historicism and avant-garde logically in space and time, McEvilley takes us to societies that were the originators--the true avant-gardes--of the flat painting. Greenberg's omissions--eurocentric and temporal in nature--became even more glaring for an expanded audience after McEvilley wrote this. From the postmodern perspective, McEvilley's appeal to history and originality wins out over Greenberg's, but not only because his appeal is inclusive of a far larger history and geography, which would only make him Greenberg's heir--but because he appeals to an audience that places emphasis on cultures outside the fiat of the colonialist West, and in doing so, negates Greenberg's notion of a radically inventive, Euro-american avant-garde. Whereas Greenberg could appeal to an audience that believed in the hegemony of the Euro-american avant-garde, McEvilley knew he could never seriously make such an appeal, as the myth of the avant-garde and, to a lesser extent, the myth of Euro-american preeminence had, by the 1980s, tarnished dramatically.

If McEvilley's critique of formalism went further than the critics of the 1960s and 1970s, it helped that McEvilley's introduction to art came on the heels of the preeminence of such relativist writers as Jacques Derrida, Michel Foucault, Julia Kristeva and Richard Rorty, along with the anti-formalism that was developing among such critics associated with the journal October--Rosalind Krauss, Craig Owens, Hal Foster, Annette Michelson, and Benjamin Buchloh, chief among them. By the 1980s these writers were known either as Post-Structuralists or Postmodernists, and combined they counted among the most influential Left-political intellects of the day. Most importantly, they all placed cultural production at a level on par with science without making culture scientific.
But even these thinkers who McEvilley bore certain resemblances to, were too narrow for his vision, and he in response made what may be his most significant contributions to art criticism: his appeal to expand the framework in which art is made and discussed. To do this, McEvilley strove to shift art world interests away from universal principles, which really are representative of only one consensus (albeit, a geopolitically large one), and turn them toward a global understanding of difference. Through his referencing of models from around the world, readers get an idea of how much more liberating it is to capaciously represent and experience the world's heterogeneity. McEvilley was in this regard aligning himself with the new Cultural Studies and New Historicism movements. He was, in fact, informed by the same international, political, literary, and cultural dynamics that motivated the scholars and critics Stuart Hall, Kobena Mercer, Edward Said, Gayatri Chakravorty Spivak, Molifi K. Assante, Kwame Anthony Appiah, Stephen Greenblatt, and Hayden White, among others, and which gave rise to the discourses of multiculturalism and postcolonialism that, in turn, gave rise to the identity artists of the 1980s and 1990s.
But McEvilley also seems to borrow much more from the Enlightenment than do postcolonial critics like Henry Louis Gates, Jr. and Michelle Wallace, who denounce historical Humanist principles for having excluded people of color from their postulations of universal equality. Like them, McEvilley explicitly denounces Humanism's myopia, but he also transforms the Humanist notion of universality into a relativistic and diverse permutation of cultures that is becoming increasingly linked in a communicative network of globalism.
Among the intellectuals seen sifting through modernism's remains, McEvilley was well equipped to point the West toward the most egalitarian models of globalism. But with his jurisdiction being the American cultural terrain, he soon realized that the former colonial cultures can only surmount what remains of the colonialist legacy by continually meeting with the representatives of the various postcolonial European, Asian, African, Australian, and South America cultures to collaborate on the terms for a new global discourse. This may sound like a truism of democratic statecraft today, but in the 1980s--the years of Reagan, Bush and Thatcher--the negotiation of cross-cultural exchange and understanding lagged far behind even the progress of nations to effect communication and trade.
In response to this demand, McEvilley suggested that art take its place as a crucial production in the new global network. Globalism and diversity, as McEvilley represented them, came to be seen as replacing the esteem of universality. Globalism, in contrast to universalism, compelled cooperation and exchange from multiple sources (cultures and geographies) without imposing any one as primary. This becomes quite clear in McEvilley's long review, "Arrivederci Venice: The Third World Biennials", which appeared in the November 1993 Artforum, and which to my mind is the single most influential report on world art to have appeared in that decade.
In discussing the various manifestations of modernism, postmodernism, and indigenous production being exhibited together in the biennials and triennials of New Delhi, Cairo, Bantu, Sao Paulo, Istanbul, and Havana, and in mentioning the planned Asia-Pacific Triennial in South Brisbane, "Arrivederci Venice" reported on the state of indigenous artistic productions without making critical assessments--excepting those judgements that rather provisionally categorized the art work as "premodern" "modern", "postmodern", or "indigenous". For the most part, McEvilley sought to suspend his prerogative to criticize in order to, instead, promote globalism and diversity. For there is no recognized criterion that wouldn't inevitably compromise the local principles and values of any given population.
Finally, as a philosophical skeptic, McEvilley understood that descriptive reporting naturally limits the kind of criticism--and authority--many of us expect from an art critic. But it does so purposely in recognition that the inauguration of a truly global criticism that abjures cultural hegemony is best facilitated by a diverse assembly of opinions emanating from myriad cultures, and not by a single voice emanating from one of the former colonial "centers" that would only perpetuate eurocentric authority. McEvilley's practice of deferring a system of criticism other than one of "nomadic" visitations thus exemplifies how globalism at this stage can only be a meeting of ways. For this is McEvilley's suggestion of how exchanges and large assemblies of world art can proceed in multilateral and unobtrusive ways while minimizing the risk of any regional practice or system of values from imposing itself hegemonically in the future.
In this effort, McEvilley seems to employ a tactic suggested in 1987 by Cornell West in "Race and Social Theory: Toward a Genealogical Materialist Analysis", and which seems to describe an example set by Michel Foucault: "We must become more radically historical than is envisioned by the Marxist tradition. By becoming more "radically historical" I mean confronting more candidly the myriad effects and consequences (intended and unintended, conscious and unconscious) of power-laden and conflict-ridden social practice--e.g., the complex confluence of human bodies, traditions, and institutions." Again the history of the world is called upon to inform an emerging ideology. But McEvilley's task of routing out ethnocentric practice in art exhibitions and discourse is subject to far more obstruction than was his more contained confrontation with Greenberg's universal aesthetic, for this time around the prejudice targeted exists on an international scale and at every level of discourse.

In just outing McEvilley as a philosophical skeptic, I feel compelled to back up my claim by citing his 1988 Artforum essay "Emphyrrical Thinking (and Why Kant Can't)". It is a remarkable work of scholarship that argues against the claim that Duchamp was a nihilist or infantile narcissist, which he opines as only seeming so to commentators "for whom there is no world outside the Kantian inheritance", or in other words, those who cling to an objectivist world view. Duchamp's indifference and negativism is, instead, McEvilley argues, "a precise and mature theoretical critique, an overthrow of the Kantian aesthetic along with the demonstration of a Pyrrhonist openness as a space for the art of the future to move in".
The remainder of his essay is a consideration of Duchamp's brief encounter with the thought of Pyrrho of Elis (ca. 365-275 B.C.) around the pivotal year of 1912, and of how that brief encounter profoundly revolutionized cultural development in the West ever since. In this context it seems especially remarkable that McEvilley writes his essay with understated aplomb, for he knows he is the spokesman for a thought that had been repressed by the pedagogical, religious, and scientific institutions of the West for nearly 2,500 years. In effect, this article could have been more effusively entitled, "Revenge of the Pyrrhic Greeks". For with the possible exceptions of Hume's, Nietzsche's, and Derrida's scrambling effect on modern Western thought, no one has done as much as Duchamp to overturn the rationalist hegemony of the West. And no one has seen into Duchamp's skeptical heart with the penetrating gaze of McEvilley.
But McEvilley's philosophical skepticism shines nowhere as it does in his 1985 essay, "Penelope's Night Work: Negative Thinking In Greek Thought", published in Krisis. Here McEvilley reintroduces the Greek skeptics who have been repressed by the canons of Western metaphysics until contemporary theorists, such as Nietzsche, and a century later, Derrida and Rorty made their reprisals essential. McEvilley tried to demonstrate that Duchamp too has made recourse to ancient skeptical thought a profitable enterprise. "Penelope's Night Work", is named for the wife of Homer's famed Odysseus, King of Ithaca and victor in the Trojan War. Faced with the prospect of her husband's death, Queen Penelope tried to ward off her persistent suitors, the nobles of Ithaca, who insisted she remarry for the sake of the kingdom. She did this by announcing she would remarry after she finished weaving a shroud for her father-in-law, Laertes. She wove the shroud every day for three years, but every night she unraveled her day work so that when she began the next day she would be at the same point at which she began the day before. This analogue and the essay it names is as subversive an entry to virtually all philosophical studies as other of McEvilley's writings are to the criticism of contemporary art and global discourse. McEvilley's reprisal of the texts of ancient Greek skeptical and critical writers like Gorgias, Antisthenes, Democritus, Protagorus, and Diogenes, is as much the unraveling of the history of Western philosophy as were the attempts of those Greeks he invokes to unwrite or deconstruct the foundations of the positivist "daylight" metaphysics of their time. And by their comparison, Duchamp is shown to be equally unravelling.
The skeptical essay having the most relevance to culture-at-large may be McEvilley's 1991, "I Am Is A Vain Thought". In examining how the idea of the self is central to cultural development as a whole, McEvilley is now entertaining a brand of skepticism the kind of which one customarily encounters in Zen, and is here seen to be unravelling the notion of the self even as it evolves in Western society. McEvilley cites three principal, ongoing reconfigurings of the definition of the self as postmodern examples: the self as a constantly changing consciousness, a stream of impressions and thoughts with no apparent unifying principle; the self as a corporal event that is the temporary by-product of molecules combined in certain ways; and the self as a soul that is not dependent on consciousness or molecular structures, but rather which survives the destruction and decay of both.
McEvilley then characteristically compares Western concepts of the self with crosscultural views, paying special attention to the Buddhist idea of "not-self", or soullessness. Citing Abhidharma texts as examples, McEvilley compares Buddhist analyses of human mental processes with Western positivist approaches, settling essentially with the description of self as a series of disconnected atomic events of consciousness "that run through so fast that they blur into an apparent continuum". The treatment of flux common in Western thought from Heraclitus to Hume is thus paralleled with that of Eastern texts from the Buddhaghosa to that of Lama Anagrika Govinda, paying close attention to the notion of the self as issuing from a "false attitude: what we regard as an enduring and unified center of subjectivity is not a constant thing, but an ever-flowing process". Similarly, the Buddhist teaching of the self is shown to be like that of Cybernetics and the literature of computers combined, where the self is like a mechanically constructed device with atomic units of consciousness (information, in cybernetic terms) that are so fast they race beyond 100 billion operations per second.
Where he particularly excels is in his inferences on the profound cultural consequences of these philosophies. In examining the impending robotization of civilization, McEvilley compares the Japanese response to the American. The Japanese sees nothing that s/he has not been familiar with and at home with for centuries, McEvilley states, explaining a point escaping many Western economic analysts, and which to his mind helps indicate why the Japanese excel in the electronics industry. "Judeo-Christian faith in the soul ... provides a solid barrier of resistance and paranoia toward artificial intelligence". In McEvilley's view, the same soul concept that opposes Darwinism opposes artificial intelligence, and for the same reason.
McEvilley may have here over-simplified the Japanese view as monolithic, but in his reflexive manner he points out the differences not as clear-cut East-West dichotomies. "As certain areas of Eastern thought have paralleled the Western naturalistic view, certain areas of Western tradition have paralleled the not-self doctrine." He cites as being shared by both East and West the extrapolations of self embodied in the analyses of language, whether it be by Western thinkers like Ludwig Wittgenstein, Gilbert Ryle, P.F. Strawson, and Roland Barthes, or Eastern philosophers like the 19th century Vedantic practitioners Ramakrishna and Ramana Maharshi. Furthermore, the larger intellectual currents emitted from psychology, physics, genetic biology, and electronic technology are eroding the Judeo-Christian view of the soul-self so drastically as to place it closer to the Buddhist view of not-self.

With McEvilley's grand narration of overlapping modernisms and postmodernisms now as finished as it is unfinished with his death, we can now stand back and read the body of his criticism and scholarly histories as more akin to epic poems filled with radical ellipses and oscillating appearances and disappearances of figures, events, and ideas than to linear stories with a distinct beginning, direction, and end. In this McEvilley is not as oppositional to Lyotard as he at first seems in his attachment to historical narratives. Indeed, he seems in complete agreement with the French theorist that all forms of culture and knowledge are inextricably bound up with established systems of meaning production, and McEvilley plays a direct role in the discourses which Lyotard claims operate within postmodern culture to seek and expose these links. He is also like Lyotard when he shows himself to be practical about, rather than ideologically threatened by, the splinterings of languages and models that exist in postmodernism and multiculturalism without some universal metalanguage to unify them.
Thomas McEvilley lived long enough to see his critique of modernism's closures become virtually ratified by an entire generation. Formalism no longer lays claim to displacing content or resisting interpretation. "Primitivism", as an anthropological category of evolutionary and cultural development, is hardly ever discussed today without some acknowledgement of what the term "primitive" meant to colonial powers of the past and what it means today to postcolonial populations. For the most part, the appellation "primitive" applied to tribal peoples has been abjured as ethnocentric. The notions of "truth" and "objective" knowledge and facts within science, while largely still exalted in the mainstream, have been advanced by critical thinkers to be more an "intersubjective" consensus among interested parties who at best remove their egos but rarely abandon their most basic biases favoring a shared reality from the collection of data and shared discourses. Such advances in the nuances of thought can't be credited to McEvilley alone, but his criticism surely played a hand in their dissemination.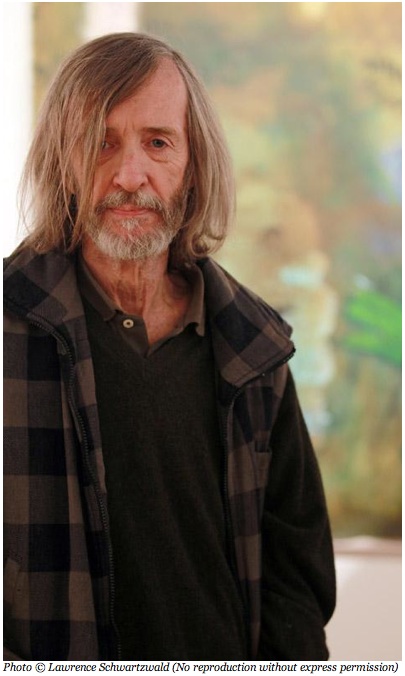 On 3/11/13 the author added the vimeo video, Inside the Library of Thomas McEvilley, from Michael Kasino.
Read other posts by G. Roger Denson on Huffington Post in the archive.
Related
Popular in the Community