Brussels residents wasted no time reaching out to those who might have been affected, letting people know they had available shelter and shoulders to cry on.
Just as Parisians used the hashtag #PorteOuverte on Facebook and Twitter to offer shelter to those displaced by attacks on the French capital in November, Belgians quickly offered assistance on Tuesday with the hashtags #OpenHouse and #IkWilHelpen, meaning "I want to help."
Twitter user Dennis Covent used the #IkWilHelpen to offer rides from Brussels to Antwerp. In response to a grateful message one person sent him, he tweeted again, "Lovely to read, but I'm not a hero. If just everybody would do something kind for another..."
The Twitter account @BrusselsLift also worked to connect available drivers with people who needed a ride, since public transportation in the city was shut down.
Many people donated blood after the Belgian Red Cross appealed online for O negative and A negative blood donations in Wallonia, a Belgian region south of Brussels, using the hashtag #DonDeSang, or #BloodDonation, on social media.
The appeal was swiftly relayed across social media. Hours later, the Belgian Red Cross wrote that it had dispatched three cars with blood bags to the Saint Pierre and Brugmann hospitals in Brussels and that it had met demands at the time.
Earlier, in an effort to reinstate a sense of normalcy, some people are using the hashtag #enterrasse -- meaning "sitting outdoors" or "on a terrace" -- mimicking the bid post-Paris attacks to continue dining al fresco rather than cowering indoors.
"#enterrace in the European quarter," Julie Huon's tweet reads. "Brussels believes in spring and commercial businesses will not close."
The City of Brussels asked Twitter users to express their support using the hashtag #BXLove. By Wednesday, #BrusselsAlive was also trending, with many posting defiant messages and images.
Some people in the city also took out chalk and began writing messages of solidarity on the sidewalks.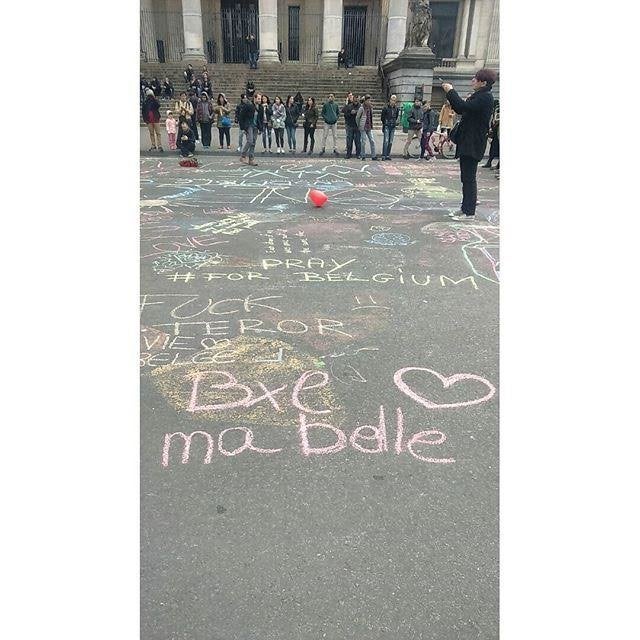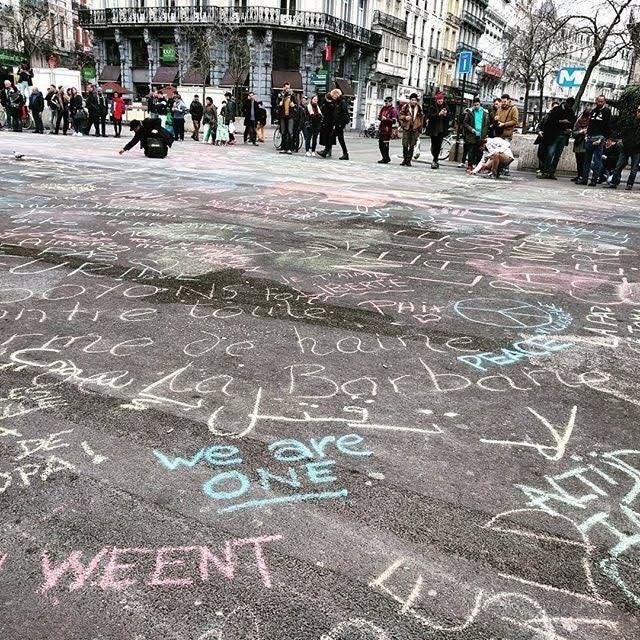 Residents and travelers in the area were earlier encouraged to use Facebook's Safety Check feature, which allows users to notify their friends and family on the social network that they are safe.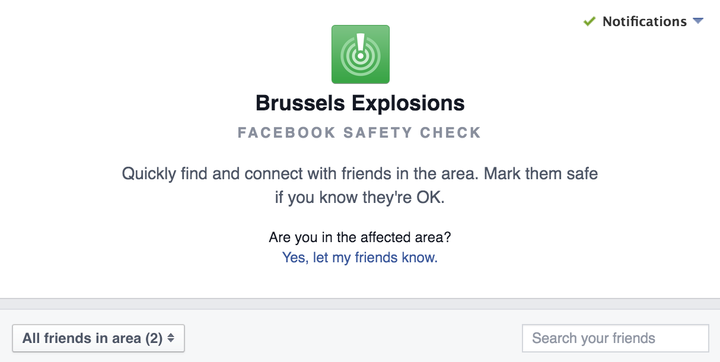 A small vigil was held in New York City on Tuesday evening, with mourners lighting candles and writing phrases of support in colored chalk on the sidewalk.
Among the dozen or more people who trickled into Union Square was 24-year-old Joseph Van Overloop, who is originally from Antwerp, Belgium. Despite his long stay in America, Van Overloop said his heart weighs heavy for the victims.
"I never thought such a thing would impact me this much on an emotional level," Van Overloop said. "It's really hard. It's not even anger. It's just this deep, deep sadness out of the powerlessness that comes with it."
Adrien Dufayard, a 28-year-old originally from Paris, had a similar feeling.
"I felt awful after the attacks in Paris in November, and I really feel the same way right now," Dufayard said. "I feel like me standing here is not enough anymore."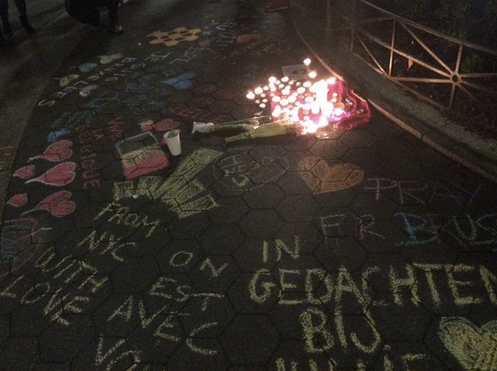 In France, people set up a support page on Facebook on Tuesday called "Je suis Bruxelles," which translates to "I am Brussels," where they posted supportive messages and images.
The City of Paris and France's government changed the profile and cover photos on their official Twitter accounts to the Belgian national flag colors of black, yellow and red. The Eiffel Tower will also be lit up in Belgian colors on Tuesday night, Paris Mayor Anne Hidalgo announced.
Some people even used the fry to display their solidarity with a touch of humor. Several posts on Twitter and Instagram morphed the Belgian gastronomical staple into a hand pointing its middle finger to the perpetrators of the attacks.
Many have turned to Tintin, who is at the center of Belgium's beloved The Adventures of Tintin comic, to express their sorrow and solidarity after the character's official Facebook page posted an update mourning the attacks.
Below are more posts on Twitter and Instagram, which exploded with supportive artwork on Tuesday, as people used hashtags like #PrayForBrussels:
Alexandra Ma contributed to this report.
This article has been updated with responses to the attacks.
Related
Popular in the Community