 Over the last 10 years, the Internet has grown to become a fundamental part of our society. According to Nielsen data, 274.2 million Americans were hooked up to the Internet in 2011 (more than double the number with access in 2000) and spent 81 billion minutes on social networks and blogs.
So exactly how essential has the Internet become to the U.S. economy offline?
Furthermore, BCG senior partner and co-author of the report David Dean said in a company press release, "If [the Internet] were a national economy, it would rank in the world's top five, behind only the U.S., China, India, and Japan, and ahead of Germany."
The report finds that in the coming years, online economies will play an even larger role in the economies of both developed and developing countries.
In the U.S., the Internet economy accounted for 4.7 percent of the country's 2010 Gross Domestic product (GDP) of $14.5 trillion, or approximately $68.2 billion. That number is expected to pass $100 billion in 2016, when the Internet economy is projected to comprise about 5.4 percent of the country's estimated GDP of $18.6 trillion.
At present, the Internet contributes more of a percentage to America's GDP than traditional industry sectors like information and technical services, construction, education, agriculture, and arts, entertainment, and recreation. And it comprises about 5 percent or $252 billion of all retail.
BCG researchers also asked U.S. 'net users how much online access meant to them. According to BCG's report, 73 percent of Americans would give up alcohol, 77 percent would give up chocolate and 21 percent would give up sex instead of going without the Internet for a year.
Outside of the U.S., the Internet's impact on the economies and societies of other G-20 nations has also been large.
According to the report, there are 800 million people surfing the web in developing G-20 countries. That's more than the combined number of Internet users in all developed G-20 countries.
One of these developing nations, India, has an Internet economy growth rate of 23 percent, second only to Argentina's 24.3 percent, reported The Times of India. Indian online consumers find the Internet so essential that 36 percent told BCG that they would forgo showering for a year, 64 percent would cease eating chocolate, and 70 percent would give up alcohol -- just to keep Internet access.
Meanwhile, the U.K.'s Internet economy comprises a larger percentage of its whole economy than that of any other country. According to the BBC, the Internet contributes about 8.3 percent to the country's whole economy and will continue to grow as the years pass.
Learn more about how the Internet affects America's economy by flipping through the slideshow of infographics below, and make sure to check out the full report on BCG's website. Which stats surprised you most? Let us know below!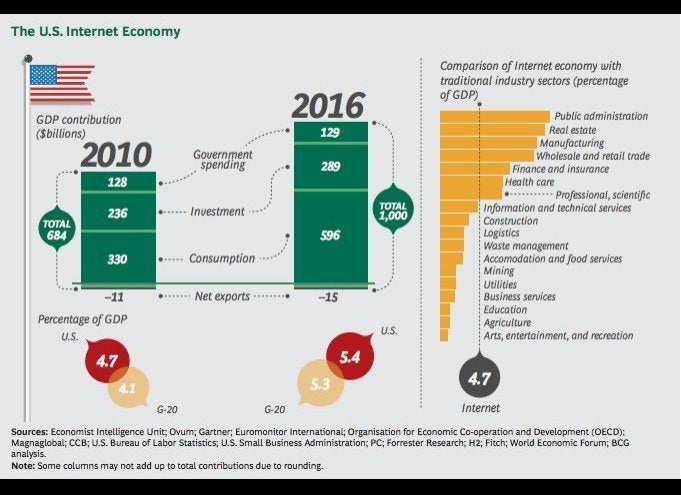 The U.S. Internet Economy
Related
Popular in the Community