-- PREVIOUSLY: Are users of Internet Explorer the dumbest on the Internet?
Though no significant differences were found across the IQs of Chrome, Firefox, and Safari users, the study did find that "subjects using any version of Internet Explorer ranked significantly lower on average than others." Ouch.
Here is the damning chart: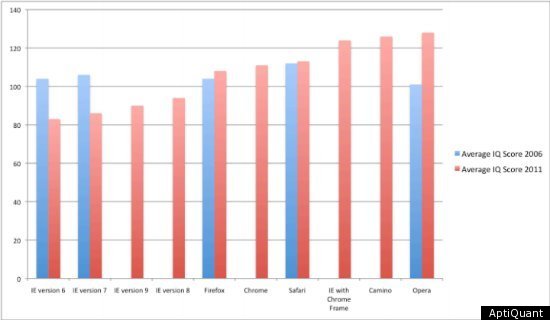 A few things to note here. First, Internet Explorer users--especially those who have not upgraded to the speedier IE9--rank lower than their fellow Chrome, Firefox, and brainiac Opera web surfers. Is there a correlation between not updating your browser and intelligence? AptiQuant thinks so: "From the test results, it is a clear indication that individuals on the lower side of the IQ scale tend to resist a change/upgrade of their browsers."
I would submit that some who haven't upgraded aren't "resisting," but rather don't know that it is an option; whatever the reason, those using older versions of IE do rank lower on the IQ scale.
"I just want to make it clear that the report released by my company did not suggest that if you use IE that means you have a low IQ, but what it really says is that if you have a low IQ then there are high chances that you use Internet Explorer," Howard said in a statement released by AptiQuant.
A spokesperson for Microsoft declined to comment, and an AptiQuant rep did not respond to a similar request. Disclosure: This report was filed in Google Chrome.
Popular in the Community