One of Turkey's respected newspapers, Radikal, has started to remove its online content every four hours from its website. This is due to show what would happen if a controversial governmental bill crimping Internet comes into effect after presidential approval. It also puts a banner counting down how many days left for president's decision.
Besieged by a graft probe, Turkey's ruling Justice and Development Party, or AKP, is poised to introduce a new form of censorship to the Internet with a proposal included in the omnibus bill. The proposal which has passed in a late-night parliamentary session on 6 February makes it easier for government bureaucrats to censor the Internet.
Ragged by already tight regulations on the Internet, Turkey seems to suffer more since the new legislation allows government officials to block sites they deem violate personal privacy within four hours, without obtaining a court order.
The government claims the new laws help to protect individual privacy, but critics and journalists consider them as an attempt to prevent leaks from the corruption investigation. Turkey's Public Diplomacy office has sent a notice to the newspapers explaining what the new laws bring in as they come into effect saying the government pays great attention to personal privacy of its citizens. Its violation, the statement says, causes incurable harm for the subject person and must be handled promptly so as to secure the personal privacy.
Whatever the office of PD says, it is clear that the new Internet laws are tarnishing Turkey's image abroad since its Internet freedom rank drops to the level of Iran and North Korea. The proposal, like the Sword of Damocles, is a gross violation of freedom of expression and a strong tool for government to suppress any form of criticism.
As the graft inquiry became public on December 17 with the arrest of businessmen close to Prime Minister Tayyip Erdogan and three cabinet ministers' sons, the government has got into a flap with approaching local elections. The government claimed the probe is orchestrated by Erdogan's former ally, the U.S.-based cleric Fethullah Gulen, whose followers are influential in many state institutions, including the police and legal system. This group of people, what PM Erdogan calls "Parallel State" was counted responsible from revelation of all wrongdoings and corruption the government members has committed. This "Parallel State" phrase was cut out for PM Erdogan to shift the probe into an Independence War for his government. Mr. Erdogan has jumped in with both feet to this phrase but never answered opposition leader's parliamentary question on how come this parallel state was established in the course of his 11-year-long government.
Following the corruption inquiry which unseated four key ministers and triggered a cabinet reshuffle - and also allegedly linked to PM Erdogan and those close to him - the government has taken some aggressive steps to stop the investigation like purging of police officers and prosecutors who are managing the investigation. According to Reuters, some 200 prosecutors and judges have been reassigned in a purge of the judiciary that has brought to a halt the investigation Erdogan has called a "judicial coup". Besides more than 5,000 police officers have been dismissed or transferred so far.
The scene is more or less the same for journalists. Since notorious Gezi protests, hundreds of journalists, including me, have lost their jobs at traditional news outlets under government pressure. Mr. Erdogan's telephone calling to Haberturk, was a respected TV station, to censor even a simple news ticker has turned into a social media phenomenon with "Alo Fatih" hotline, which shows the extent of media control.
This new internet censorship proposal is apparently another move by Mr. Erdogan's government to control the flow of information online. And the biggest fear is new leaks from wiretaps connected with corruption inquiry before local elections. He even helplessly tried to limit coverage of the corruption case on media with an edict by a government watchdog to secure any leak. So the Internet appears as the only safe haven for true information, unless this new legislation is approved by the President Abdullah Gul, by 25 February latest.
President Gul Bears the Burden
Although among the founders of the conservative ruling party AKP and a close friend of Mr. Erdogan, President Gul is considered as moderate statesman respecting freedoms and he is seen as the last resort as he has the veto power. He is under pressure since he has once declared from his twitter account that the Internet freedom should not be curbed by any means. Yesterday, The International Press Institute (IPI) urged President Gul to veto changes to the country's Internet law that could have severe implications for freedom of expression. In addition, IPI's Turkish National Committee reminded Gul of a post he made to social media website Twitter on May 8, 2011, in which he wrote: "My view is that there should basically be no restrictions on any freedoms. Anyone who wants should be able to roam the Internet freely."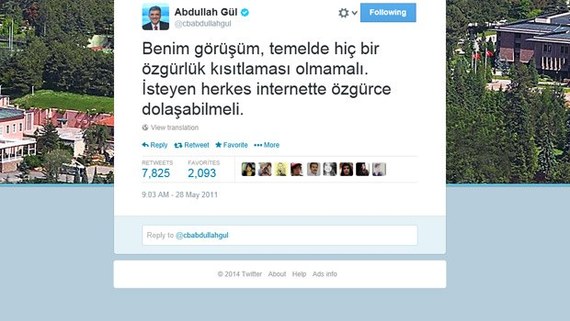 According to Hurriyet daily, the presidential palace is receiving hundreds of thousands of letters asking Mr. Gul to veto the legislation but it seems he will not.
Mr Gul has to know that he will make a choice between his political ambitions - he may have a chance to be reelected for a subsequent 5 years as president if he keeps ties close with Mr. Erdogan - and democratic values. His decision will either bring Turkey to European standards or put down to the level of Iran and North Korea.
Popular in the Community