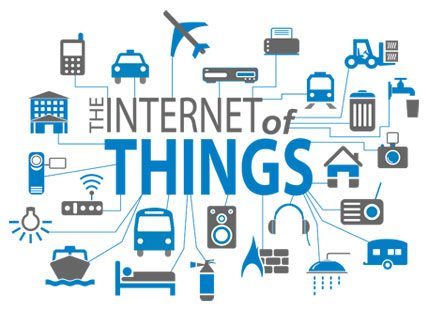 Image credit: Internet of Things
The Internet of Things has been given the label of the next Industrial Revolution as it is going to bring about a staggering change to way in which people work, live, travel and entertain themselves. Not only that, it will also change how the businesses and governments will interact with the entire world. The revolution has already started! Have you seen the brand new car which is being manufactured with a number of apps? That's through the Internet of Things. What about those smart home devices which let you control the thermostat and play music? This is also due to the IoT and the fitness tracker that you wear on your wrist to know how your exercises are helping your body that is all due to the grace of IoT. But hey, this is just the beginning and there's lot to come in the near future.
Did you ever wonder what the Internet of Things will do next? Is it going to grow even more? Well, indeed most experts are of the opinion that it could easily support services spending of $235 billion in the year 2016, which is up by 25% from 2015, as per reports from Gartner. The analyst company is also of the opinion that 6.5 billion connected things will be used worldwide in 2016 and this statistic is probably going to reach up to 20.8 billion by the end of 2020! So, are you shocked enough? Read on to know how IoT is going to change the lives of people.
Bluetooth will become smarter and faster than ever
There has been enough debate on how IoT devices communicate with each other but when it comes to the smart home appliances, it is definitely going to be Bluetooth and Wi-Fi. Bluetooth is going to tread on the warpath to strengthen their position introducing much higher speeds, longer range and mesh networking. In fact, the range of Bluetooth Smart tech is all set to enhance by at least 4 times, which means that people will enjoy a 100% increase in speed and can deliver data sooner. Through the IoT, bluetooth devices will be able to connect all networks so much so that it can connect a full building.
The entire office will be connected through the Internet of Things
Automating an entire factory or the production process by utilizing cutting-edge IoT products is a different thing altogether but what about connecting the employees? It can be taken for granted that each of them have a smartphone of their own and with the increased popularity of smart wearable devices, it is just a matter of time before the office can become an ecosystem connected entirely through net. You will be now able to see the movements of colleagues around the office through some personalized apps.
Sensors will become more common in 2016
This makes us wonder whether we should call this the Internet of Sensors or the Internet of Things. The IoT can well be called as a solution which looks for a problem rather than the opposite thing. There is simply no point where objects talk to each other only for the sake of it and the IoT offers the main backbone for communications. The Internet of Sensors is more like the tree's roots with the sensors at their extremes, thereby feeding data towards the main portion of the internet.
IoT will weigh down on the entire health industry
There are many types of wearable devices which are used for patients to measure their vitals like pulse rate, blood pressure and heart beat and this makes IoT extremely necessary in the health industry too. But with IoT, the traditional doctor-patient model will soon change as there will be a trend for putting such sensors even within the human body. Such devices will be powered with biological energy sources, vibration and heat radio waves and they will be used to monitor wirelessly from Bluetooth to other phones.
There will be a battle for all platforms
Building the IoT is about creating sensors to collect data and using reliable wireless technologies to deliver it. Simultaneously, there's one more battle which is going on and this is for the platform. There's not a single day which goes without a player claiming that their personal cloud platform is the best but you have to still fight for the right platform. You may expect a plethora of global forums, alliances, partner programs and development kits to come forth as smaller players.
Hence, you can well understand what the Internet of Things will become in the near future and by the end of 2020. Get yourself high speed internet so that you're not deprived of any of the noble services of the Internet of Things.
Related
Popular in the Community