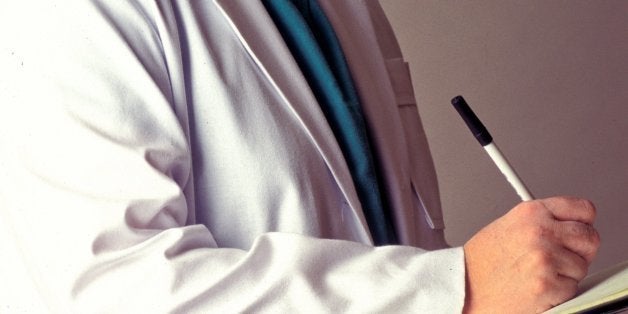 For several hours last week, doctors at PIM Associates, a primary care practice in Philadelphia, couldn't see patients' lab results or what medications they were taking.

Those digital records are stored in the cloud by a company called Practice Fusion, which makes software to help doctors track patients.

But Practice Fusion's service was disrupted over two days last week because its data center provider suffered an outage. That prevented many of the 112,000 health care providers who rely on the company's software from accessing patient records.

"If you're in an office that's completely electronic and the system goes down, you're flying blind," Kelly Gallagher, a medical assistant at PIM Associates, told HuffPost. "It could be potentially dangerous."

The episode offered an example of the potential drawbacks of electronic health records. It also highlighted how technology glitches can have serious human consequences. In this case, some out-of-date Internet equipment created confusion for many doctors.
The Obama administration spent billions of dollars in federal stimulus money to persuade doctors to convert their records from paper to digital form. Proponents said digital records would reduce costs and improve patient care by smoothing coordination between medical providers and reducing unneeded procedures. By last year, 78 percent of office-based physicians and 58 percent of hospitals were using an electronic health record system, according to the Robert Wood Johnson Foundation, a health care philanthropy organization.

But the ability to view electronic health records online depends on the reliability of technology companies -- which can experience glitches and outages. Last August, an electronic health record system made by Epic Systems went dark for a day, preventing nurses and staff at clinics in Northern California from accessing patient information. Last March, an outage involving a digital health record system in Boulder, Colorado, made by Meditech prevented some people from scheduling surgeries, getting test results or making appointments, according to the Boulder Daily Camera.
Health care providers face similar risks as other industries that store data in the cloud, but the stakes for doctors are often higher. One New York doctor who uses Practice Fusion's software said the outage could have been "a disaster if you're dealing with life and death situations."
The doctor requested that his name not be used because he said he worried that Practice Fusion might further disrupt his service. "My whole practice is in their hands," he added.
Practice Fusion said the outage affected about one-third of its users, but didn't compromise data security. The outage "was out of our and our data center partner's control," a company spokesperson told HuffPost.
"We worked closely with our partner to minimize the outage's impact to our broader user base," the spokesperson said. "We are monitoring the situation closely with our data center partner to address any other issues that may arise."

Practice Fusion attributed the outage to what experts are calling a rare Internet "brownout." Internet traffic is carried by a series of routers and switches, but the Web is now becoming too big and complicated for some of the old equipment. Last week, for the first time, the number of pathways for carrying Internet traffic crossed the critical threshold of 512,000. Many old Internet routers and switches can't remember that many pathways, creating disruptions or outages across some parts of the Internet where that equipment needs to be replaced
Practice Fusion was not the only company affected. LastPass, a service for managing passwords, said a data center it relies on went down last week, temporarily preventing users from connecting to its service. The Web hosting provider Liquid Web also said its customers suffered disruptions last week because the pathway threshold was crossed.

Jim Cowie, chief scientist at Dyn, a company that tracks network management, said such disruptions will only continue in the coming months as the Internet keeps growing and its aging equipment is not replaced.

"We're going to see more of these small, localized outages wherever there are vulnerable pieces of equipment," Cowie said.

Many companies back up their virtual infrastructure in multiple data centers in case one data center fails. Practice Fusion said it had a backup plan it could have implemented, "but we chose not to do so because it would have caused all our users -- not just the portion initially affected -- to lose connectivity during the work day."

In a blog post, the company recommended that affected customers print out any patient records they need.
For doctors, some of whom have complained about converting to electronic records, the Internet outage last week gave them justification for still keeping old-fashioned paper records.
"Sobering not to have had access to my practice for the last two days. Thank god for paper charts," Meenakshi Budhraja, a gastroenterologist in Little Rock, Arkansas, tweeted.
Related
Popular in the Community