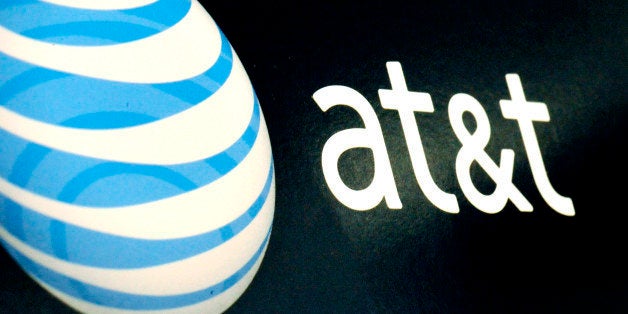 It's basic economics: Competition drives down prices.
AT&T's pricing power in the small and expensive enclave of Silicon Valley illustrates the state of broadband in the U.S. Because of the huge infrastructure costs of deploying a network, there is very little competition -- nearly 75 percent of households in the U.S. have one or no options for broadband Internet, according to the FCC. And as speeds go up, competition goes down.
AT&T's GigaPower Internet service, which launched in Cupertino on Monday, will cost consumers $110 per month if they want the top speed of up to 1,000 megabits (one gigabit) per second for downloads. That's $40 more per month than AT&T charges in other cities where it offers the service, like Austin and Kansas City, Ars Technica's Jon Brodkin reports.
The difference is that in Austin and Kansas City, AT&T competes with Google Fiber, the search giant's own superfast Internet network. In those places, both Google Fiber and AT&T offer gigabit service starting at $70 per month.
AT&T GigaPower Pricing In Austin, Texas:


And in Cupertino, California:


The company declined to comment about the price discrepancies in its GigaPower service. In a statement, it said, "We're excited to offer the fastest high-speed Internet in Cupertino at a price that is competitive for the market."
"We'd love to see other companies come in and offer competitive speeds to what AT&T now offers," said Rick Kitson, a spokesperson for city of Cupertino. "Everyone needs the speed and the access that's now certainly possible but still isn't universally available."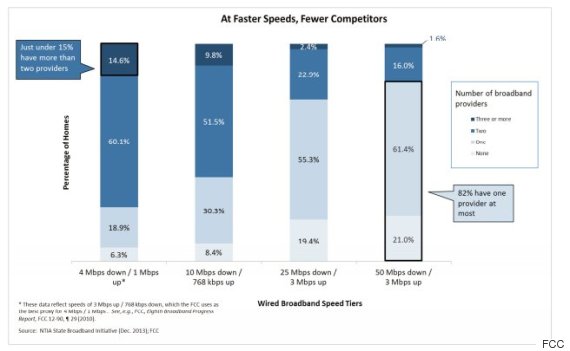 This chart from the FCC shows how few Internet options most people have.
"So while gigabit is great if you can get it, a far more important conversation to be having is in regards to price -- and how the general lack of competition in the majority of markets has people paying an arm and a leg not just for slow service, but some of the worst customer support in any industry," Bode wrote in an email. "There's still a pretty notable digital divide and competitive shortfall, and deploying gigabit services to select portions of a small number of cities isn't doing much so far to seriously impact this."
Calling all HuffPost superfans!
Sign up for membership to become a founding member and help shape HuffPost's next chapter