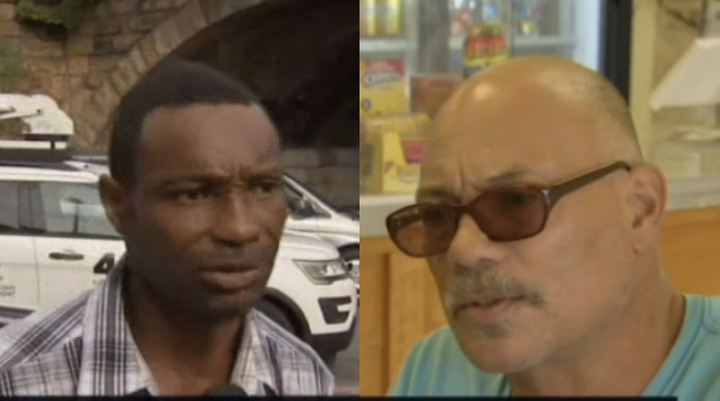 The internet is giving back to two men for their brave actions surrounding the explosives found in Elizabeth, New Jersey.
A GoFundMe campaign was set up on Monday for Lee Parker, who's homeless, and his friend, Ivan White. The pair came across a backpack atop a garbage can near a train station Sunday night, NBC News reported. After opening the backpack up, the men were shocked by the bag's contents and quickly told police what they saw.
Following the incident, local nonprofit At Heart's Length created a fundraiser to honor Parker and White for their part in helping stem a greater tragedy. Though the crowdfunding campaign was established a few days ago, donors have already blown past its $10,000 goal, contributing more than $13,000 as of Wednesday afternoon.
"Thanks to Ivan White and Lee Parker, that explosion did not happen," Donald Goncalves of the nonprofit wrote. "We owe them a debt of gratitude."
The funds generated from the campaign will be split up between Parker, White ― who's on a fixed income ― and the Elizabeth Coalition to House The Homeless, the GoFundMe's description notes. The coalition has helped Parker find a temporary place to stay and is currently working on procuring permanent housing for him.
While the men are honored by the outpouring of kindness they've received, the pair feel that they were simply "doing the right thing," Parker said, according to ABC7.
After he spotted the bag, Parker, who'd been on the job hunt, thought it'd be perfect to use for work, he told CBS New York. The pair, who initially assumed the heavy backpack was filled with textbooks, carried it for a block before opening it up, only to find the explosives inside, NBC News reported.
White says he's thankful to have been "in the right place at the right time."
"I was glad I was able to do something to keep other people from being hurt," White said, according to CBS New York.
Related
Popular in the Community