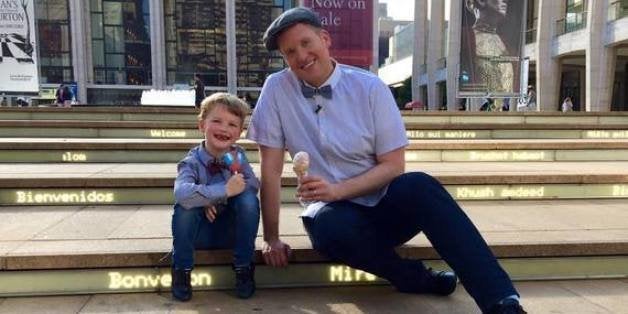 About a year ago, I was sent a video of Iain, a then 6-year boy who had quickly become an internet sensation with a Facebook page called, "Iain Loves Theatre." There, he posts short but eloquent and insightful reviews of Broadway, Off-Broadway and regional shows he's seen. What's immediately clear through these videos is that not only is his maturity, analytical skills and grasp of the English language well beyond his years, he has a deep-seated passion for theatre that reinforces the transformative power and critical importance of exposing children to the arts at a young age.
I was beyond impressed by Iain, but what was funny was that in the year to follow on many occasions people would say, "Hey, have you seen those videos by Iain? You've got some competition there!" Others would say, "Wow, you and Iain look alike. I think we now know what you were like as a kid!"
They were joking of course, but I'll tell you that if it's a competition, Iain wins! Everyone who helps elevate arts and culture wins because it benefits our society, and it's just absolutely incredible to think we have such an impressive ambassador in such a young child.
READ MORE OF THE STORY BELOW, FOLLOWING THE VIDEO!
Video Producer: Meredith Ganzman
It's terrific to see a child so passionate about getting the word out about great theatre, and to know that his platform has grown so quickly--first as reviews, now with photos and videos too with celebrities including Sir Ian McKellen, Sting, Helen Mirren, and more who have sought him out. Iain also served as the red carpet correspondent for Perez Hilton at the 2015 TONY Awards and even suggested an alternate ending to the new Broadway mega-hit Hamilton that creator Lin-Manuel Miranda responded to with a video of the cast enacting that was then posted to social media.
Iain is certainly a special child, and he's also a heartwarming reminder of what it felt like for any of us who fell in love with the theatre at a young age. It's also proof how impactful unique perspectives like Iain's can be, mixed with the power of today's social media networks to reach audiences who seek out information that's also uniquely entertaining.
By the way, and for the record, Iain told me after the shoot that we're, "officially brothers." Watch out theatre world--I see a dynamic duo on the horizon!
Calling all HuffPost superfans!
Sign up for membership to become a founding member and help shape HuffPost's next chapter