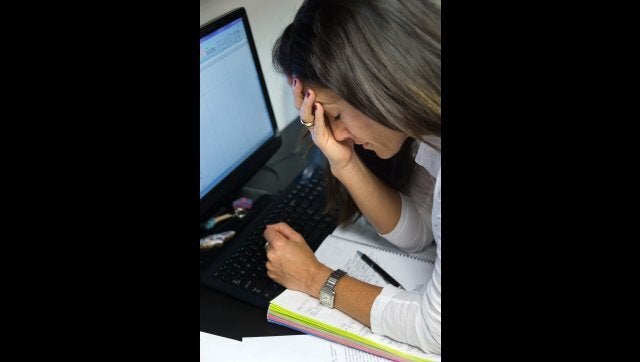 Does the thought of losing your Internet connection make your pulse quicken? If so, you're not alone. According to a recent study, UK workers would rather have no heat and water than lose their Internet connection at home.
Researchers polled 1,000 London-based commuters to determine their biggest stressors, and losing Internet came out on top, Press Association reported. Thirty-eight percent of those surveyed said their stress levels would be higher if they were unable to use the Internet than if their utilities or television were cut off.
The survey, commissioned by Infosecurity Europe, found that Internet reliance has increased significantly in the past year, with more respondents saying that having their connection cut off would raise their stress levels. This year, 27 percent of survey respondents said that they couldn't live without an Internet connection, up from 17 percent last year.
"Having internet connection is part and parcel of our everyday lives, becoming more important than even heat and water at home, which does seem phenomenal but shows just how dependent we are on the Internet," Claire Sellick of Infosecurity Europe said in a statement.
The statistics echo the findings of a recent study on Internet addiction published in the journal PLOS ONE, which found that when heavy Internet users are forced to go offline, they undergo withdrawal symptoms comparable to those experienced by drug addicts.
"Although we do not know exactly what Internet addiction is, our results show that around half of the young people we studied spend so much time on the net that it has negative consequences for the rest of their lives," study author Professor Phil Reed of Swansea University said in a press release.
Previous studies have also supported the idea that the increased presence of technology in the workplace is raising stress levels: A 2011 University of Cambridge study found that one in three people are overwhelmed by technology and social media. The study also found that technology-related stress was correlated with increased feelings of life dissatisfaction.
Another survey found that work emails can be a major source of stress: Just 6 percent of small business employees said that they could handle more than 50 emails per day, and 37 percent of employees who use smartphones said that they experience "email overload."
But technology isn't the only major source of stress in workers' lives that has increased in the past year. According to a recent study, 83 percent of employed Americans are stressed about work. The survey of more than 1,000 Americans found that poor compensation and increasing workloads were the biggest stressors.
Click here for ways to de-stress at you desk that can help you take control and get calm without even leaving the office.
Calling all HuffPost superfans!
Sign up for membership to become a founding member and help shape HuffPost's next chapter
BEFORE YOU GO
PHOTO GALLERY
9 Myths About Stress -- BUSTED