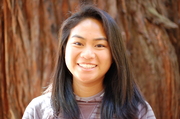 While in high school, I spent most summers taking college classes and helping my mom take care of my family. I graduated this past spring from Alameda Science & Technology Institute, an Early College High School, and with the help of Students Rising Above (SRA) I am currently pursuing a degree in psychology at Carleton College in Minnesota.
Early on, my SRA mentor stressed the importance of gaining experience through summer internships. She recommended that I apply for the Kaiser Permanente Summer Youth Employment Program (SYEP), which offers paid summer internship experiences for under-served high school students in Northern California. I filled out the extensive application and before I had the chance to fret about whether or not I would be accepted, I got an email about an interview. Yay, interview!!! Wait, interview?! Luckily, SRA's career development team stepped in once again and helped prep me by explaining the typical interview process, conducting a mock-interview and providing overall tips for success.
My hard work paid off! I was offered one of the eight-week Kaiser Permanente SYEP positions. The internship began June 15th and I spent the first day with volunteers and other interns at our New Employee Orientation (NEO). We learned about various things like compliance, safety, and what being a Kaiser Employee is all about.
The following day was my first official day in the OB/GYN department. At first, I was extremely intimidated by everyone around me. As I toured the building with my supervisor, I met many employees and meekly said my "hellos." That's what happened in the first couple of days; me walking around doing the tasks I was assigned and shyly saying "hi" to my new co-workers. After the first week, I figured out the flow and finally became more confident in my new environment.
The three main projects assigned to me by my supervisor and service managers included: new employee binders, California Prenatal Screening Program's first and second trimester error rate project, and exam room pamphlet standardization. I designed and created binders that can be helpful for new employees coming into our department, made efforts to decrease our error rate on the California Prenatal Screening Program's first and second trimester forms, and worked with physicians to reduce and standardize the amount of pamphlets in each room.
I was very open to new opportunities. I wasn't picky about the task they gave me and was more than happy to help, whether that included making copies for the receptionists, or putting up wall decals. As long as I was productive, I was content. These tasks were nice to have, especially when I was taking a break from my assigned projects. On Fridays, I participated in "Education Days" which provided me with the opportunity to enhance life skills, ranging from public speaking from Toastmasters to financial literacy. Throughout my internship I also got the chance to shadow and interview various Kaiser Permanente employees. I learned about different positions available in the healthcare industry, and was given insight into just how many paths are available to me. This was especially valuable as I continued to think about what I might pursue as my college major.
During my time in the OB/GYN clinic, I also truly saw the importance of teamwork and how much Kaiser Permanente employees care about their patients. Because our department was very fast paced and always extremely busy, we didn't have room for holes. When someone was off, we had to fill in that hole. Sometimes I would see employees doing their best to fill in that hole, even if meant doing the job of two people.
I attended staff development as well as procedure meetings. I was most taken aback with just how much each Kaiser employee cares about their patients. They discussed incidents when they felt they weren't able to give the best experience for the patient, and problems that arose throughout the day. Staff members regularly spent time brainstorming solutions and ways to improve patient care and experience. These employees- who repeatedly have hectic days- really took it to heart when their patients were not satisfied. This touched my heart, and I aspire to be like them one day, truly caring about the quality of service I provide.
At the end of my internship it was sad to say goodbye to my team, and I will definitely remember all that they taught me, in addition to the kindness they showed. For students seeking healthcare related internships, I would definitely recommend Kaiser Permanente's Summer Youth Education Program, and encourage those outside of Northern California to research relevant opportunities in their particular area.
I believe the internship experience is what you make of it. If you don't take advantage of the resources available, then you won't be able to experience the program 100%. Be flexible when looking for internships and during the internship, because you never know unless you try. If you have the opportunity to have lunch or sit with the person in charge of your internship, take advantage of it. It's amazing how much experience they have and how much they are willing to share.
Finally, if you are chosen for an internship, that means the selection committee expects you to be the best. So, live up to the expectations and strive to go beyond them, because you're representing yourself and that company.
Edylwise Romero is a first-generation college freshman studying psychology at Carleton College. She is involved in Carleton's Pre-Med Association, Ebony (a dance group), Asian Students in America (ASIA) and women's lacrosse. Romero also works in local elementary schools as a tutor for Carleton's America Reads and Counts program.
Calling all HuffPost superfans!
Sign up for membership to become a founding member and help shape HuffPost's next chapter