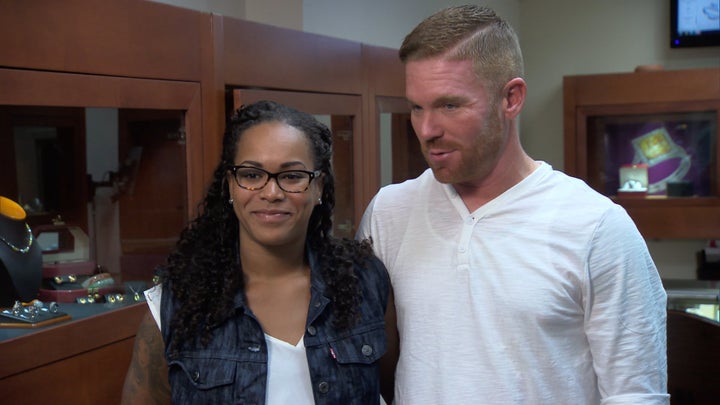 Briana Garcia, 24, and Adam Hammons, 36, endure prolonged stares, judgment and even racial slurs all for the sake of love.
What cuts the interracial couple deep, however, is the prejudice they face from their own families about their relationship.
In a new reality show called "Bride & Prejudice," three couples who are ready for marriage fight to overcome the prejudices their family members hold against their partner's religion, gender or race. Garcia, a biracial woman, and Hammons, a white man, joined the cast to try to work through their families' issues before their wedding in August 2016.
"I wanted everything to be on the table for my family and it's just hard to get there with so many people just not approving of our relationship as an interracial relationship," Garcia said. Her relatives ask her loaded questions like "what does that white man have to do with you as a young black woman?"
Garcia's older cousin, Ashlyn, is the most critical of her relationship.
"I don't think she approves of me dating outside of my race, especially with everything that's going on in society today, and she thinks that I could possibly be a target," Garcia told The Huffington Post. Ashlyn has even threatened to not attend their wedding. "I'm really just trying to get Ashlyn to be on board with our relationship. It's kind of like she has her mind made up and she's not changing it."
Watch a clip of Hammons trying to find common ground with Ashlyn below.
Meanwhile, Hammons is trying to get his father, Jack, a 74-year-old Texan, to change his old ways.
"I was raised basically to not like black people," Hammons told HuffPost. A majority of Hammons' childhood friends were black. Due to his family's bias, however, he wasn't allowed to always hang out with them outside of school and sports, so he lost many friends along the way.
"Most white people, when [they] see a black person, it's an automatic stereotype because of what they see on TV… that was my dad," Hammons said.
Though Hammons now has a 13-year-old daughter from a previous relationship who is half black, he said his father's racially biased mentality would still creep up. But Hammons said he's proud that his father is showing a willingness to change by talking with him and his fiancé about their relationship. Garcia, however, is worried that her future father-in-law's old racist habits will die hard.
The couple hopes that by sharing their story they can help other couples dealing with this challenge.
"[We] wanted to basically do this show to show people that are in the same exact situation that it might be hard now but it's gonna be OK eventually," Hammons said. "You have to do whatever you can, especially if it's your family, to prove to them that this is OK to do."
Despite the adversity they face from their families and beyond, Hammons and Garcia "look past all of that" by reminding each other about what matters the most: their relationship.
"Love is love," Hammons said. "I really feel like she's my soulmate."
REAL LIFE. REAL NEWS. REAL VOICES.
Help us tell more of the stories that matter from voices that too often remain unheard.
BEFORE YOU GO
PHOTO GALLERY
18 Interracial Couples Share Insults They Have Experienced