It is easy to get caught up in organizing and activism around a single issue or cause. This week, we proudly supported grantees who are working at the intersection of multiple issues, addressing the complexity and interconnectedness of the world we live in through their activism. This week we share three inspiring anti-racist, animal rights activists who were awarded a Changemaker of the Year Award via the Sistah Vegan Project, and also a seed grant from The Pollination Project.
With our daily grants of $1000, our Pollination Project community of daily givers is happy to share our most recent grantees. Congratulations to each of them.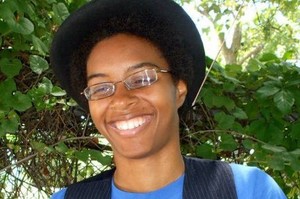 Art and Intersections. Toi Scott works at the intersection of race, gender and activism. As an author, playwright, spoken word artist, filmmaker, journalist, food justice activist, anti-racist and anti-oppression organizer, and gender workshop facilitator and curriculum developer, Toi's work is widely accessible. Toi's unique approach to social justice has received wide-spread recognition from peers and fellow activists. Toi received one of the Sistah Vegan Project's 2015 Vegan Anti-Racist Changemaker Awards this year.
Intersections of Activism in Boston, MA. Brandie Skorker is a passionate vegan, LGBTQ, and social justice activist working as the Community Engagement Coordinator at the VINE Sanctuary in Boston, MA. Brandie aims to bridge the gap between animal rights and structurally-related issues in LGBTQ communities and communities of color by drawing attention to the intersections of race, gender, sexuality, and veganism. At this year's Sistah Vegan Conference Brandie received a 2015 Anti-Racist Changemaker of the Year award for her consistent efforts to create safe spaces for LGBTQ and people of color within the animal rights movement.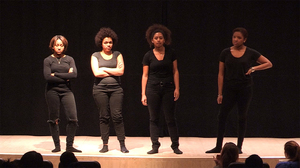 Dialogue and Difference in Universities Around the U.S. After the remarkable success of their 2012 student-led performance project on dialogue and difference, "Show Me Some Skin," at the University of Notre Dame, Edith Cho and others founded Stage for Change. Stage for Change offers consulting services and workshops to student groups, faculty, and administrative departments at universities throughout the U.S. in order to help them develop creative projects that provide a space for dialogue. Through the program, anonymous writers will be able to share their otherwise unacknowledged experiences with intolerance or "otherness" at college campuses across the country, thereby defying stereotypes and reclaiming their own identities.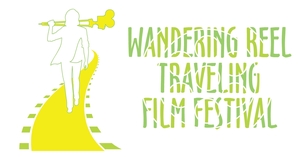 Social Change Films in North America. Through his project, The Wandering Reel Traveling Film Festival, Michael Harrington aims to expose North American communities to independently-produced films that foster self-reflection and social change. The Wandering Reel Traveling Film Festival showcases thoughtful cinematic pieces from across the globe. Throughout 2015, Michael and his colleagues will organize viewings at approximately 25 venues between Los Angeles and British Colombia. Films will be aired a variety of locations including theaters, schools and community centers, and will engage audiences in deeper conversations about the nature of film, the film industry, and conscious living as a path to making the world a better, more unified place.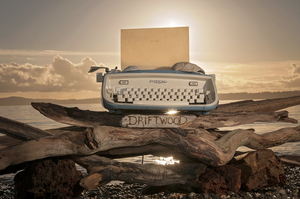 Vegan Media in the US. Holly Feral is the creator of Driftwood Magazine, a high-quality quarterly vegan journal that aims to go beyond the traditional confines of publications about vegan lifestyles. Holly says, "Most vegan publications focus on why people should become vegan and how to make vegan food. There aren't any magazines that focus on life beyond the gate." With the first publication scheduled for release during summer of 2015, Driftwood will help to grow the global vegan community by sharing travel tips and stories, promoting vegan culture centers, and publishing writing, photography, and other artwork from vegans all over the world.
Vegan Feminist Activism. Aph Ko's work is a unique and powerful blend of scholarly anti-speciesist, anti-racist, and feminist activism. She has composed a number of influential, nationally-renowned works analyzing the intersections of capitalism, colonialism, racism, sexism, and animal suffering. Two of her online projects, Black Feminist Blogger and Tales from the Kraka Tower, have even been featured in major publications such as Ebony magazine, The Feminist Wire, Everyday Feminism, and Indie Wire. Thanks to her insightful social commentary and passionate conviction for her beliefs, at this year's Sistah Vegan Project Conference Aph was awarded recognition as a 2015 Vegan Anti-Racist Changemaker of the Year.
Community-Based Chimpanzee Conservation in Uganda. Joseph Serugo is the founder of a wildlife conservation effort in Uganda that blends sustainable development and prosperity with chimpanzee conservation. Although wildlife protection exists in some areas of Uganda, on-going research indicates that expanding human settlements often create conflict by placing pressure on natural resources, thereby forcing chimpanzees and other wildlife to rely on human-grown crops for sustenance. Together with a team of volunteers, Joseph's conservation program aims to minimize the conflict between village agriculturalists and chimpanzees by providing agriculturalists with cultivation techniques and development tactics that will prevent future conflict, as well as holding education and outreach sessions at local schools and community gatherings.
Inspirational Designs in Oakland, California. Isaiah Teague's spiritually-inspired fashion line is spreading a message of sustainability, positivity, and spirituality in some of Oakland, California's most marginalized communities. His company, gODDli Apparel, is a fashion line consisting of ethically-made and sustainably-sourced shirts printed with positive, uplifting messages and reflections. Isaiah hopes to use gODDli Apparel in order to inspire a spiritual awakening among impoverished and oppressed youth from his community. Isaiah plans to sell his unique brand through a variety of local area vendors. He is one of Oakland's Impact Youth Hub Fellows who received a seed grant this year.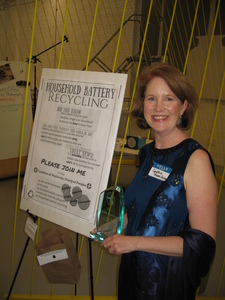 Battery Recycling in New York. After years of frustration over the lack of a battery recycling program in New York State, Cynthia Frame-Endres is taking action. Though her recently- inspired Household Battery Recycling program, Cynthia is educating community members on the importance of battery recycling while building a network of concerned citizens to lobby state and local governments for the creation of these recycling programs. Over the next 12 months, Cynthia will hold education forums and provide communities with household battery recycling bins.
Community Gardening in Uganda. Martin Morris Okolo Etukoit is using his skills as an urban and peri-urban farmer to provide impoverished residents living in the Oderai area of Soroti, Uganda with the tools necessary to sustain and grow their communities. Martin's HortiCulture for Urban Poor project involves the construction of a greenhouse where residents from the area will be given instruction on sustainable agriculture and will work in teams to plant, grow, and harvest crops. The project will not only provide essential nourishment to impoverished residents; it will help participants build social support networks as they cooperate with one another to ensure successful crop cultivation and greenhouse maintenance.
Remember, you don't have to be financially wealthy to give every day. You can join us as a Daily Giver, or give a little bit every day. It will change your life!
Calling all HuffPost superfans!
Sign up for membership to become a founding member and help shape HuffPost's next chapter