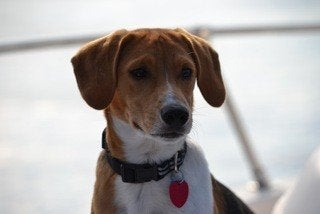 When Rhys Gardiner learned about the urgency with which older kids in foster care need loving families before they exit the system alone, she focused her adoption search toward youth on the brink of independence.
She searched the online registry in her home state of Massachusetts, but the oldest youth registered for adoption was 16. So she looked outside her state.
"I heard from a lot of people in the field that it's best for kids to stay close to their connections and I really respected that, however I was trying to match with an older teen or young adult who was close to aging out the system and I didn't realize that at that time so few kids at that age were being worked with for adoption," said Gardiner.
Her search took her to the Adopt US Kids website, where anyone can access online photo registries of youth available for adoption in all 50 states. One photo, of a boy in Pennsylvania, stuck out.
The boy was interested in anime cartoons from Japan, the country Gardiner had studied in during college. He was also interested in going to college, a process she wanted to help with, and he had been waiting a long time for a permanent family. Their similar interests were enough to convince Gardiner that she would be a good match with him.
A total of 185,000 potential adoptive parents indicated they would adopt a child 13 or older, which means there are six prospective parents for each teen eligible for adoption, according to the 2002 National Survey of Family Growth. Yet, only one in 28 people who initially contact a child welfare agency actually make it to the end of the adoption finish line, according to a 2005 Harvard University study.
At least part of the drop out rate for prospective parents is due to the long and complicated adoption process. This is magnified even more in the case of interstate adoptions, which require two child welfare systems to hash out paperwork, responsibilities and costs.
"The whole issue of interstate adoption has been such an issue for decades," said Madelyn Freundlich, former executive director of the Evan B. Donaldson Adoption Institute and 2007 recipient of the U.S. Administration for Children and Families' Adoption Excellence Awards.
During a convening of adoption experts in March 2011, called "Eliminating Barriers to the Adoption of Children in Foster Care," participants listed the obstacles of adopting children in the U.S. The highest on the list was the difficulty of interstate adoption.
"The United States does not have a national adoption system. Instead, there is a different system in each state, the District of Columbia, and Puerto Rico," says the report from the convening. "Moreover, some state child welfare systems are administered at the county level. Each jurisdiction has its own criteria for adoption eligibility and process for recruitment, approval, and training of adoptive families."
Under the current structure of interstate adoption, the sending state enjoys a financial gain because it reduces the number of youth in their child welfare system; the receiving state loses financially because its number of children in the system rises.
Gardiner knows personally the challenges of interstate adoption.
Massachusetts requires public child welfare agency involvement in receiving an interstate placement. So the Department of Children and Families was needed to supervise the placement.
"There was not always agreement between the two states as to what each state would be responsible for providing," said Gardiner. "[Massachusetts] was willing to provide the required home visits but not the service planning and independent living skills services which appeared to be the responsibility of the sending state. But the sending state kept insisting that Massachusetts should provide it."
The Interstate Compact on the Placement of Children (ICPC) is a contract entered into by all 50 states, D.C. Puerto Rico and the Virgin Islands to work together during interstate adoptions.
"The role of the interstate office when a child is leaving their home state is to assure that the agency placing the child has the appropriate authority to do so, that the birth parents rights are protected, that the adoptive parents rights are protected, and most importantly that the child will be in a safe and appropriate placement in the new state," said Jason McCrea, Interstate Compact Office director of the Pennsylvania ICPC Office.
When determining which state is responsible for follow-up assessments and services for the child and family, McCrea says it varies case by case.
"The sending agency makes arrangements with an appropriate resource in the receiving state to provide supervision," he said. "Many agencies are licensed and have offices in neighboring states, so they use their branch offices to provide the adoptive match and supervision. Normally the agency that licensed the adoptive home provides the supervision, but this isn't always the case."
"The purpose of the compact is...to assure that children 'receive the maximum opportunity to be placed in a suitable environment and with persons or institutions having appropriate qualifications and facilities to provide a necessary and desirable degree and type of care.," Freundlich wrote in the report. "The ICPC, however, in its substantive provisions, fails to set even minimal standards for the assessment of suitability, appropriateness, and desirability of care."
"The outcomes for children," Freundlich writes, "have been, at best, troubling, and at worst, dire."
Filing costs and transfer of services are just some of the discrepancies that states can debate when overseeing an interstate adoption, according to the 2011 convening report. Other issues that frequently arise include differences in home study procedures and the process by which states determine whether or not a family is suitable to adopt. Each state has its own set of measures.
"Everyone recognizes a driver's license, but not everyone recognizes home studies across states," said Jeff Katz, founder of Listening to Parents, a non-profit created in 2009 to increase the number of adoptions of children in foster care through eliminating barriers to adoption.
Listening to Parents has created a list of policy suggestions for Congress aimed at simplifying interstate adoptions. Among them: Both the sending and receiving state should receive financial reward for interstate adoptions, and a national standard for home studies. The latter recommendation was recently pushed by child welfare researchers at a roundtable on Capitol Hill.
Adopt US Kids provides interstate adoption trainings for social workers and department staff across the nation in an effort to help them better serve families.
While Massachusetts and Pennsylvania were debating back and forth, Gardiner's prospective son was waiting in a group home for a decision. She was able to visit him back and forth for half a year, and because Massachusetts requires kids under 18 to live with their prospective adoptive parents, he moved in with her for the summer, almost a year to the day of her first inquiry.
The family ran into more roadblocks on their road to adoption. There was a lack of clarity on which state the adoption would be formalized in, because of the burden of paying for filing fees. And the Massachusetts office claimed they never received the initial ICPC paperwork.
"All this was happening while he was in my home, while he was under stress of trying to stay in touch with his family in Pennsylvania, the holidays were hitting, the stress of committing to a new family, and the process could have gone smoother for his emotional well-being," said Gardiner. "I feel that we didn't receive the services that an in-state match would have received."
The process slowed to a crawl, and he returned to a transitional living placement in Pennsylvania.
Though Gardiner's interstate adoption process was put on pause, they continued building the relationship and have filed papers towards formalizing an adoption, which is much simpler now because he turned 18. In that time, Gardiner has also adopted a daughter, Victoria, from her state of Massachusetts, and says both processes of interstate and intrastate adoption are worth the end result.
"There has never been any question in my heart since I've met either of these two that they are family to me," said Gardiner.
Related
Popular in the Community