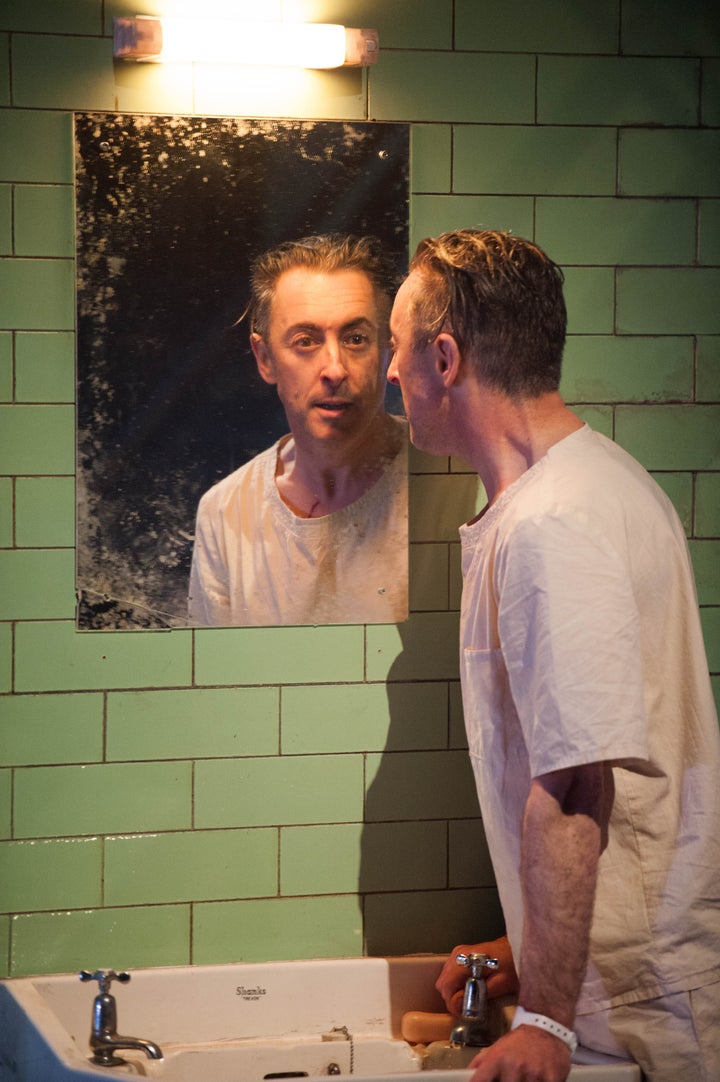 Alan Cumming knows a little bit about feeling like a second-class citizen.
After all, aside from being a gay man in a straight-dominated world, he's also a Scot who's lived in London.
"There were a lot of things about London that reminded me every day of my own shortcomings," Cumming says, sipping coffee in the Café Pick Me Up next to the East Village's Tompkins Square Park. "It has to do with class and the accent. People are politely back-handed and even mean about being different there. The same things that make me different there are celebrated in New York."
Since moving to New York -- where he's lived since the late 1990s, when he had his Tony-winning run in a watershed revival of Cabaret -- Cumming has become something of a gay icon, in New York and internationally. He's an out gay man who has built a career playing everything from the pansexual Emcee in Cabaret to a tough-minded political strategist on CBS' The Good Wife (for which he's been nominated for an Emmy). He's played Hamlet and Macbeth on stage, and made movies ranging from the X-Men and Spy Kids series to such literary adaptations as Nicholas Nickleby and The Tempest.
But with Any Day Now, a moving drama due for release in mid-December, Cumming has inserted himself squarely into the Oscar race for best actor. The film has won a string of audience awards at film festivals from L.A. Outfest to the Tribeca Film Festival, from Provincetown to Woodstock. And much of the film's loving word-of-mouth has to do with Cumming's performance, which mixes throw-away punchlines, wrenching dramatic moments -- and the chance for Cumming to play chanteuse in a cabaret setting.
The film, however, is a micro-funded upstart, being released by tiny Music Box Films, previously known mostly for its foreign-film imports (such as the Swedish version of The Girl with the Dragon Tattoo and its sequels). So Cumming has already started beating the drum for the film, in hopes of bringing attention to a movie that doesn't have a budget for a major Oscar advertising campaign.
Though he's a lithe 5-foot-10, there's something pixie-ish about Cumming. It's no doubt a smile that has probably had the word "mischievous" appended to it since he was a lad. But he gets serious when asked about Any Day Now, in which he plays one of a pair of gay men (opposite Garret Dillahunt) who try to adopt a teen with Down syndrome.
The film, set in the late 1970s, is based on a true story. Cumming's character, Rudy, is a down-on-his-luck drag queen who dreams of being a singer -- and who takes in the teen, Marco, after the boy's mother is arrested for drug possession. Rather than let Marco disappear into foster-care system, Rudy tries to adopt him, in partnership with a semi-closeted attorney named Paul (Dillahunt).
What is it that leads the broke Rudy to try to assume care for Marco? "He's got a sense that Marco is an outsider, just as he is," Cumming says.
This interview continues on my website.
Calling all HuffPost superfans!
Sign up for membership to become a founding member and help shape HuffPost's next chapter