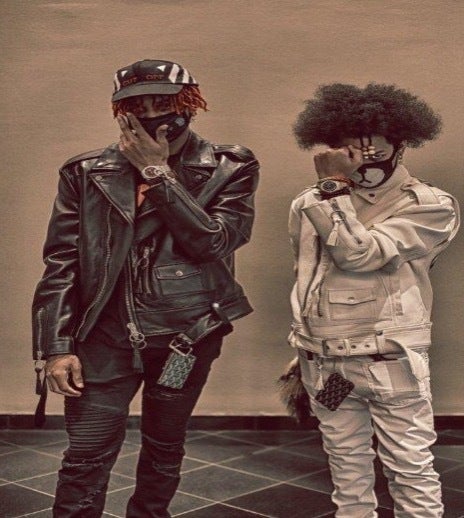 Two young brothers from Michigan have been creating a powerful buzz with their anthem "Rolex", an infectious tune capturing fans from ages 5 to 60. The official video has gained over 5 million streams and the single over 91 million.
The video features the brothers dancing around Atlanta with their friends, and a cameo appearance by their idol, Usher. Having danced all their lives, the two were encouraged to try the singing end of it, and proved very successful with their new endeavor. These guys are the real deal.
Certainly a team to watch out for in the near future, I was fortunate enough to speak with Ayo, and Teo, and found them to be vivacious, vibrant, and a blast. You two are amazing, your song has become an anthem. Are you two brothers?
What motivated you to do all this?
Ayo: About 7 months ago our manager said, "I know you guys are big on dance, did you ever try music? We weren't confident to do music at the time, so he gave us the confidence to go into the studio, and we did our first track, and then we found out about "Rolex", and that's how it happened.
So you two were actually dancers before?
Ayo: Yeah, we've always been dancing. We did talent shows. The last talent show we did was at my Community college.
Teo: Yeah, we were doing all the talent shows, then when Ayo started to go to college I had to get out of public school because it was too much, but I still do it on line, and I'm about to graduate.
You are only 17 years old, correct?
How does it feel to be so young and on the rise to fame almost overnight?
Teo: Good, I guess. It's a lot of work.
How does it affect your life, your friends, your social life?
Teo: Yeah, I don't see them that often, but when I do see them...they know now, but at first everybody thought we were leaving them behind. But, they know now because we go back to Michigan to visit.
Where are you hoping to be in 10 years?
Teo: In 10 years I'm going to be 27, and I'm probably going to be in movies or something.
Ayo: We're going to get into the fashion. We're going to drop our own line soon. So we're getting into the fashion, and then acting and stuff like that, because we like to have fun. People that really hang around us know we're like really, really fun.
Who actually sings the song?
Ayo: My brother sings the hook, and his verse in the beginning. Then I come in at the end with the "Rollie" bass, so we both rap with the song.
So you guys had no clue that you could sing or do music?
Ayo: We've been doing music...I've been playing trombone forever. We both play the drums, the piano. We've been in music forever but we didn't know we could actually record music. I mean I actually recorded music a long time ago but, I wasn't serious with it.
Your song is like an anthem.
Ayo: Yeah, it really is, all ages enjoy the song. We have more catchy tunes coming on the way. I can't wait.
Ayo: We're gonna drop two records. We have two records that our supporters are waiting for, a lot of people have been waiting for. We have a lot of new supporters so they're very anxious to see our new music.we can't wait to release them because everything is going to be catchy. Maybe some different vibes, a whole different sound.
Well "Rolex"is just a cool song, no drama, just fun. If the two of you could have your ultimate stage fantasy, what would you want to happen?
Ayo: A big old screen, all our friends would be dancing with us, there would be all our team, we have choreographers, break dancers, in a big old arena. A crazy old show....that would be our fantasy. We'd be dancing to our own songs, because we have a lot of stamina and a lot of people don't do that other than Usher. We're the youngest though.
I think that when you are Usher's age you're going to be way more popular.
What were your inspirations growing up?
Ayo: Our grandmother. Usher and James Brown and Michael Jackson. Those four inspired us a lot. We got inspired by Chris Brown growing up, a lot of dancers too. We never went to a dance class.
You never had any formal dance training?
Ayo: We never had any lessons until a year ago when we met with Usher. That was considered dance class because that was like crazy choreography. A couple of months ago we had like a dance choreography, and we picked up very fast. If we had a dance choreographer years ago we would have been crazier than we are now, but we are self taught.
I'm really impressed with you now. Do you get along as brothers?
Ayo: I mean we are brothers so of course we fight. Not like crazy like a first fight. We just argue.
I meant like musical arguments.
Teo: Not necessarily. Just little stuff in the studio.
Are there any other siblings to team up with one day?
Teo: Yeah. We got a little sister who's 2 and we have a little brother who's 11.
If you could say anything to your fans and followers, what would it be?
Both : We love you and thank you for everything. There's more to come. Stick with us till the end, and we will stick with you guys
Teo: Yeah, we just got our passports, we have a Germany tour coming up, and a little tour now that we are doing. We went back to Atlanta for two or three days and then we're leaving right back out. Then we got to go to Japan, and we definitely have a Germany tour in September. We are performing every where right now, including Summer Jam's. We were just in Michigan the other day. We are going to all types of places.
Anything else that you want to talk about?
Ayo: We are real brothers from Michigan.
When are you coming to New York?
Ayo: We just left New York two weeks ago. We are definitely coming back! We love New York and we honestly want to move there.