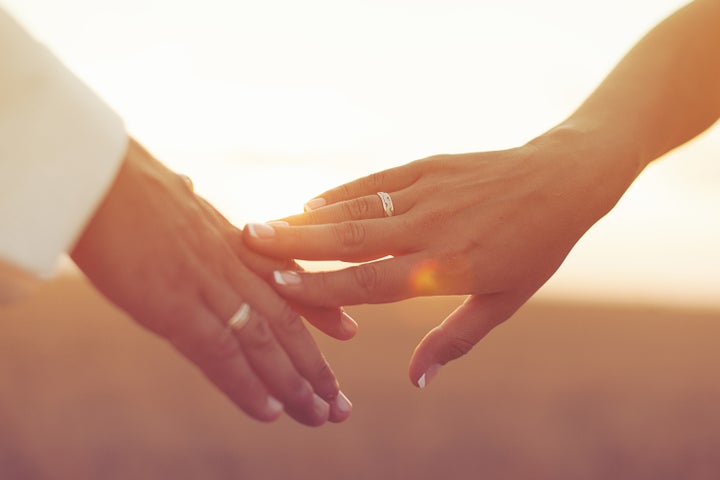 Spring may be here, but if a winter wonderland wedding is your dream, it's not too early to start planning now. Dunton Hot Springs, a former mining town in Southern Colorado turned luxury-rustic-all-inclusive resort, offers a snowy backdrop from December to March.
On a recent stay at Dunton Hot Springs last month, I wanted to find out just how a winter destination wedding would go down here as it's extremely remote and the altitude and weather could present challenges.
At roughly $21,000 a day during the winter season to rent the whole town out for up to 44 people, including meals and alcohol, I had to know if it was worth it from someone who'd recently experienced it.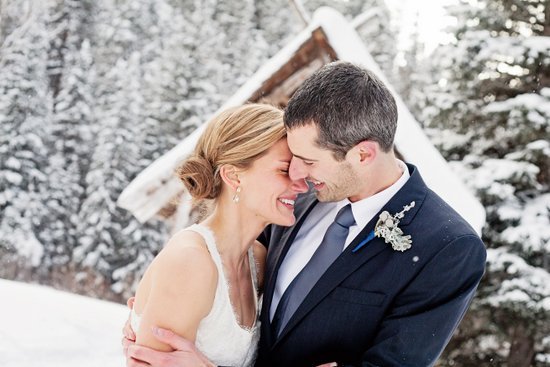 Newlywed Erin Snyder (now Murray) was married to her beloved, Travis, at Dunton Hot Springs in January 2013 (in photo above). I chatted with her about winter dress shopping, cost versus value, and the unorthodox item her flower girls tossed down the aisle, among other helpful tidbits.
Why did you choose Dunton Hot Springs?
As we searched for various destinations for our winter wedding, we couldn't find one other place that offered the same level of uniqueness, history, excellent food, rustic accommodations and all that surrounded by such natural beauty.
Both Travis and I prefer things that are off the beaten path. Dunton was the perfect place to reflect our adventurous spirit while still providing a relaxing environment so all family and friends could feel comfortable during their stay.
We also loved that we could reserve the whole town. This option topped the charts in terms of unique opportunities.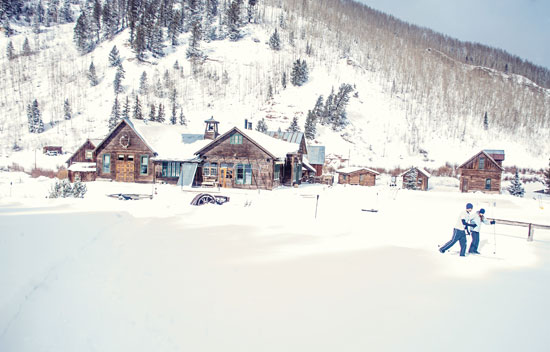 How long was your stay at Dunton?
Two nights (arrived on a Friday afternoon, left just after noon on Sunday).
How did you decide on your dress based on getting married in the winter?
I first thought I'd choose a winter-friendly dress. As many brides know, once you put on your wedding dress, you just know it's the right one. In my case, that was a thin, laced silk Monique Lhuillier dress from her 2012 Spring collection. I wore suede boots that went high up my leg and had a lower wedge heel so I could walk in the snow. I also bought a fur coat to throw on once the ceremony ended.
Wackiest adjustments made for a winter wedding?
EM: It was only 7 degrees the day we got married! They said this was the lowest recorded temperature for a wedding at Dunton. Instead of throwing flower petals, our flower girls passed out creatively packaged handwarmers to our guests as the walked down the aisle!
As difficult at the cold was at times, my husband and I both agreed we would do it the exact same way if we could go back in time.

Pros of a destination wedding in the winter?
Snow is a beautiful backdrop.
What was the reaction of your guests to the experience at Dunton?
EM: Although it was cold outside, all of our guests immediately fell in love with Dunton. Many said they wanted to plan trips to go back in the future. In spite of this, they kept referring to us as "an adventurous couple that walked to the beat of their own drum." I think that was their way of saying we were crazy but we took it as a compliment.
What activities did you plan?
Dunton has both free and separately priced activities. We created a list of free activities in our welcome packet. This included ice skating, snowshoeing, cross-country skiing, soaking in the outdoor or indoor hot springs and yoga in the studio. The saloon has a perfect space to sit on comfortable couches, have a warm drink or beverage, play a round of cards or simply have conversations in a relaxing setting.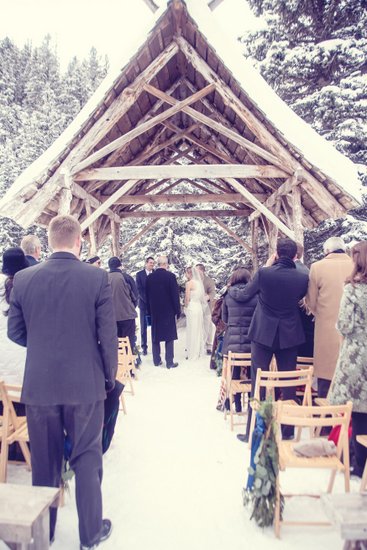 Highlight of your ceremony?
The outdoor chapel is breathtaking -- a simple structure in an incredible setting. It was covered with snow with a backdrop of evergreens.
What was it like working with executive Chef Carrie Eagle in planning your wedding reception meal?
After reading several reviews that raved about the chef, we wanted to know what she enjoyed cooking. She already had sample menus for us to review. Most of the options were locally sourced item or organically farmed, which we loved! We built our menus off the samples and provided a few specific requests of our own, including our request for a pie bar in place of a wedding cake for our reception dinner. We were so pleased with the outcome in each and every meal. The pies were amazing too!
Highlight of the wedding?
Dunton is undeniably beautiful! They don't have to work to make you feel like you're at a private, mountain retreat. You are! And the staff are incredibly kind and accommodating. It was almost embarrassing how much I felt like a queen that weekend.
One thing you'd do over again when planning a wedding at Dunton?
Spend a few more days there after our guests left. Not much beyond that. They were incredibly helpful in the planning process. So much so, I didn't even need a wedding planner.
What type of couple would be a good fit to get married at Dunton?
Adventurous, adores the mountains, appreciates rustic charm and loves to eat great food!
Drawbacks of a wedding at Dunton?
The altitude and remote location. I would have thought this through when considering my guest list. My best friend was unable to come because she was seven months pregnant and the nearest hospital is an hour away. My grandmother also chose not to come because of the distance and conditions getting around the property. I don't want to scare anyone away but they should be aware of the potential challenges to those with physical limitations.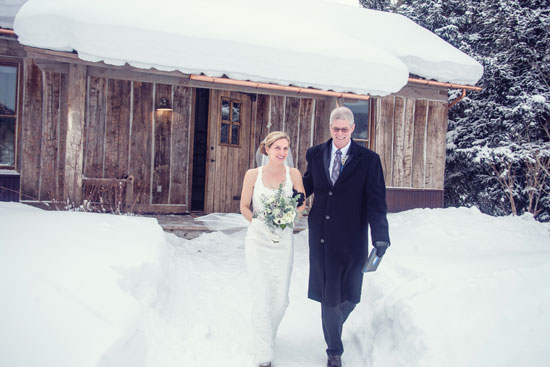 What's your advice to someone weighing the costs of a destination wedding at Dunton?
I don't think we could've given our guests all we did for less than the price we paid to rent the town. For someone working off a tight budget, this would not be the right destination. The truth of the matter is that you'll often end up spending just as much in the end. In this case, you just put a lot of your money down all at once.
Any other hot tips for brides planning a destination wedding?
Overall, visualizing your wedding in a place you have never visited can be very challenging. Choosing a location like Dunton that doesn't require as many add-ons to create special spaces and environments for celebration is really key. Keep the majors major and the minors minor. You're marrying your most beloved partner and friend. Choose a place where you can focus on that above all else!
More Winter Wedding Resources
All wedding photos by Jen Snyder Design