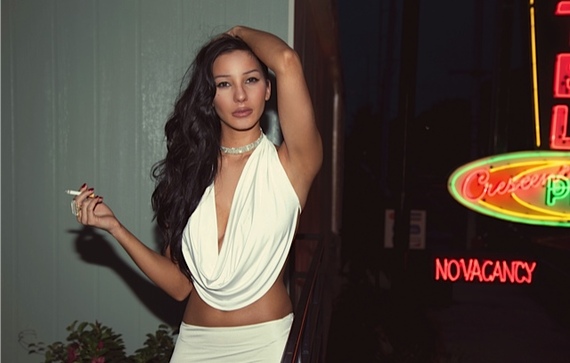 Cali Blake is no ordinary artist. The born, raised and influences New Orleans artist, has just released her new album, "Cicadas in the Sun". Her music is dark, nostalgic, raw and seductive, in a very creative and unique fashion.
Her voice has been compared to that of a 90's lounge singer in a smokey bar. Her music is dream pop infused with acoustics, making her music sound fascinating.

What influences your music and song writing?
My memories, mostly.
When growing up, whom did you enjoy hearing on the radio?
I loved The Meat Puppets, Alice in Chains, Mudhoney, Radiohead, Hole, & many rock bands of the early 90's, but I also really enjoyed the ultra bubblegum pop of the later 90's like the Spice Girls & Britney. In the early-mid 2000's I got into the indie/punk/alt music mood with a lot of Brand New, Dashboard Confessional, Something Corporate, Seether, etc... I was musically all over the place growing up.
Your music is very unique and sexy. Is there a song that is special to you on your new album, one that perhaps you enjoy performing, or are most proud of?
I love playing Mayfair Motel because it was based on an experience I had in Los Angeles. I also hold So Nearly Free really close to me because it's about a friend who passed away.

Do you plan a tour in support of your new album?
I will probably play some small, intimate shows around New Orleans, but nothing too large as of yet. I think a small setting is best for such a raw album.

Do you think the fact that you grew up in New Orleans had a direct influence upon your music?
I do. When you have the luxury of growing up in such an eclectic city that is overflowing with talented musicians, you are bound to be inspired.
When you aren't involved in music, what do you enjoy doing?
I love to choreograph lyrical dances & paint.
How many instruments do you play?
Piano, guitar, harmonica, & some violin. I like to play around on a lot of instruments though.
What made you decide to choose the music industry?
Well, I've been writing music for such a long time, and I initially intended on keeping every song private for the rest of my life. Eventually it got to a point where I had so much music, and people expressed interest in hearing it, so I caved in and shared it. The rest is history.

When did you start writing music and singing?
I started writing and singing together at around 8 years old, mostly sad piano songs.

What is in Cali's future as far as new projects?
I will be directing my first music video next week for the song So Nearly Free, which I am so excited for. I will really be pushing my creativity, and I cannot wait for the challenge. I think the fans of this album will really enjoy my vision.
For more info:
www.CaliBlake.co
Cali Blake(@caliblakeX)| Twitter
Cali Blake(@caliblake) * Instagram photos and videos
http so://www.facebook./Cali-Blake-496631920393140/
Popular in the Community