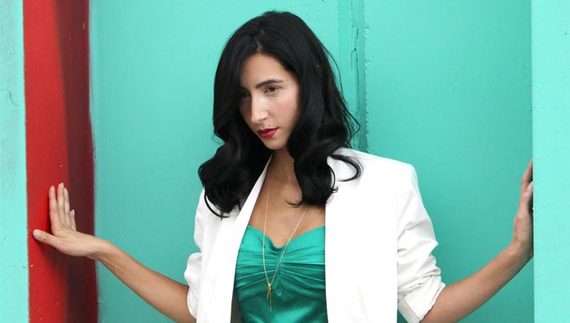 Loaded Gun, the new EP from Chrystyna Marie, will drop at the end of February 2016. Chrystyna was born and raised in Toronto, Canada. Definitely a Blues/Pop/Rock artist, with a barrel of grunge on tossed in for good measure, her sound is sui generis, primarily because of her flexible voice, which one moment grinds like Janis Joplin and the next moment demonstrates a childlike sweetness. It's a voice that can only be described as "powerful." She doesn't shriek or yell; she just projects like a howitzer.
She made my list of Breakout Acts of 2016 because of her vocal chops and her songwriting ability. And she was kind enough to sit down with me and talk about her music.
What is the most trouble you've ever gotten into?
Hahahaha are you trying to make me look bad? I haven't really ever gotten caught doing anything that could get me in trouble to be honest. Doesn't mean I'm a saint? I'm just cleaver in my adventures. My best friend and I set up tent overnight in a private park once. We didn't know it wasn't allowed and some joggers called the police the next morning. An officer woke us up, pulling at our tent and gave us ten minutes to take everything down and go away or we would get more than a warning ticket. Good thing my mom sent me to camp as a kid. I took that thing down so fast the officer was surprised and we got away with a warning. Does that count?
What are the five things you can't live without?
Music, books, family, friends, and iced tea, mmmmmm iced tea!
What's your favorite song to belt out in the car or the shower?
"Let it gooooo, let it goooooo" I love the movie Frozen. I just belt out parts of the song whenever and wherever. I bet you weren't expecting that one.
What is your musical background?
I've been involved with music in one way or another since I was about 3. I was in my preschool, elementary school and church choir. I also sang in the community choir when I got a little bit older.
I picked up the trombone when I was ten. I just love Glen Miller and I wanted to be as good as him "when I grew up". I played trombone in local ska bands in my late teens and early 20s. I also played in my high school and university concert and jazz bands. I played piano in my early years as well but I never really got serious with it. Now I'm learning the guitar.
I trained vocals classically with Norma Churchill in Toronto, Canada from an early age and I still have a lesson here and there when I am in town just to keep things strong. She's amazing and has worked wonders with me.
What musicians/vocalists influenced you the most?
I grew up listening to my mom's old records. I developed a love for music of the 20s and 40s at an early age. The artists who influenced me most would be Etta James, Ella Fitzgerald, Billie Holiday, Dinah Washington, Sarah Vaughn, Nina Simone, Louis Armstrong, and Lou Rawls.
Newer day influences would be Janis Joplin, Amy Winehouse, The Black Keys, Celine Dion, Selena, Whitney Houston and Christina Aguilera
In my review of your EP, I described your musical style as blues/pop/rock. How would you describe it?
That's exactly how I would describe it myself. It's not really one set genre. It has a little bit of rock and pop. I tried to balance everything nicely keeping the main foundation of blues influence in the structure. My full album will lean more towards the blues, as it's just where my heart lies.
Where do you find inspiration for your songs?
My life is my inspiration. Everyday happenings to me and those in my close-knit circle feed my creative process with many great things to write about.
What is your songwriting process? Does the music come first and then the lyrics?
I have the concept written out before I even think about melodies, music or lyrics. Once I have the idea and "story" structure down, I take it to Mr. Bill Bell, my amazingly talented producer, and tell him what kind of emotion I want to portray and he builds on that with the music. The lyrics come last. But throughout the writing process the music is changed here and there to match emotional fluctuations within the lyrics as they come.
Will you being doing a full album in the future?
I have actually just started the full album process. I'm working on choosing which concepts I have are the ones I would like to focus on for the album and then we go from there.
So far, has Loaded Gun been well-received by the critics?
It has! It really has been a blessing. It's a great feeling to know people are accepting, relating and enjoying my music and message. I have to be honest; I wasn't sure how it would be received, as it's not really a "mainstream" sound. I couldn't be happier.
Will you be touring in the near future? If so, where?
I am in the process of planning a small U.S/Canada tour after the EP release for spring/summer 2016. Loaded Gun EP releases on February 29, 2016! Leap year!
It's presumptuous to ask at this point, but are there any new songs on the drawing board? If so, when do you plan to go back into the studio?
There are. I am constantly writing concepts as things happen in my daily life. As I mentioned earlier, I am currently choosing which ideas I would like to build on musically from what I have already.
When recording, do you utilize session musicians or do you have your own band?
I use session players for recording. I have a lot of friends who play instruments and I like whoever can be a part of my project to offer what they can and be a part of it.
I love your voice. It's powerful and distinctive. Have you always been able to sing so well or did you have to develop your voice?
Thank you so much! It's funny you ask that. Just the other day my mom told me a story about this very subject. She would always sing my baby brother and I lullabies before bed in an operatic voice. When I was 4, I asked her if I could sing her a lullaby this time. I did, also in an operatic voice and she started crying. I thought she was crying because she didn't like my singing, but she said it was because my voice was so beautiful. They were happy and amazed tears.
Later on, I got training by Norma Churchill and developed proper technique, which led to a much more powerful and properly developed sound.
I'm guessing that making it in the music world is difficult. What has been the hardest part for you, so far?
I've been in and out of independent labels for many years. Lack of creative control was a really big thing for me during that time. Also, being a woman in the industry wasn't easy for me. Not saying it's like that for everyone, but for me it wasn't easy. Since deciding to finally go-it all on my own, the hardest part now is getting the music out there and heard. Letting people know it exists.
REAL LIFE. REAL NEWS. REAL VOICES.
Help us tell more of the stories that matter from voices that too often remain unheard.