Pulitzer Prize-winning architecture critic Robert Campbell has been writing a highly-respected column on design for the Boston Globe since the early 1970s. Unlike most of his peers who write about the profession, he also works as the occasional consulting architect as well. More important, he is both fearless and sensitive enough to write and publish poetry, some of it featured in the Atlantic Monthly and Harvard Review.
Campbell will be the keynote speaker at a reception marking the centennial of Frank Lloyd Wright's Taliesin East on April 28, 2011. The event, sponsored by the Frank Lloyd Wright Foundation and Taliesin Preservation, Inc., will be held at the Santiago Calatrava-designed Milwaukee Art Museum.
The museum is hosting a concurrent commemorative exhibit, "Frank Lloyd Wright: Organic Architecture for the 21st Century," through May 15. The exhibit explores seven decades of Wright's work through his lifetime and the legacy of his innovative design.
We recently interviewed Campbell regarding his views on Wright, the state of architecture criticism today and the future of Boston's built environment, among other topics.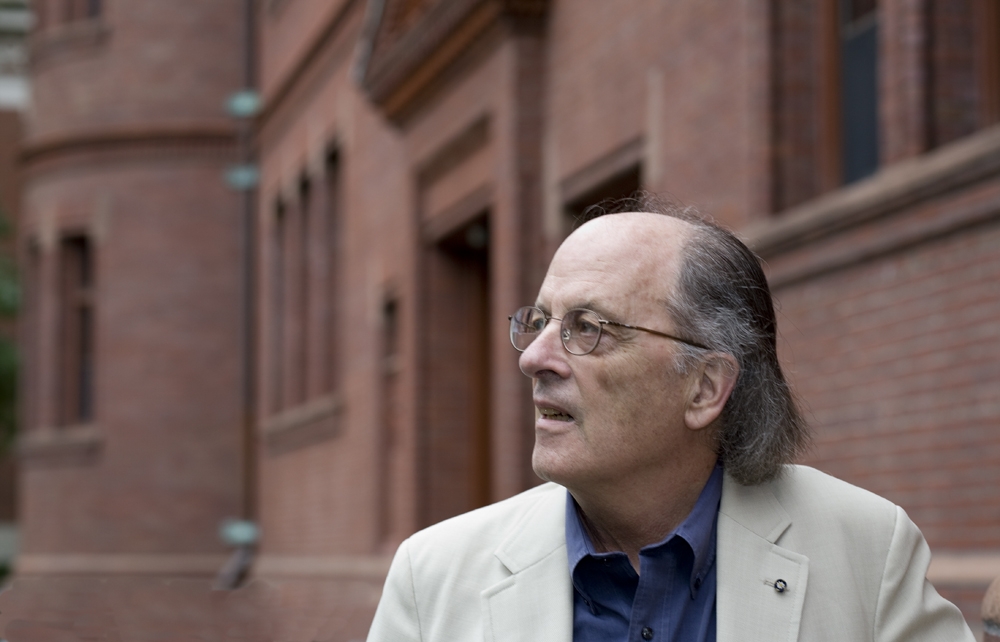 Why did you agree to talk about Frank Lloyd Wright for the centennial of Taliesin?
I'm a great admirer of Wright and of Taliesin East, which was his own primary residence and was probably the work on which he lavished the most attention. Also I'll get to experience the building and even sleep over in Wright's bedroom, which I've done once before.
Why is his work -- as an architect, an artist and a landscape designer -- so revered by such a wide cross-section of people?
Because it's so good. Also I guess because his work tends to be easily recognizable as his, and because it's original. And you'd have to add that he was an egomaniac and a self-publicist, and is said to have been the model for the architect hero of the hit novel and film The Fountainhead.
What is his place in the ranks of American architects, in relation to Jefferson, Sullivan, McKim, Mead & White, and Louis Kahn?
Most people would add at least H. H. Richardson to your list, and perhaps Benjamin Latrobe or others. Wright certainly ranks as high as any American architect and has had by far the greatest worldwide influence. Since the death of Kahn way back in the 1970s I'm not sure we have a figure of comparable standing.
Taliesin has been called a holy spot by some; why is that? How does its relationship to the land contribute to that?
Wright probably thought of it as holy, although in a cultural rather than a religious sense. He installed a large blue vase as a kind of navel in the Japanese garden in the courtyard. It's easy to take that as an icon of some kind of holiness.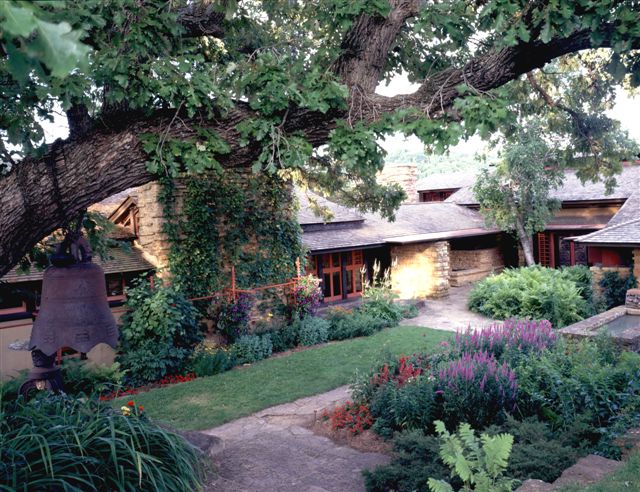 Could you speak to Taliesin West as a tent-like structure? What do you mean by that? How does its relationship to the land contribute to that?
Like most of Wright's buildings Taliesin West tries to be part of its location, in this case a rocky desert. The roofs were originally canvas and they're similarly translucent today. When first built, it literally was a tent in the desert. One of Wright's powerful characteristics is the way his buildings seem to grow out of the natural landscape in which they are sited, often using local materials or motifs.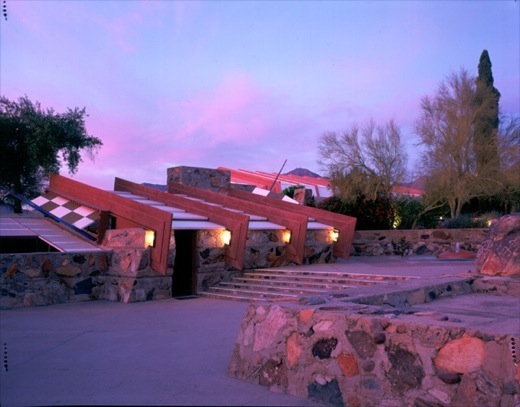 You've said that Wright's father left his home and family when Wright was young. What was the effect of that experience on the architect's work?
Nobody agrees on that. Wright left his own home and family too. I'll leave it up to the shrinks.
How long have you been an architecture critic, and how did you get started? Where? And why?
Since March 1973. Hard to believe, I know. I'd been an English major in college and then a journalist before I went to architecture school. I got an itch to write again and talked my way onto the Boston Globe. I still practice architecture in a small way, usually as a consultant to cultural institutions.
What is the role of a critic in today's society?
Depends on the field. Many critics function as consumer guides, helping you decide what book or film or concert or restaurant to visit. Architecture criticism is very different. It tries, at its best, to stimulate and participate in a conversation about the environments we create for ourselves and how we could perhaps make them batter.
In an age of blogs, facebook and 128-character tweets, how can an architecture critic remain relevant and be heard?
Well, by writing a blog for one thing, as Jim Russell and Witold Rybczynski do very well, among others. I write for print but everything I write goes on line. I don't think the medium makes that much difference. Twitter, maybe, as you suggest, is just too short to say much.
What are the foundations of good architectural criticism?
Oh, I guess visiting and knowing many buildings and other places of many eras and cultures, and understanding the history and the thinking that shaped those buildings, and learning to appreciate what is well done. I don't believe a critic should be selling a particular point of view or a particular philosophy or esthetic, although some very good ones have done that.
Why should anyone care about architecture?
It's what we live in; it's what our communities are made of. It's the only inescapable art. Architecture is the art of making places, whether those places are dining rooms or boulevards or Central Park or the city of Venice. They're all places, they're all made by human beings, and they're all architecture.
How can a critic help someone who is not in the architecture field see and appreciate their environment?
By drawing attention to it, explaining it, and commenting on what makes it good or bad.
What is a critic's responsibility to the profession?
None in particular except to be fair. A critic's responsibility is to the public.
In thinking about the shrinking number of conventional architecture critics embedded in U.S. newspapers over the last 10 years and the proliferation of architecture blogs -- as well as the critical voices in Metropolis, Architect, and Architectural Record -- what changes have you observed in critical discourse on architecture?
Except for me and Mike Sorkin, Record was not notable for critical discourse... The era of empty-headed, pompous, illiterate stuff that used to pour out of university schools of architecture has ended, which is nice. There is no dominant or consensus view about what style or approach or theory one should consider (the same is true in art generally), a situation that is very different from the era of battles over modernism or Post-modernism. Kids going into design schools now are less interested in formal ideas and more interested in sustainability and in the creation of healthy communities.
How is the development of the waterfront in Boston reshaping that city?
Enormously. The waterfront was cut off by industry, a rail line, and eventually by the overhead Central Artery. Like many other cities, Boston has cleared that stuff away to make the harbor available as a source of recreation and beauty. I expect to see a lot of further development, especially housing, near or on the waterfront in the next decade or more. There's still a lot of waterfront to be redeveloped.
Now that the Big Dig is over and the Rose Kennedy Greenway is in place, has the area become just a convenient pass-through? Or, is it generating a new sense of place within Boston? The surface park above the Big Dig has not been a success. It's underfunded and under designed. There's far too much open space and it's much too empty. Except for programmed activities in good weather, the park doesn't get much use.
What, in your opinion, makes a well-designed art museum?
Well, great art, beautifully lit - preferably with natural light. Some variety in spatial experience, as you move about. The Kimbell, the Uffizi, the Beyeler, the Nasher.
Your favorite 21st-century American building? Why?
I haven't seen enough of them to judge fairly.
Your favorite American building overall?
If I had to say, maybe U.Va, but I'd probably have a different answer tomorrow. Wright would have several in the top rank.
REAL LIFE. REAL NEWS. REAL VOICES.
Help us tell more of the stories that matter from voices that too often remain unheard.