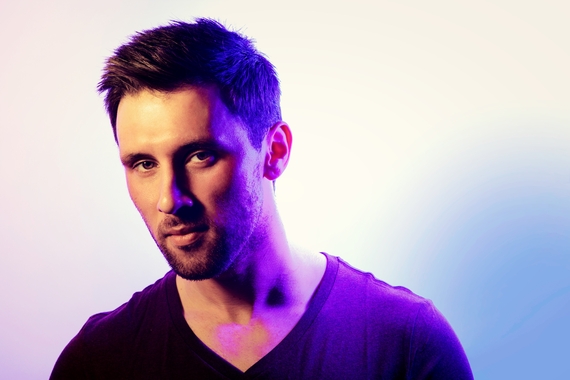 The 90's dance music explosion in the UK resulted not only in the "rave" act (aka The Criminal Justice and Public Order Act 1994), but also the cultivation of many influential voices in today's electronic scene. This includes DJ, producer, and BBC Radio 1 host Danny Howard. Hailing from Blackpool (in Northwest England), Danny Howard has had a rapid rise thanks in part to winning the BBC Radio 1 Superstar DJ contest in 2011. Since then he has toured internationally (including a residency at Pacha in Ibiza), started a label (Nothing Else Matters) and hosted Dance Anthems on BBC Radio 1, which boasts 1.8 million listeners. I spoke with him while he was in Mallorca for his summer residency at BCM Mallorca.
Where are you?
I'm in Mallorca at the moment. Last night was incredible, there were like 4,000 people. It's one of those places that's fun to play because of the mix of people that are 18 on their first holiday, and those people that have been coming for years.

What was one of your earliest experiences with dance music?
My first exposure was my older brother. He was the DJ, and he had a pair of turntables and collected all the music. Anything from UK Garage to Italian House to 90's rave. He was the one making the most noise in the house. I loved the uplifting vibes.
What were your early experiences in the electronic scene in the UK and Blackpool?
One of my earliest experiences was clubbing at the Syndicate in Blackpool. At the time it was one of the biggest clubs in the UK and had everyone from Frankie Knuckles to Paul Oakenfold. Me and my friends didn't realize how lucky we were and there's nothing like that that's been there since. I was really lucky because it gave me an insight into many different genres and made me want to go and discover. I also remember watching videos of Tiesto playing in Amsterdam and I thought I wanted to go to something like this. So we started traveling around the UK.
What was the BBC Radio 1 talent search competition like?
I was DJing a lot and also putting on my own nights. I listened to Radio 1 and Pete Tong as a fan. I used to listen everyday. I was a bit unconfident and thought what's the point (of entering)? But a few of my friends and family encouraged me. We had to compete in a series of different categories - mixing, microphone hype, a remix challenge, and a live mix on the breakfast show.
When did you know you wanted to host a radio show?
I never once thought I wanted to do a radio show, I always wanted to be the DJ. It wasn't until I entered the competition, actually seeing what goes into a radio show. When I was exposed to that during the competition I was amazed and inspired. After the competition I started doing my own podcasts that I uploaded. One of the producers at Radio 1 said we should do a demo, even though they didn't ask for it. After some hustling and chats it eventually happened.
What is the aim of your show and what's your preparation like?
The show is to reflect what's going on in the clubs. Within those three hours there's new, familiar, and current stuff. In preparation I check in on promos and blogs, streaming sites, making sure I'm hearing everything. It's sort of the biggest tunes mixed with personal things I like as well.
What is it about dance music that is so special? Why are you so passionate about it?
I think because so many sub genres fall under the umbrella, you can connect with so many different types of people, so many different tastes. It's the only genre that can bring so many different types of people together. Alone it can make you feel good. At a party it can set the atmosphere off.
How do you see the genre evolving?
It's come a bit full circle. We are at a time where house music is so popular. It will keep evolving and keep changing. People are always searching for that fresh new sound. I think dance music and electronic music, especially in a live environment will always have a place in culture.
What has the experience been like starting to play out more? Is there a gig that has proven to be particularly special?
Two really. EDC Las Vegas was definitely the biggest gig in terms of crowd. I was on the main stage, there were maybe 40,000 people. There was a moment where I was like...how did I end up on this stage? The stage was like the size of 3 soccer pitches. I thought I've gotten to a point where I can really achieve something.
And Hideout in Croatia. There was a really cool underground lineup and I was able to have so much freedom with what I play...to tread the line between commercial meets underground. When I play out I tend to steer underground. That crowd was educated, but up for it. As a DJ that is really hard sometimes to come by.
So one in terms of how vast it was. That was like a dream. And Hideout is what I always want to aspire to do.

How did the idea to start (the record label) Nothing Else Matters come about? I was receiving so much music that I couldn't play on my show because I didn't have enough space. I just felt like there was so much talent that didn't have a place. I want to work with artists from the ground up, discovering raw talent.
How did you discover the 99 Souls track (The Girl is Mine featuring Destiny's Child & Brandy)?
Pete Tong and myself were playing it from the start. It was a banger. It was Shazaming really high, and it was just timing. Sony was talking to 99 souls already.
Is there a song that you are excited to play out this summer, or that you think is one of the best tracks this summer?
Offaiah - Trouble

Is there a track you find consistently works on the dance floor?
Crystal Waters - Gypsy Woman
Any producers/DJs that should be on our radar at the moment?
Mat.Joe
KC Lights, a producer from Scotland. He's just nailed that feel good summer uplifting progressive house vibe.
Do you have any advice for artist or producers?
Keep working hard. Be original. Take influences from things you like but make it your own, or you're always going to have some sort of diluted version. And if you want to work with vocals, use original vocals instead of samples.
REAL LIFE. REAL NEWS. REAL VOICES.
Help us tell more of the stories that matter from voices that too often remain unheard.