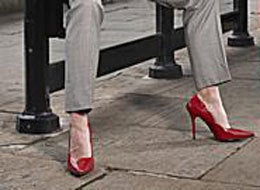 A enigmatic force in the fashion industry, Tina Aldatz has always had a love/hate relationship with her feet. It all began when, as a teenager growing up in Orange County, she burned the soles of her feet on hot charcoal during a beach bonfire. For months, just the simple act of walking in sneakers or flats was painful and her feet were never quite the same.
Fast forward several years later and Tina was living in New York City, working as the Special Events and Merchandising Director for BCBG Max Azria. All day, every day, Tina was on her feet -- hustling around the showroom and the sidewalks of New York in chic high heels that, looked great, but left her feet crying out in pain at the end of the day (and often during it).
Skip ahead to 2001 and Tina was back in California, working at an ill-fated internet start-up company. When the business went under, Tina saw it as her opportunity to finally solve her persistent uncomfortable shoe problem and set out to create what are now known as Foot Petals. Today, Foot Petals consists of over ten unique products and kits that provide women with stylish, yet invisible solutions to common problems caused by wearing their favorite shoes (especially their favorite high heels and stilettos). Beloved by countless celebrities, it is currently sold in over 5000 retailers in the United States.
Recently, Tina was kind enough to share her story of pain to profitability.
What's ingenious about Foot Petals is the simplicity of it. Ours is a culture where women smuggle flats or sneakers (because no one dare sport unsightly orthopedic insoles) in their handbags for relief from the crippling pain of teetering in heels all day long. How did you come up with such a simple, but brilliant concept on how to create comfortable, chic insoles?
TA: The idea comes from two places: an injury I incurred as a child in Southern California; I ran over coals that were buried in the sand at the beach. As a result I suffered from third-degree burns on both feet and was admitted into the UCI Burn Center. I spent the entire summer in and out of the hospital, wheel-chair bound. I started fourth grade on crutches, and my feet have remained sensitive and prone to blisters ever since.
Later in life, my career in the fashion industry, working for Victoria's Secret and BCBG Max Azria, took me to New York, where I had the shock of having to dress the part, which entailed a great deal of high heels. I wondered why none of the products targeted toward shoe comfort ever worked, and why they were always so ugly.
Coming from a career in fashion, it was really important to me to not take away from designer fashion footwear -- I wanted a product that would compliment my shoes from the inside out.
As we're in the midst of a precarious economy, many are finding, ironically enough, that now is the best time to start a business. As someone who is a successful entrepreneur, can you speak to the process of how you launched your company? From the patent technology to manufacturing, warehousing, and distribution -- how long did it take you to get the company off the ground, and what resources (including outsourced staff and legal counsel)/start-up capital was required?
TA: Starting a business is kind of like starting a family, it's never a perfect time and there is always an excuse to wait. But if you just do it...wow! It can be so crazy, hard, but ultimately rewarding. I started Foot Petals in January 2001, shortly after the dot.com bubble burst. I thought this was a good time to introduce a tangible product to potential investors, so I crafted a business plan. A friend of mine introduced me to a family member who was known for investing in Latino businesses, and I asked him to lunch so that he could coach me on my investor pitch. By the end of the meeting, he wrote me a check for $10,000, shook my hand and said, "You need not go anywhere else, you have a partner." I was his first Latina business partner.
After two years, he had invested over $250,000, and eventually we sold the majority of his shares to other partners to continue growth, which was consistently at over 300% per year. He has taught me so much -- the most important word he impressed upon me was infrastructure. He brought in capital, an accountant, and a financial advisor weekly to my home; he has a lot of patience and a true love for entrepreneurs.
Also, I know my strengths and weaknesses. Selling is not one of my strengths; buyer rejections are spirit-crushing. So I called upon my best friend and sales guru, Margie Floris (we worked together at BCBG Max Azria), and I asked her if she wanted to be involved in the company in a sales capacity. She loved Foot Petals, and we launched the product from her basement. Now, she's the Vice President, and we count our blessings that we're fortunate enough to work together again.
With regards to our patented technology and materials, I had a hard time getting in touch with Rogers Corporation, the manufacturer of the PORON -- the material in which I was dead-set on using, because it repels moisture, bacteria and odor, absorbs shock, and is available in colors other than that hideous shade of blue. After numerous calls to an automated phone system, I began making up extensions and finally got through to a top executive! I told him my story and he put me in touch with our current manufacturer. The manufacturer loved the idea and helped to engineer the design of Tip Toes -- it ended up being a perfect match! It took six months before we had a prototype, and eight months before we did our first trade show.
I guess you can say my extended family grew together with Foot Petals.
The failure with most companies is rapid diversification and massive product line extensions, which have a tendency to subsume the core product. What intrigues me most about Foot Petals is that all of your products -- from Tip Toes to over ten unique products and kits that provide women with stylish, yet invisible solutions to common problems caused by wearing their favorite shoes to Certified Pedorthist-designed flip flops to pedi perfume -- evolve organically. From the core business model, what is the process of developing each new product and line extensions? What is the typical timeline from concept to production to retail?
TA: All of the products in the Foot Petals collection are products that I personally need. Additionally, our customers are very verbal, and they ask for additional products extensions.
From a product development standpoint, it truly depends on the product. As a Type-A personality, I believe every product must be perfect. Otherwise, I won't put our name on it -- period. For example, it's taken me three years to perfect Sporty Soles, whereas it only took two weeks to create Sole Stopperz.
When launching your company, how much time was focused on marketing, specifically identifying your core consumer and then identifying opportunities with varying demographic, which, at first glance, might not necessarily be obvious.
TA: Having learned from some of the world's most successful brand-building secrets, I've always been involved in marketing, public relations and merchandising throughout my career. There is a definitive formula and it is very delicate. It's sometimes tempting to compromise, and there is always a struggle between sales and marketing, but when building the Foot Petals brand we are very careful to maintain our brand's integrity and image. And we consistently strive to protect our retailers.
In the case of Foot Petals it was very easy to identify our core consumer, as I'm serving my demographic and me -- I'm my own best customer. I gave initial prototype samples to my friends in the fashion business, and I have fourteen women of all foot shapes and sizes on staff. I have each of them test the products and give feedback -- it's a great focus group!
Coming from the apparel industry, from which we grew tired as new merchandise must be produced monthly, Margie and I knew that when we created Foot Petals it would have to be a permanent product collection -- year round, perennial items that wouldn't require seasonal replacements.
How did you get the word out about Foot Petals? Was it a grass roots, word-of-mouth marketing? Trade shows? Traditional publicity outlets, or a strategy that's a hybrid of varying outreach campaigns?
TA: The marketing of Foot Petals was very grass roots. In fact, my friend wanted to start her own public relations firm at the same time I launched Foot Petals, so I asked her to move in with me, and at the onset I traded rent for PR services. It's all about being resourceful or implementing "creative financing" techniques.
We've developed a cult following, and we work some of the most prestigious retailers, stylists and celebrities in the world. We rely on the power of word of mouth and testimonials, and we've been fortunate to develop a product that has longevity.

We've never paid for traditional advertising or celebrity endorsements, because Foot Petals products are a designer collection, and like any true designer we have the benefits of propriety technology, engineering and Made in the U.S.A. quality that keeps our customers loyal. Also, being based in Los Angeles has also allowed us entrée to the Hollywood scene; we work with celebrities and their agents directly, and they evangelize our brand because they truly love the products.
You recently completed a pre-certification course in Pedorthics (pedorthists are trained individuals who have the knowledge and experience to fit and modify footwear and orthotics in accordance with medical prescriptions for the treatment of disease, injury or deformity) -- becoming actively involved in creating comfortable accessories and foot cushions for women. What was the impetus for pursuing the training, and how does your business, and by extension, your customer, benefit?
TA: I've received so many personal emails and letters, phones calls from excited customers asking for personal solutions to their foot problems. I felt their pain, and wanted to really understand the anatomy of the foot. The training course was intense; I don't have a formal education, so going back to school was a serious challenge.
I worked closely with several Podiatrists and the APMA (American Podiatric Medical Association) during the early stages of Foot Petals, however, I discovered that Podiatrists actually just write prescriptions to Pedorthists to make orthotic devices. It frustrated me that I had the knowledge but not the credentials and technical knowledge to back up the designs I wanted.
It was annoying to me that Podiatrists love to say, "don't wear high heels." In my book that's like saying, "don't brush your teeth." It's a ridiculous argument, as women will always wear high heels, and I feel that I can help women enjoy their shoes without the pain.
Tell me about your partnership with Sole4Souls. Why was it important for you to align yourself with a non-profit organization?
TA: It's very easy for any company these days to slap together a pink product and call it a donation, only to benefit themselves through press and profits. Personally, I prefer to do something that makes a significant impact that's also relevant to our business and directly related to our industry.
Soles4Souls is a natural partner for Foot Petals because it helps people that need shoes. We are a donation center and collect shoes daily in our office -- it's amazing to witness such incredible generosity. We plan to work extensively with Soles4Souls this year, and we have plans to join them in a nationwide tour.
I also work with the UCI Burn Center, where I was a patient. The personal connection to this burn center is very precious to me. I recently went for a visit and spoke with the staff and thanked them for their work; it was very rewarding for us to see what an impact their work could have on a child's life. It was amazing to us all how a tragedy turned into a success story.
What's next for Foot Petals?
TA: Foot Petals just expanded our partnership with Target stores. We have an exclusive collection, Fab Feet, which is carried in the shoe department, nationwide. Additionally, we are introducing a "Stiletto Survival Kit" for the holidays, which will be included as one of Target's "10 Most Giftable Items." Globally, we plans to be in seventy countries in 2010, and we've recently opened offices in Europe.
We are also celebrating an exciting collaboration with shoe designer, Sam Edelman and the winner of the Independent Handbag Designer Awards...Now With Shoes will launch a limited edition shoe to be sold at Verve boutiques in NY and at www.FootPetals.com
Right now, we're shipping Flexy Feet, our first Flip Flop -- I designed it to work with the body's natural movement, and it's as close to walking barefoot as you can get. I love it because it's whipped with 40% air, so it's super lightweight and it's machine washable -- there's my Type-A personality again, I love everything to be perfect!
Any parting advice you'd like to impart for budding entrepreneurs? Lessons learned?
TA: Let the experts do their job. Know your strengths and weaknesses and surround with other experts -- teamwork is key. Empowering my staff is so fun & watching them grow is very rewarding, we celebrate the big deals and the little ones every day.
Calling all HuffPost superfans!
Sign up for membership to become a founding member and help shape HuffPost's next chapter