Gone are the days of gross consumerism and conspicuous consumption, where the $3,000 statement handbag is the norm and trend shoes are purchased in a multitude of colors. When it comes to clothing, I've never been a fan of excess, rather my beliefs are decidedly grounded in the French axiom where a woman should own a handful of investment pieces, beautiful and functional items, that will last for years. From the structured blazer to the black wool coat to the roomy and functional handbag, you should spend a bit more (if you can) on the bones of your wardrobe, and you can weave in select trend pieces each season to keep your look fresh and updated. And when I say "select" I don't mean buy the whole of H&M. Shop wisely, shop strategically, and be loyal to your favorite brands. Buying sparingly, but wisely, will not only save you money in the long run, it will likely keep your credit card debt to a minimum.
On June 22nd, Style Coalition hosted 13 top NYC fashion bloggers (including yours truly!) for a special video shoot at DEX New York studios for the DON'T SHOP! campaign, supporting the fashion industry and inspired by the DON'T VOTE! video. In a similar way our video starts with "don't shop" message, and slowly turns into campaign message showing the importance and value of supporting our favorite fashion designers in these tough economic times.
Recently, I had the opportunity to chat with Yuli Ziv, founder of the Style Coalition about her venture, the ethics of blogging, and her vision for the DON'T SHOP! campaign.
Tell us about the Style Coalition. What is your mission?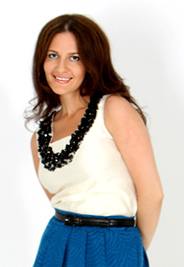 YZ: The idea for Style Coalition was born as a result of networking with other entrepreneurs in the online fashion publishing space, and finding out that we all face similar challenges related to professional ethics and standards in the fast-paced constantly changing web world. Unlike traditional publications, where there is always separation of editorial and sales stuff, many of the small-to-medium size independent online publishers are forced to juggle both, which often raises conflicts of interest.
Another issue we all had in common was the constantly shrinking advertising revenue channels, which are mostly controlled by large ad networks. Recently slashed CPM (cost-per-impression) prices in display media strongly affected the online publishing world, causing many of the properties to shut down. Rather than continuing being dependent on other networks and seeing our revenues go down, we needed to address the need for new and alternative revenue solutions.
It is always easier to promote a mission in a group of like-minded people, facing similar issues, so Style Coalition addresses this need. From collaborative New York Fashion Week coverage to organizing panels of experts as part of our monthly Fashion 2.0 networking events - we are driven by our love for fashion, passion for social media and technology and a strong desire to grow our businesses as part of this industry.
Although we're in the midst of a precarious economy, many are finding, ironically enough, that now is the best time to start a business. As someone who is a successful entrepreneur, can you speak to the process of how you launched your company?
YZ: I believe the right time to start your business is when you are mentally, physically and financially (!) ready to take this big step. When you come to the point where there is no more excuses, and you feel that you must follow your heart. For me it was way before the recession, at the least "appropriate" moment when I had the perfect job at a company I loved. Many people around could not understand the rationale behind my decision to quit, but the desire to go build an online startup was bigger than anything.
Another important step was having my business partner on board - it's so much harder to be out there on your own, and one thing I made sure was to have this support. We started with $10k of our own money, which was just enough to incorporate the company and cover some other minimal expenses. The rest was implying our own skills towards launching our first online property MyItThings.com - an online user-generated magazine. Once the site was up and running, we used various audience engagement techniques to attract users via online buzz rather than advertising spend. After having first traction, we were able to secure investors and facilitate our growth.
A year later, when we launched Style Coalition, we were already well established brand in the space, with several successes behind our back, so we were able to attract more partners to come on board. These partnerships were the key component that allowed us to launch the Style Coalition network.
You've founded the Style Coalition with several other successful partners. What is so key advice you can impart to burgeoning entrepreneurs about how to collaborate and work effectively with your team when launching a business?
YZ:The most important advice I can give is to make sure you share the same vision, work ethics and willingness to sacrifice (and contribute) as much as everyone else. We all have different values as it comes to our lifestyle, and running a business demands a lot of personal capacity. It is important to have all partners on board with this decision to dedicate your life to a mission, and more importantly to keep everyone's motivation for the entire ride.
As The Style Coalition is online venture selling informative, smart content rather than a tangible product, how are you surviving in the midst of an economic downturn?
YZ: Although the web continues to embrace the Freeconomics, and we all keep constantly debating online business models, I still believe in creating value. In Style Coalition's case the core values are the engagement, influence and reach of highly loyal audiences. Brands that want to reach these much targeted audiences, appreciate these values, because they result in more effective campaigns. Our offering addresses the need for smaller scale, targeted reach promotions that speak directly to the audience via social channels. By targeting smaller groups of trendsetters, brands take advantage of their networks of influence and create buzz that goes beyond just online ads.
As of late, there has been a significant amount of conversation online regarding proposed FCC legislation regarding full-disclosure of blogger "freebies" and "swag". From an editorial perspective, what is your position on bloggers and product disclosure? How can bloggers, who are rapidly becoming formidable influencers, maintain editorial and site integrity?
YZ: Besides the disclosure, which I'm glad FTC is advocating for, the real issue is continuing running blogs as businesses while having this conflict of editorial and sponsored content. This is the real challenge bloggers are facing, and it existed even before the FTC decided to get involved. Style Coalition is trying to solve this problem by grouping together for marketing campaigns and promotions, and making sure bloggers comply with industry standards. I do believe in some cases the brands should subscribe to certain ethics as well. Buying into bloggers' opinions won't help your brand - better products, creativity, innovation and great customer service will!
Recently, The Style Coalition released a video in its DON'T SHOP! campaign. Can you tell us a bit more about the campaign and the concept? What is your end goal?
YZ: Like many other industries, the fashion industry is going through some transformation following the recession. Many times it feels like the media is on the watch for the next designer to close their business or cancel their runway show at the fashion week. Sometimes we forget that designers and their vision drive these businesses. They are entrepreneurs just like us, only their business is to make us look and feel beautiful. They rely on a support of their customers and fans, just like any other business does. Sometimes we also forget the fact that when we shop we actually invest our money into someone else's business. The idea behind the DON'T SHOP! video was to provoke thoughts about conscious shopping, driven by quality of the pieces people buy and not necessarily by scoring a bargain with a poorly made knock-off of another designer's vision. The video was inspired by the DON'T VOTE! campaign created by Leonardo Dicaprio for the elections and was made by the 13 top NYC fashion bloggers, who simply came together to support the mission and their favorite designers.
Any advice you'd like to impart for burgeoning entrepreneurs?
YZ: Have a mission, don't ever change your core values, learn to love your mistakes and don't be afraid to put yourself out there.