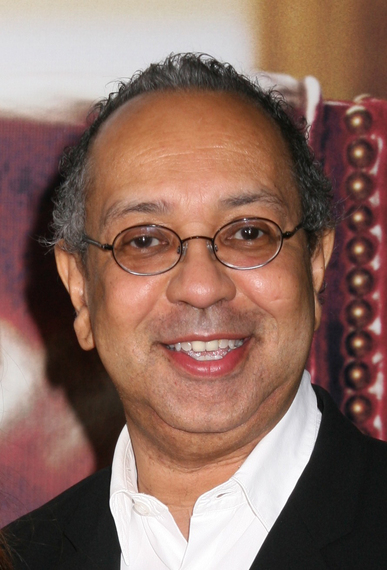 George C. Wolfe
George C. Wolfe has directed such diverse productions as Angels in America, Caroline or Change, Elaine Stritch: At Liberty, and Topdog/Underdog as well as serving as Producer of the New York Shakespeare Festival from 1993 through 2005. His latest musical, Shuffle Along or The Making of the Musical Sensation of 1921 and All That Followed, opened on April 28 and has been nominated for 10 Tony Awards (including Best Musical and for Wolfe's direction and libretto). We spoke to him last month in the manager's office above the lobby of the Music Box, our discussion punctuated by the sound of a preview over the backstage intercom.
PART 2: ON BEING GEORGE C. WOLFE
You were a small-town boy from Frankfurt, Kentucky. How did you get to Broadway?

George C. Wolfe: I was obsessed with New York, early on. I was watching sitcoms that were set in or around New York, like "The Dick Van Dyke Show." I was always very fascinated with the people who were on "What's My Line?" and I always had an incredible obsession with the city. And with theatre, which was really odd because there was no theatre to speak of except at the school I went to. Then my mother came to NYU to do some advanced degree work in 1968, when I was twelve, and she brought me here. That's when I saw Broadway. And then I went to school in California, at Pomona College, and then I lived in LA for three years, working, doing theatre and having a wonderful time. At one point I sort of got offered a job on a sitcom and I went: run! So after three years in college and three years in LA, I moved to New York. I think it was inevitable: I knew I was going to end up here, I didn't know when. I'm glad I didn't come here right after college, I'm glad I didn't come to college here, 'cause I think I came at the right time, at the exact perfect time for me.
What shows did you see on that first trip to New York, when you were twelve?

George C. Wolfe: I remember seeing the revival of West Side Story at Lincoln Center. There would be bodies flying through a sparse space, but the space was completely filled up with energy and power and passion. I remember when it came to the Quintet, which happens just before the Rumble. There's Anita, and the Jets and the Sharks, and Tony and Maria; all on an incredibly blank stage. And I remember how I was watching the whole thing, vividly leaning forward in my seat. It wasn't because I was engrossed; I was studying it. That was a major moment for me. I also saw Hello, Dolly! on that trip, with Pearl Bailey. That was fascinating. I don't think I particularly learned anything from that, not from the show; but I remember I was very aware of the audience experiencing the show. I mean, it was brilliantly performed; but rather than learning from the show, I was learning from the audience. The other thing I saw was a mobile theatre production, from the Public Theatre, of Hamlet. Joe Papp directed, although I didn't realize it at the time; I later looked in my program and said, "Oh my God, Joe directed it!" Cleavon Little was Hamlet. It was performed in Washington Square Park, and watching the raw energy of that audience watch that show was extraordinary to me. There was this thing that happened; it wasn't people seated in nice, lovely seats watching Hello Dolly! It was raw. I think in many respects, those three shows were the basis of a kind of show biz esthetic for me. I've done different types of projects, but there's veneer; there's raw; and there's space. I think I am perpetually attracted to those dynamics.
What do you say to kids growing up far away from Broadway, dreaming of life in the theatre?

George C. Wolfe: I'd say, why does it have to be New York? If you love theatre, do theatre wherever you can; because theatre is theatre, and you can experience it anywhere. If you want to pursue it, and this is what you want to do for life, then you've got to go on the journey of actually studying and learning and knowing; and then when you feel as though you are ready, put yourself in whatever work environment you think is going to allow you to grow. Because I think that everybody wants to be successful, but the ambition can't be success. The ambition has got to be wanting to grow, wanting to discover and wanting to offer. Because ambition is just something you put in the fuel. It's not the real fuel.
When you moved to New York, did you come as a playwright?

George C. Wolfe: I came as a writer and a director, and they told me -- Well, you can't do both! Everywhere I went, they told me you can't do both, you can't do both, you can't do both. Regardless of where I went. So I said, "Okay." I went to NYU to get my Masters, I ended up getting a double Masters in dramatic writing and in musical theatre (as a bookwriter and lyricist). I established myself as a writer, and I was fortunate that that happened; and then I went back and started directing. Finally I put the two together, and it's been great. It's been hard, but it's been fun.

You moved to New York around 1981?
I remember when I first got here, Merrily We Roll Along was running. And I had no money, I was struggling; but I went to see it in previews, five times. 'Cause I was studying it. When I joined the musical theatre program at NYU, I had Arthur Laurents, Peter Stone, and Richard Maltby, who were very very smart teachers. So I would just pick at them, I would just pick at them. Why does this work? Why doesn't this work? I just wanted to figure it out. I would see something and I would go, that's pretending to work but it's not really working. This is working. I think I really wanted to understand the form, because I knew I didn't want to obey it. And the only way you can break the form is to first know the form as intimately as you possibly can.


Joshua Henry, Brandon Victor Dixon, Billy Porter and Brian Stokes Mitchell
with Richard Riaz Yoder in Shuffle Along.
Photo: Julieta Cervantes
Brian Stokes Mitchell said that watching Shuffle Along develop from the initial workshops through the previews has been an extraordinary experience, with everyone in the rehearsal room feeling like they are an important part of the show.
George C. Wolfe: I believe that if you cast the show right -- and if you form incredibly openhearted, smart collaborations with people -- every single answer is in the room. There's a story that I tell. I was directing a show in college, something that I'd written. I was over in the corner talking to the composer. Now, the opening sequence wasn't working; I was trying to figure it out with the composer. And the cast was on a break, making noise, and I said, "Come on, guys." And they kept making noise, and I said, "Come on, guys." I turned back to the composer, and I finally said: "Can you guys please...." The cast, they were talking over in their corner; and they had solved the problem. On every single project that I've worked on, there's been one moment when the seemingly unlikeliest person has been there with the answer. If you create the right room, the answer is there. A lot of times the answer comes from you, but a lot of times the answer comes from the unlikeliest of people. So if you create a space that has a degree of chaos to it, that has an incredible degree of structure, and I think the energy of generosity -- it's all there. You just have to be clear about what you are driving for, and at the same time vulnerable to the energy in the room. And it's challenging; but that's how good work will get made, because somebody else will have the answer if you don't. Or somebody will say the complete wrong thing, but that will be a clue to the right thing. So you have to be ferocious in your energy and totally vulnerable -- which is exhausting. But that's how work happens! If you're too vulnerable, then the tigers will eat you. And if you're too ferocious, nobody will do what they do with joy.
[READ PART 1 OF OUR INTERVIEW here]
Shuffle Along or The Making of the Musical Sensation of 1921 and All That Followed opened April 28, 2016 at the Music Box Theatre
REAL LIFE. REAL NEWS. REAL VOICES.
Help us tell more of the stories that matter from voices that too often remain unheard.