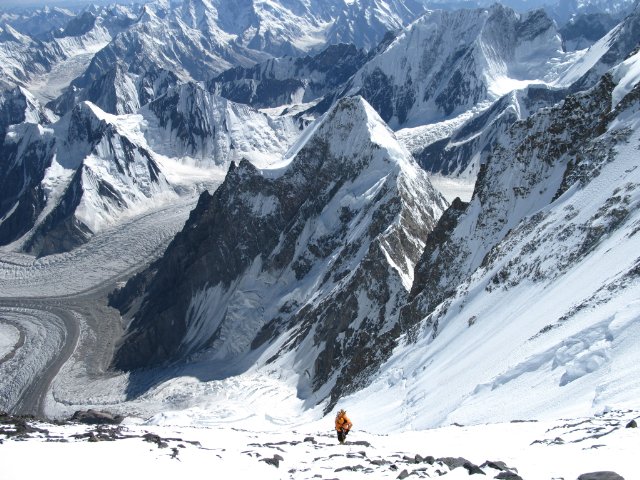 Even as he started talking to people for his documentary, The Summit, filmmaker Nick Ryan had his own skeptical view of mountain climbers and the risks they take.
Those views seemed to be confirmed by the subject matter of the film: the disastrous attempt to climb K2, the world's second-highest mountain, on August 1, 2008, that left 11 climbers dead.
"I thought, 'What kind of insanity is that? Who puts themselves at risk like that?'" Ryan says, finishing an espresso in the lobby of the Museum of the Moving Image in Astoria, Queens, during a recent screening of the film. "I mean, I understand that it's human nature to explore. But the numbers are there: For every four people who have reached the summit of K2, one has died. So the odds are worse than in Russian roulette."
Yet, when it came time to film the mountain itself, Ryan faced even starker odds: "The helicopters we were in were only built to go 6,500 meters (roughly 21,300 feet) - but we went 7,500 (24,600 feet)," Ryan says, adding with a chuckle, "The odds of making it were one in three."
There were other factors as well: Ryan was shooting on the mountain (in northern Pakistan) six weeks after the killing of Osama bin Laden, so there were fears of terrorism complicating the attempt to insure the filming; insurance companies refused.
"But we did a spread bet in London - we'd have gotten $250,000 if we were killed by terrorists, but $2 million if we died in the helicopter," Ryan recalls.
The Summit, which won the editing award at the Sundance Film Festival earlier this year, blends interviews, reconstructions and archival footage to unravel the story of how 11 climbers died in one day. Immediate press reports on the events cast the tragedy as the result of inexperience.
But as Ryan discovered, the climbers were, in fact, all experienced mountaineers. Because he was friends with someone who knew one of the dead climbers, Ryan jumped in almost immediately and spent the next several years interviewing survivors, looking at footage the climbers had shot and reconstructing the events to make his film. His documentary doesn't cast blame, nor does it have explanations for some of the deaths. In the end, he says, it may just have been a matter of luck.
This interview continues on my website.
Calling all HuffPost superfans!
Sign up for membership to become a founding member and help shape HuffPost's next chapter