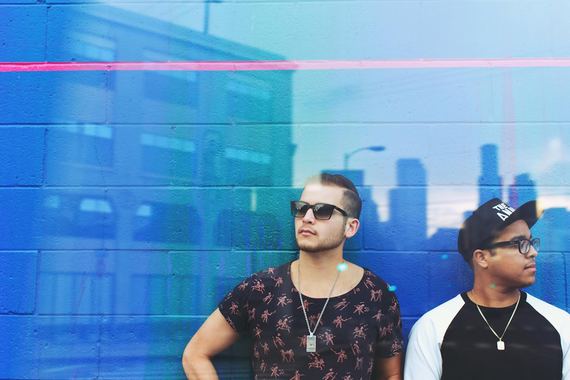 GTA (Good Times Ahead), conceived in Miami and made up of Julio Mejia and Matthew Van Toth, have been on a rapid rise ever since their first track was signed to Afrojack's Wall Recordings, and they opened for Rihanna on her Diamonds Tour. 2015 was a whirlwind year, including a collaboration with living legend Martin Solveig on one of the hottest tracks of the summer, "Intoxicated." The Fall saw them in the midst of a huge North American Tour, the release of their new EP, Death to Genres, and a massive remix of their track, "Red Lips," by producer of the moment Skrillex. All the while they have managed to successfully promote a philosophy that defines dance music as "whatever makes you move." This belief continues to grow as we head towards 2016, and as sounds are continuing to be infused, creating new styles and feelings on the dancefloor. I caught up with GTA, following the end of their North American Tour, a rain soaked performance at Electric Daisy Carnival in Brazil, and right before they set off to spread good vibes across Asia.
Tell me about your favorite show of the North American Tour.
Julio: Actually it was the last show we played, at the Palladium in Los Angeles. It's the biggest show we've played to date. 3,600 people came just for us and it was a really humbling experience. Skrillex came. And having the new production...
Matt: ... we had a creative team that built a stage about 60 feet by 20 feet, with a curved screen behind us, used for 3D projection mapping.
Julio: We've been touring for the past four years and it was one of the first times we incorporated visuals.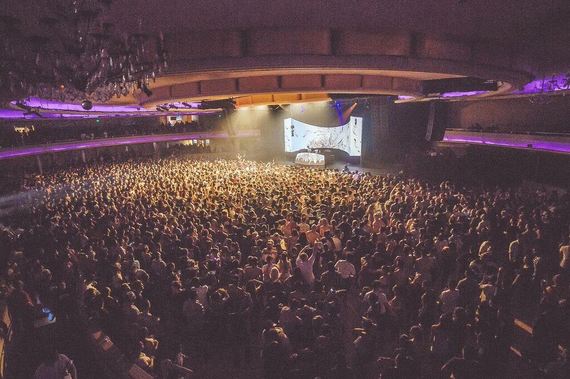 How did you start to work together?
Julio: We met through a mutual friend going to school with Matt. Matt hit me up on Facebook. At this point I was just posting beats on Soundcloud. Matt was giving me tips on production. We got together and were super excited in the studio. Since then we've been working pretty seamlessly.
Were there any influences that helped you arrive to the same jumping off point?
Matt: Really it was just anything we liked. The band that brought us together, that we knew every word to was System of A Down. We loved Pharrell and N.E.R.D. We grew up on salsa, so we would try to incorporate that sound. In the beginning, you end up just trying to make songs in the style of other artists. At first, we wanted to learn about the sounds that were out, but really it's just everything. And it still seems to be everything. Julio was in a ska band playing trumpet, I played guitar, we always thought why should we be limited to one style.
Do you find a big difference in the crowd when you're playing in the U.S. compared to other places?
Julio: As far as the crowds go, it varies. I think when it comes to music, our fans expect death to genres and our dance floor is very eclectic.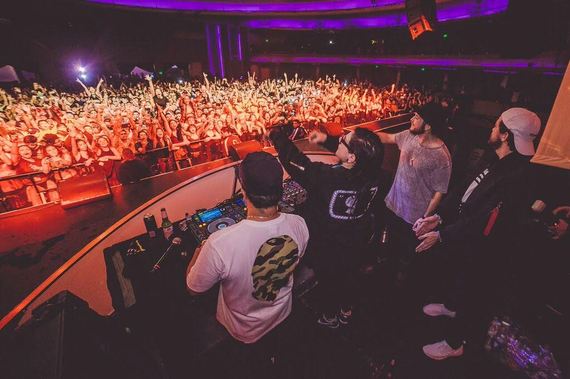 Matt: We also keep in mind where we are. In the states, people are excited about all the new styles, moombahton, trap music. Deep house is probably gonna come up soon. In Europe and South America (for instance), trap music is not as prominent.
Julio: The main thing now is the ability to adapt, which is also our state of mind when we're making music.
How did the "Intoxicated" collaboration come about?
Matt: Martin (Solveig) direct messaged us on Twitter and said he loved our sound and what we were doing, and to see if we wanted to do a collaboration.
Julio: We like stepping out of our comfort zone. We met up in the studio two or three times in LA. He has a really good direction with his brand and where he is going.
How did the Skrillex remix of Red Lips come about?
Matt: He had asked if he could because he had an entire visual concept. The video is just like a movie.
Are you working on anything at the moment?
Julio: We're always trying new things and we're always working, creating. We've been working on this full length album that we want to try to put out next year. We're just trying to make music, even when we're on the road.
Any advice for other DJ's and Producer's trying to make a name for themselves?
Matt: Don't give up keep and working at it. In the beginning you're going to spend a lot of time at home learning to produce music, but its also important at some point to put yourself out there. Some opportunities happen just because you're in the right place at the right time.
Julio: Put yourself out there, and be real.
Calling all HuffPost superfans!
Sign up for membership to become a founding member and help shape HuffPost's next chapter