By Angela Montefinise, The New York Public Library
When legendary poet, author, and playwright Dr. Maya Angelou was a young girl, she truly believed that her words killed a man.
"When I was very young, when I was about seven, I experienced sexual abuse," Dr. Angelou said in an interview with The New York Public Library. "A few days after I told my family the person's name, the police came and said the man had been found dead. It seemed he had been kicked to death. My seven-year-old self believed my voice had killed him. I stopped speaking. I stopped speaking for six years. I had a voice, but I wouldn't use it."
Dr. Angelou was sent back to a little town in Arkansas where she had lived previously. It was there that she met a neighbor who changed her life.
"A Black lady from my town took me to the local school, the Black school, and she took me to the library. She told me she wanted me to read every book in that library, starting with A to Br. Then she'd come back and I did Br to D.
"And I read every book. Of course, it was a small Black school in a tiny village in Arkansas, so there couldn't be more than a few hundred books," she said. "But I read every one. I wasn't talking, so I had time."
Reading was soothing, and soon, she was writing. She had found what she was meant to do.
"I always knew from that moment, from the time I found myself at home in that little segregated library in the South, all the way up until I walked up the steps of the New York City library, I always felt, in any town, if I can get to a library, I'll be OK. It really helped me as a child, and that never left me. So I have a special place for every library, in my heart of hearts."
That deep love and appreciation for libraries has led Dr. Angelou to send her collection of personal papers--including drafts and notes from her most famous work, I Know Why The Caged Bird Sings, and personal letters from luminaries such as author James Baldwin--to the Schomburg Center for Research in Black Culture, a research division of The New York Public Library.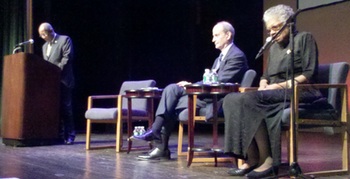 Dr. Howard Dodson (left), director of The Schomburg Center, introduces Maya Angelou (right) and Paul LeClerc, President of The New York Public Library, at the press conference announcing the acquisition of her papers.
The acquisition was announced on Friday, October 22, and the materials will be available to the public once they've been processed, which should take about 18 months.
Dr. Angelou thinks the Schomburg Center is the perfect place for her papers.
"All information belongs to everybody all the time," Dr. Angelou said. "It should be available. It should be accessible to the child, to the woman, to the man, to the old person, to the semiliterate, to the presidents of universities, to everyone. It should be open."
Dr. Angelou said that belief is strong at NYPL and at The Schomburg Center, particularly under the direction of Schomburg Executive Director Howard Dodson, who is retiring in 2011 after spending 27 years at the helm.
"When Dodson came, he ushered in a new era, he opened up the library to the community, and not only that, but to scholars from Germany and scholars from India, who come to the Schomburg and feel welcome," said Dr. Angelou. She said that the first time she stepped into the Schomburg in the 1950s, she thought it was "amazing."
"It has meant so much to me, what he has done," added Dr. Angelou, "so I've pledged him my support."
In the past, Dr. Angelou has donated tapes of Paul Robeson singing, letters from W.E.B. Du Bois and Frederick Douglass, and several sculptures.
And now she's turning over her own collection, including office files, correspondence with people such as Coretta Scott King, Malcolm X, and James Baldwin, handwritten manuscripts, proofs, and galleys from I Know Why the Caged Bird Sings and the poems Phenomenal Woman, Still I Rise, and On the Pulse of Morning, which she wrote for and recited at President Clinton's first inauguration, in 1993.
"Information is so important, and it must be open," she said. "Information helps you to see that you're not alone. That there's somebody in Mississippi and somebody in Tokyo who all have wept, who've all longed and lost, who've all been happy. So the library helps you to see, not only that you are not alone, but that you're not really any different from everyone else. There may be details that are different, but a human being is a human being."
Dr. Angelou said she couldn't possibly choose a favorite item in the collection she donated because "that's like choosing your favorite child."
As for why she's donating the precious items now, Dr. Angelou spoke with the honesty that has made her a beloved leader in the literary world.
"I'm 82, and it's not quite the same as being 28," she said with a warm laugh. "I didn't want life to catch me unawares. Or death for that matter. So I thought this was the time."
Related
Popular in the Community