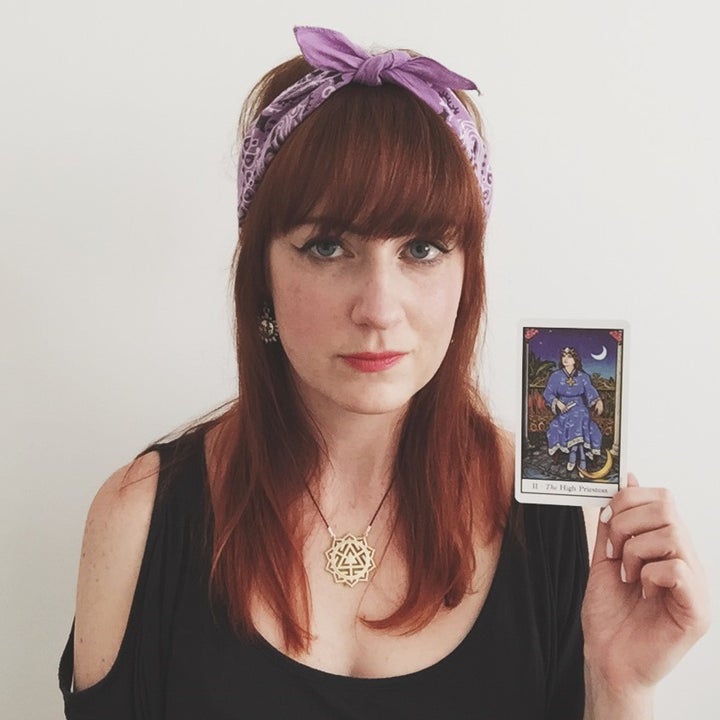 I had the absolute pleasure of interviewing Vix from New Age Hipster about tarot, life, and spiritual business. Apparently, she loves pizza as much as I do, which I thought was virtually impossible!
Scroll below to learn more about Vix's tarot world and spiritual biz.
Vix is an intuitive Tarot + Angel Card Reader + Fairyologist certified by Doreen Virtue, Celtic Reiki Mystic Master, Headmistress of Woo Woo School and the creator of New Age Hipster. Sent here on a divine mission to kick open the musty old spiritual wardrobe, Vix is all about bringing the new age into the now by making spirituality accessible to whoever wants in! Vix is an ex high school and special ed teacher, and has written a tween and a YA novel. She enjoys drinking decaf tea, making Pinterest vision boards, eating Pizza, (a girl after my own heart) and watching 80's movies on Netflix.
Tell us about yourself and how you got started in your business.
I read Tarot for many years for myself and friends before I started my business. I always loved reading Tarot for others but it was never something I'd ever considered doing as a job!
I went to drama school, picked up a couple of Masters degrees in education and I then taught Drama, English and Special Needs for a while. I loved teaching and working with kids but I was totally burning out.
I started working more with my own energy, shielding, grounding, and protecting myself to get through the work day. I wasn't expecting was my intuitive abilities to grow the way they did! I began reading and tuning in for myself more and more, and I started a blog called New Age Hipster with the intention of sharing my Tarot and spiritual journey. I began to toy with the idea of reading for others and started offering free readings, just to see if I was any good. I did 100 free readings, and with a 98% accuracy rate (and two great learning opportunities!) I thought hey, why not! So I started my biz.
What was the idea behind the name New Age Hipster?
I'd had the name for the blog for a few years. It just kind of popped into my head one day and wouldn't leave! It's a bit of a play on the old school New Age Hippie. I like to think of myself as a new wave new ager!
What are your key offerings?
I offer Skype, email and video Tarot, Oracle and Angel readings and sell carefully selected crystals via my Etsy store.
What is your favorite part about being an intuitive tarot reader and online entrepreneur?
I get to wake up every morning and do a job I love. It's definitely not without challenges; in fact it's the hardest thing I've ever done. But that feeling of being able to spend as long as I like in the shower, even though I work regular hours plus nights and weekends is pretty freaking amazing.
What is one of the biggest lessons you've learned along the way?
I've learned to trust my guidance and take action when I feel called to. All of my business success is really just a result of listening to that inner voice!
What is one of the biggest misconceptions around Tarot?
It's a misconception that you have to have some kind of "gift" to read Tarot. I think we can all use Tarot to tap into our inner guidance.
Who has inspired you along the way?
The online Tarot Community is mega. I've made so many friends and been inspired by so many. Dusty White's Tarot books have been huge for me and right now I'm feeling incredibly inspired by the work of Danielle Noel! Her new Starchild Akashic Tarot deck is unreal.
What advice would you give to someone who wants to follow a path similar to yours?
Offer free readings or giveaways to start off with. So many of the people I did free readings for at the start of my journey are my regular paying clients now. Work nights and weekends while you keep a regular job to start off with and remember that slow and steady really does win the race in this business.
Describe your favorite moment or accomplishment in your career so far.
Being resident tarot reader on the Croatian island Obonjan this summer was pretty up there!
What's the most exciting thing going on for your business right now?
My second online course Totally Spiritual is about to launch! I'm also working on an oracle deck but I'm not sure yet if it's for people to buy or if it's just for me. The seeds of a book are also forming in my head too.
How do you balanced business and life? Do you have any rituals or practices that help you stay centered?
When your business is basically you it's really hard to switch off. I mark the end of the working day by giving myself a sticker! Sounds dorky I know, but it really works. I make sure I have at least one full day off a week and I schedule in Netflix and chill at least a couple of nights a week.
Anything else you'd like my readers to know?
I have a free e-book available at www.newagehipster.co/free which I created to help anyone who's struggling with boundaries, heavy energy environments and situations and energy protection in general. Protecting my energy was the number one thing that got me where I am today, and hopefully it will help others too! x
Related
Popular in the Community