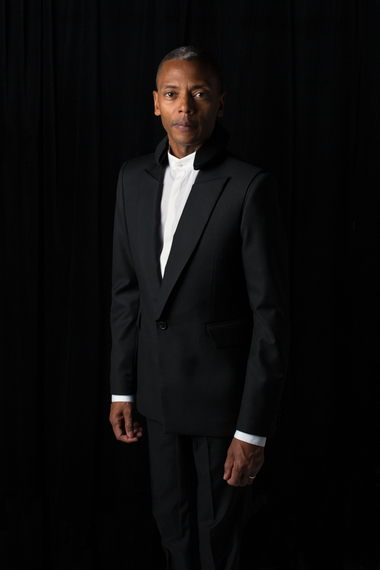 Jeff Mills is not the first prolific African American to have found most of his success outside of the United States. Having been collectively responsible for the birth of Techno in Detroit, much of his career evolved as a result of an overwhelming support by both the European underground and artistic communities.
Mills started out as "The Wizard," hosting a popular radio show in Detroit,
co-founding The Underground Resistance (a Techno collective), and serving as a resident DJ at many Michigan clubs, including The Nectarine Ballroom. This led to residencies in New York City at the notorious Limelight, and in notorious Berlin at Tresor, followed by the creation of his label Axis Records with Robert Hood in Chicago. He has collaborated with orchestras, reimagined music for films (including the silent classic Metropolis), and was named the Ordre des Arts et des Lettres by the French Ministry of Culture. And this barely scratches the surface of his accomplishments over the last thirty years.
Though Mills can still make the dance floor explode, much of his current work is beyond it, pushing the boundaries and possibility of what electronic music could be. At the moment, he is engulfed in various artistic and experimental projects, from his recent performance with the BBC Symphony Orchestra, to composing new music in the former studio of Dutch painter Rembrandt during this past Amsterdam Dance Event. Looking towards the future, Jeff Mills is still trying new things, while staying true to his initial desires to simply, create art.
During this year's Amsterdam Dance Event, Jeff Mills presented Time Tunnel, an audiovisual spectacle inside of a football sized warehouse. Mills played a continuous 6 hour set, billed as "a recreation of time travel through sound," as a sold out crowd danced until morning.
I spoke with Jeff Mills this Fall while he was in Chicago on a short break from touring. He is centered, intelligent, and speaks with a soft, yet authoritative tone. The kind of energy that is calm, but capable of great power.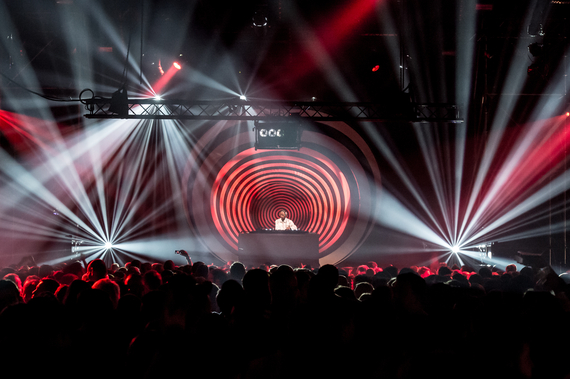 How did Time Tunnel come to be?
"We developed the concept in Paris, introduced it and then did a two year residency at the Moulin Rouge. I wanted to create a dance party mixed with theatrics, so I was thinking of all the places where this was already happening, where people were used to entertainment. I thought Vegas, Macau, Singapore. I decided on the Moulin Rouge, and they let us bring in props.
The point was to see what other things could be possible. In electronic there is a lot of room to introduce and try new things. This was a model for what could happen through integration of Cirque du Soleil, or what could happen on Broadway, but when you still want people to dance.
This was the seventh edition in Amsterdam. I'm not sure how many more we will do because its a tedious set up and construction process and I have other ideas and different concepts. Maybe less dance music and more theater, including actors speaking to the audience. These examples show what is possible and what is not possible. Maybe someone will remember the experience of the tunnel and use it to create their own ideas."
Why do you think Techno started in Detroit?
"In general, the African American community has always been social, and music is a part of that. Detroit between the 1940's and 60's was very much a social place. I grew up surrounded by parents and relatives, used to having house parties. Music was a part of this and affected me and my brothers. There were so many influences, between Motown and the radio, Chicago...it's not surprising the sound came from a group of young black men in Detroit."

Why do you think House and Techno didn't spread in the U.S. the same way as in Europe?
"For 20 years, the U.S. was accustomed to a certain type of spectacle, and EDM suits the mentality of the average American. It's larger than life, it has a big arena feel, like sports. (And) in the U.S. everything runs like sports. Hollywood, politics, the music industry. Everyone has a team, there's a captain, and the teams compete.
In Detroit we were more focused on making art. We all stayed independent, no one took a major deal. No one was gonna buy us the front cover of a magazine. (Also), in Detroit we didn't have journalists involved in the scene. They couldn't write about or understand what was happening, so we were dependent on people from the outside."
Tell me about your time in New York City and your residency at The Limelight.
"I never lost sight of the fact that I was in Manhattan, and in a place where many incredible things happened. I come from a generation that when you were asked to go to New York City, there was nothing bigger than that. When you move, you lose something, but you gain so much more.
I learned the most during this time about music and business, than any other time. In New York, I was working 18 hour days. In Detroit I worked hard, but I was only really around people from there, except for a short trip to Berlin. I couldn't really see the world yet. (And) The Limelight was like a jungle. The intensity of the music, atmosphere, the people - it was a culture shock."
What are the biggest challenges facing aspiring DJs/Producers today?
"Being recognized and getting enough people to want to spread the word and create some type of momentum, unless you are so good its beyond belief. A lot of DJ's just want to be DJ's and not musicians. It's much harder compared to when I started and I'm not quite sure what it takes in this climate, but younger producers have to know things won´t get easier even though the technology gets easier, because the public has made the assumption anyone can DJ, so now you must be even better or greater. But everything is achievable."
Is there anyone that impresses you at the moment?
"No. There is no DJ I'm willing to get on a plane to fly and see. And I used to do that. I used to fly to Body and Soul in New York for their Sunday party with Joe Claussell. Because you couldn't get that anywhere else in the world. No one has that magic that just makes you a believer."
What project are you most excited about right now?
I'm working on a piece of equipment with Yuri Suzuki. It's special drum machine based off of a situation that happened in America in 1942. Many people thought they had seen UFO's on the coast between L.A. and San Diego, and the machine is based on what they saw in the sky. We're adapting this into a performance and dance event in 2016 interweaving film and actors. It's a mix of The Fugitive, Close Encounters of the Third Kind, and Film Noir of the 1940's.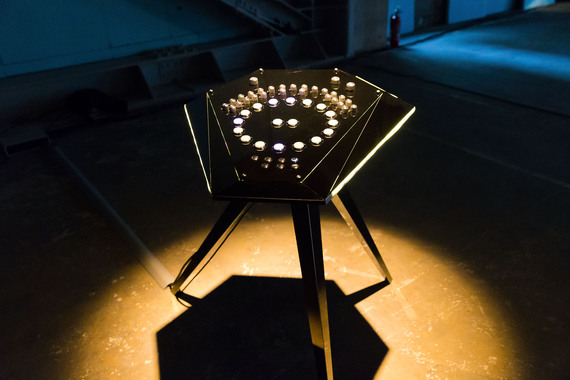 For those who have no idea what Techno sounds like, is there a track that could serve as an introduction?
Jeff Mills is a true pioneer in every sense of the word, continuing to help redefine and give a voice to a genre that is still unknown to most.
Calling all HuffPost superfans!
Sign up for membership to become a founding member and help shape HuffPost's next chapter