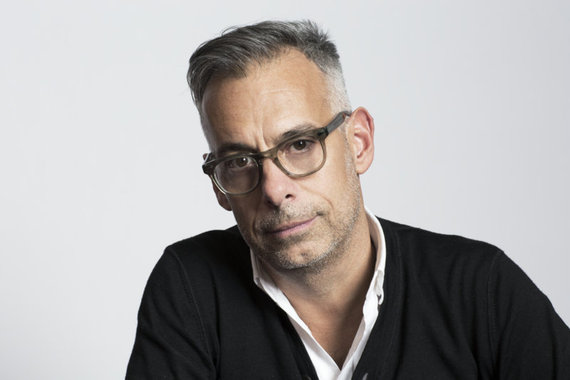 Joe Mantello
Photo: Brigitte Lacombe
Over the last twenty seasons, Joe Mantello has directed thirty plays and musicals (including Take Me Out, Assassins and Other Desert Cities). He currently has a nearly-unprecedented four shows on Broadway: the long-running Wicked plus The Humans, Blackbird, and Act of God (the latter three mounted within a five-month period). He is also an actor, featured in the original Broadway productions of Angels in America (as Louis Ironson) and The Normal Heart (as Ned Weeks).
PART 1: ON THE HUMANS AND BLACKBIRD
What attracted you to The Humans?
Joe Mantello: Stephen Karam sent me an email two summers ago saying that he had this play and that they'd lost a director. We have a mutual friend, and through that friend he got my contact information and said he'd love for me to read it, and tell him what I think. I had planned to read it in a week or so, and I opened it up just to read the character descriptions, but I started reading the play and I read it all in one sitting, quite unexpectedly. I just was so taken with it that I sent him an email a few hours later saying, "I'll do this play anywhere."
Is that typical for you, to react so strongly to a play?
Joe Mantello: For me, the process is still mysterious. It really is like falling in love with someone. There's chemistry, there's something makes you laugh, something is intriguing about the play. It really is completely instinctual. And then also having a feeling that I would be a good caretaker for the play. I want to make sure that I feel confident enough in my own abilities to deliver what the playwright wants, that's important to me.
Some audience members find the play mysterious or enigmatic, or they can't quite figure out what the play means.

Joe Mantello: Well, that's the thing; I don't know that it's supposed to mean anything other than what each individual audience member takes away from it. I don't believe really good plays--interesting plays, complicated plays--can mean just one thing to every single person in the audience. What we did for ourselves is to kind of justify every moment. Now, I understand that there are some people who are confused, baffled, angry at the end; but to me, it seems everything that happens in the final moments of the play is absolutely justified.
And the noises, the mysterious lights?
Joe Mantello: I don't know about the apartments that you've lived in, but that seems entirely in keeping with having a New York apartment. Noisy neighbors, poor electricity; there's nothing that happens in the play that seems supernatural to me.
Is the ending staged as in the original script, or was it refined in rehearsal?
Joe Mantello: Stephen eventually took the ending much further, in that there was actually a woman who appeared in the window. Now, whether it was the person that they've identified as the super's wife who might be out there; whether it's somebody picking up cigarette butts; or whether it's something else entirely, he never said. But ultimately, I think Stephen felt that it was just a step too far, and that we in fact didn't need it. That the sort of terror that the father is experiencing, was best left... well, that it was better to place the audience in the mind of that character, as opposed to giving them a concrete scare.
Was it a "faceless woman," as in the father's description of his dream?
Joe Mantello: We tried it once, when we were doing tech rehearsals. That character--the person outside the window--was seen so briefly, because it's so dark, that the father kind of just moved his lantern. You saw a figure there, it was almost a silhouette, and then he dropped the lantern. So there wasn't time to register whether the person had a face or not. It was before we opened our off Broadway run at the Laura Pels, we never did it in front of an audience.
Many have commented on the excellence of the entire cast. They do seem like an actual family.
Joe Mantello: Sometimes it is an accident of casting. In this case, each one of them is an astonishing actor in their own right. The chemistry that they have together as a group, that was there from day one. If directors knew why that happened, we would bottle it because it's rare. But when it happens, you feel it; you kind of just gently encourage it, and keep it going. It's either there or it's not there. It doesn't mean that if it's not there, you can't make something of it; but I'm talking about this cast's ease with one another, their ability to inhabit these characters. And by that I mean, the ability to capture both the kind of viciousness and the love that coexists and runs, side by side, in this play. That's a very complicated thing to capture.
Did this make it a more rewarding rehearsal period than usual?
Joe Mantello: Well, I like working with great actors, and there are certainly six great actors on that stage. We sort of made a pact, early on, that we were going to try to dispense with any acting. And we really did try; we talked a lot about restraint, and only doing just enough. We tried to meet the play on that level. There's a quality to Stephen's writing, it doesn't provide you with all the answers. The cast was in sync from the very beginning. And we were very fortunate that the Roundabout erected that set for us to rehearse on. So we did about two or three days around the table, and then we moved into that apartment together for three weeks. It just happened to work out with their schedule. The choreography of the play is so specific, and so detailed; just in terms of someone reaching the top of that spiral staircase and saying a line, as somebody else is going downstairs. So we were able to completely refine the staging on its feet, during rehearsal. As opposed to mocking it up in a rehearsal room, and then having to make all those adjustments during tech.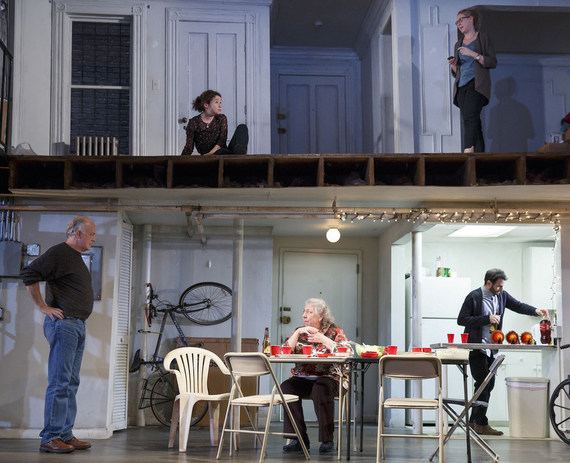 (clockwise from top) Sarah Steele, Cassie Beck,
Arian Moayed, Jayne Houdyshell and Reed Birney in The Humans.
Photo: Joan Marcus
Had you worked with any of these actors before?
Joe Mantello: Sarah Steele and Cassie Beck play the sisters; Stephen wrote those roles for them. He's had the luxury of readings over the course of writing the play, to mold it to their particular voices. Jayne Houdyshell and I--when I was 17 years old--did summer stock together, at the Timber Lake Playhouse in Mt. Carroll, IL. She was the leading lady of the company, and I was an intern. I have photos of her in Hello, Dolly! to prove it! And she was remarkable, she was in every show and remarkable in every single role she played. And incredibly kind, incredibly gracious to a lowly intern, and I always remembered her. We reconnected later in life, when she made that big splash in Well at the Public, and I went to see her. Then I put her in Wicked--because I knew she could sing, I'd seen her do Hello, Dolly! So I've known her the longest. Reed Birney and I did Casa Valentina together, and Lauren Klein was the understudy in Other Desert Cities, for both women. The other actors I'd seen onstage.
And what about the cast of Blackbird, Jeff Daniels and Michelle Williams?
Joe Mantello: Great, uncompromising, brave. What they do every night is kind of miraculous. And it was interesting watching Jeff, who had done the play with another actor in 2007 at the Manhattan Theatre Club. And how he was able to throw out what we'd done when we first did it. Well first of all, I don't think either one of us remember all that clearly what that production was like. Jeff really started from scratch, and went deeper--it's a much harder performance than I think it was, much tougher. He asked more of himself, by his own admission, this time out. I think we were both interested to reengage with the material, but not repeat what we had done. It's been nine years, we are different people than we were then, it's a different venue, there's another actor in the room who drastically affects the dynamic and everything in it; so we really started from scratch and rebuilt it. Of course, building on some of the things that we had learned and remembered from before, but there was never a moment when he said, "Oh, she used to be over there, could we...?" It was never about repeating for him.
Since Blackbird was first done in 2007, there have been changes in the public perception of elements in the play. Did this alter the way you looked at the material?
Joe Mantello: No, the biggest change was adding Michelle into the mix, because you can really chart your way through that play in so many different ways. Michelle's take on it is very different than Alison Pill's take on it at MTC, so that is more impactful than what's happened in the world over the last decade.
Are there other plays which you've done that you would consider doing again?
Joe Mantello: Blackbird is the only one I've ever wanted to redo. It just haunted me, this play. There was a sense of unfinished business because at the time we did it at Manhattan Theatre Club, there was real momentum to move it to Broadway. At the eleventh hour that kind of fell apart, so I always had this kind of sense that it was unfinished. But it's the only time that it's ever happened to me.
[READ PART 2 OF OUR INTERVIEW here]
Stephen Karam's The Humans opened February 18, 2016 at the Helen Hayes Theatre
David Harrower's Blackbird opened March 10, 2016 and continues through June 11 at the Belasco Theatre
REAL LIFE. REAL NEWS. REAL VOICES.
Help us tell more of the stories that matter from voices that too often remain unheard.