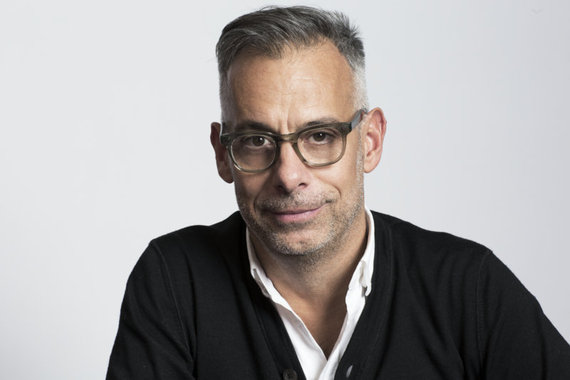 Joe Mantello
Photo: Brigitte Lacombe
Over the last twenty seasons, Joe Mantello has directed thirty plays and musicals (including Take Me Out, Assassins and Other Desert Cities). He currently has a nearly-unprecedented four shows on Broadway: the long-running Wicked plus The Humans, Blackbird, and Act of God (the latter three mounted within a five-month period). He is also an actor, featured in the original Broadway productions of Angels in America (as Louis Ironson) and The Normal Heart (as Ned Weeks).
PART 2: ON ANGELS, WICKED AND AWARDS
You have worked on some remarkable plays, including The Humans, Other Desert Cities and Take Me Out. When you first read a play like this, does it stand out as potentially important?
Joe Mantello: Well, there are some that I feel absolutely compelled to do. That I would--not to be dramatic--but I would die if I didn't do this play. The Humans was like that for me. I felt that it was an important play, and I had been a fan of Stephen Karam's play Sons of the Prophet. I guess the question is: Do you know when you're in the presence of great writing? And I think the answer is yes. On this one, and on some of them.
What about Angels in America?
Joe Mantello: I thought there was no question that it was a masterpiece when I read it. I sat there; I had two big black binders of both plays, and I mean--well, think back to it. There is just nothing like that play. And this was just me reading it, as a guy who was auditioning. To be inside of that play as it was emerging in the world--finally, after however many years Tony Kushner had worked on it--was a pretty remarkable experience. And I think what was really fascinating about it for the actors, or certainly for me, was that it wasn't a natural progression. I had worked a little bit off-Broadway at Circle Rep, but my career as an actor wasn't thriving. And so to go from that, to what was arguably the most important play of the last fifty years, was disorienting at first. I had no kind of concept of what that would be like, and so it was heady. But... I had the feeling after having done it--I did it for about a year and a half, including Los Angeles--I had this feeling that I didn't know if I would ever play a part that was that great again. So it kind of satisfied something in me of not needing to be an actor anymore, at the same time that I was starting to direct.
When you appeared in Angels, were you already directing?
Joe Mantello: I was just starting to direct. I was a member of Circle Rep, I had done a little bit of directing there. I remember that I had a vacation from Angels, in which I remounted a play that I had done out of town called Three Hotels, that's how I spent my week vacation. That was very well received and ran quite a long time at Circle Rep, so as Angels was ending my directing was just starting to take off.
Did you always plan to become a director?
Joe Mantello: No, it was entirely because of Circle Rep. I was a member of the Lab there, which was kind of their second company, their younger company. It was run by a man called Michael Warren Powell, there was a group of about forty actors, writers and directors. We had a tiny Black Box space that maybe sat fifty or seventy-five people, and you would go to him and present a project that you wanted to do. You were given a budget of I think $150 and sent on your way. I had an unsatisfying acting experience in the Lab, so I thought I wanted to try directing.

Wicked opened in 2003, and there have been numerous cast changes and additional companies. Do you remain closely involved?
Joe Mantello: There's a different kind of challenge that emerges, which is that you want to maintain the quality of the show. There's a certain kind of process that you go through in mounting all of these companies, and putting in all of these replacements, in that you want it to feel organic to all of the actors. You want them to be able to put their own stamp on the role, and yet they have to exist within a structure that has been running, and which is going to keep running with or without them. And so finding that balance, of how you introduce actors into this gigantic machine that's been running for years, is kind of a complicated process. Because I don't believe that you should short circuit anybody's process--I mean, saying "start on nine, go over there"--and just give them the nuts and bolts of it. They have to find their way into it. I think that from day one, when it became clear that Wicked was going to have a life, that we have set a standard for ourselves that we are never going to shortchange the audience; that every person that we put into that musical is going to be held to the highest standards; and that nobody is going to be coasting. And that if you are planning to be coasting on this juggernaut, that you have to go. I've tried to instill a sense in everyone who works on it that we're incredibly fortunate, and our responsibility is to deliver the same show that we did originally.
Can you keep track of all the productions while also directing other shows?
Joe Mantello: I have been involved in the launching of a lot of the companies, but there is an incredible team of people who do a wonderful job on a day-to-day basis. I've become like this godfather; I occasionally watch performances, give notes, talk about the inspiration for moments of the show. I kind of come in every once in a while and give an inspiring speech. There are people who really maintain the show. My Associate Director, Lisa Leguillou, is remarkable; flying around, visiting all the companies. She is truly the unsung hero of Wicked. She has been by my side from day one, and she is invaluable. I frankly don't know how she does it.
The Humans and Blackbirds are up for a combined nine Tony awards; and the cast of The Humans was named as the winner of a Special Drama Desk Award for Outstanding Ensemble. How do you feel about awards season?
Joe Mantello: As a director, you're incredibly proud when an individual steps up to the podium and is acknowledged for their work. But to have an entire company acknowledged, there is just no higher honor ever paid for that company or for the director, for that matter. Because backstage, your comrades--all of them--are acknowledged in this kind of amazing way; it's not like you have to go into the dressing room and shake someone's hand, and say congratulations to him or her. It's the group effort that is really important. It's actually thrilling, because mathematically speaking, acting awards can never be fair. Each person's contributions, large or small, can never really be fully acknowledged, and so certain people begin to emerge as the "face" of the company. And that can be complicated. It certainly was on Angels [in which four actors, including Mantello, were nominated]. It was a heady time, and so the idea of going through any awards situation--let alone being nominated or not nominated, was--well, I thought my head would explode. Now I'm a little more sanguine about it, I take it for what it's worth.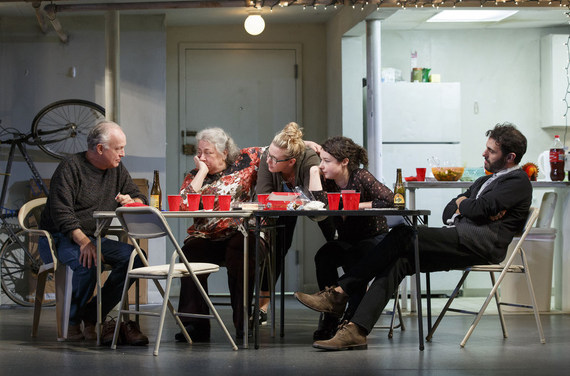 Reed Birney, Jayne Houdyshell, Cassie Beck,
Sarah Steele and Arian Moayed in The Humans.
Photo: Joan Marcus
Does it have an effect on a cast when some are nominated and others aren't?
Joe Mantello: I don't think so in terms of the cast of The Humans, which is really an ensemble. You can try to put a spotlight on certain performances in a play like that, but I think each one of those actors would say they are not able to do what they do without the other five actors in the play. I mean, that is absolutely true. And they're very much a company backstage, and happy for one another's successes. But also they understand that the fabric of that play, it is impossible to unravel it. They're all adults, and they know the law of averages is that it's unlikely that there are going to be six nominations. So, you're happy for your collaborators. And that's why I think for them to receive the acknowledgment of the Ensemble Award is so important. I think there should be an annual Best Ensemble Award. I understand there are practicalities and complications; but in some ways, I've never worked with a company where that wouldn't have been meaningful.
[READ PART 1 OF OUR INTERVIEW here]
.
Stephen Karam's The Humans opened February 18, 2016 at the Helen Hayes Theatre
David Harrower's Blackbird opened March 10, 2016 and continues through June 11 at the Belasco Theatre
Calling all HuffPost superfans!
Sign up for membership to become a founding member and help shape HuffPost's next chapter