John Goodman is one of Hollywood's most versatile performers, with an astonishing range of iconic performances. He is a Coen brothers favorite, appearing (and often yelling) in "The Big Lebowski," "Barton Fink," and "Raising Arizona." He played Denzel Washington's drug dealer in "Flight," Ben Affleck's Hollywood inside man in "Argo," Roseanne's devoted blue collar husband in "Roseanne," and Linda Tripp as one of the most popular hosts on "Saturday Night Live." His voice performances in animated films include Billy Crystal's best pal in "Monsters Inc." and "Monsters University," Santa in "Rudolph the Red-Nosed Reindeer," Pacha in Disney's "The Emperor's New Groove," and Mr. Prendergast in LAIKA's "ParaNorman." His latest voice performance is in "Bunyan & Babe," as American folklore hero Paul Bunyan, now in limited theatrical release and available for streaming on Google Play (free until February 16, 2017).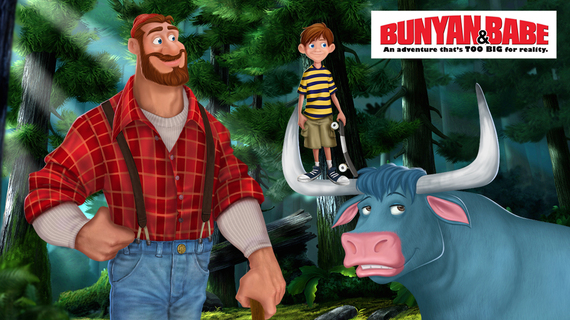 In an interview, Goodman that his animated performances begin when he sees sketches of the character and basic design. "It's helpful to see the facial structure and figure out where the voice lands, how loud you have to be for some little person to hear you and not deafen them." Goodman gives Paul Bunyan a warm, gentle voice in "Bunyan & Babe." "He's by himself a lot. He doesn't have a lot of human contact. He hangs around with an ox. He's probably a little cautious, and he doesn't want to frighten anyone, especially kids." He recorded the performance alone in a booth, but still performed almost as though he was on camera, to make sure that his voice reflected the physicality of the animated character as well as his emotions.
As we spoke, it was a lot of fun to see the way Goodman immediately conjures up an imaginative world for his character. When I asked what he would like best about being as big as Paul Bunyan, he said he'd like to play tight end on a football team. "And I guess I could dunk without any problems. But it would be tough to fit into my car, and you'd have to go to a super Big and Tall Shop, the one Godzilla and King Kong shop at. It might be hard to find stuff that fit."
In the film, Paul Bunyan and his wisecracking sidekick, Babe the Blue Ox (voiced by Jeff Foxworthy) come to the rescue when two wicked brothers (both voiced by Kelsey Grammer) cheating a farm community out of their land. A boy named Travis (voiced by Johnny Orlando) accidentally finds the place Paul and Babe have been hiding out since technological advances made them feel obsolete. When he discovers that the brothers have a plan to hypnotize the farmers into selling their land, Paul and Babe help him learn that "you don't have to be big to do big things." Goodman, who spoke about his respect for the enduring impact of legends like Paul Bunyan, Pecos Bill, and John Henry, brings enormous warmth and vitality to the character.
Calling all HuffPost superfans!
Sign up for membership to become a founding member and help shape HuffPost's next chapter