Mexicali Blues is simply one of the hottest pieces of literature to hit the shelves in the past six months. A collection of short stories penned by prolific writer Joseph Grant, the compilation is simultaneously high art and street-graffiti. With flowing imagery and direct purpose, the collection of stories is a raw and passionate gut check about life along the Mexican and California border.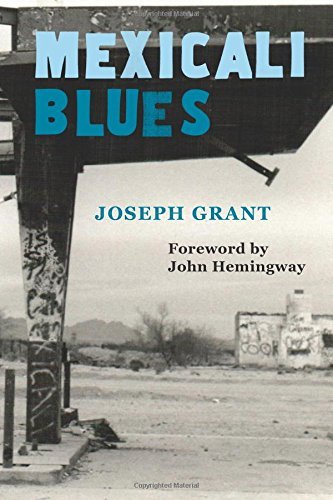 Mexicali Blues has received advance praise from notable authors such as Kevin Michaels and Danila Botha. The work has even garnered a forward from John Hemingway, the grandson of literary titan Ernest Hemingway.
He had this to say about Joseph Grant's Mexicali Blues:
Mexicali Blues is Joseph Grant's first collection of short stories and its mixed themes of cultural confusion, payback and chance are a great primer for anyone in need of a crash course on the troubled times we live in. The image Joseph gives of the California-Mexican Border and the people who live there is at the same time realistic and romantic, poetic and matter of fact. Tables are often turned and the strong and the weak are defeated by a culture that knows no pity, no remorse.
A desperate man runs from a dying boy in the desert outside Tijuana...a young and exotic but wary wife primps for her husband's return from battle...a politician full of hubris promises rain to a small, drought-ridden town. Set on the Mexico-California border, Mexicali Blues is a collection of 10 moody short stories that illustrates how the small choices we make every day bring redemption or loss, salvation or downfall.
Fortunately, Joseph Grant took a few minutes to answer questions about his inspiration for the book, his friendship with John Hemingway, and his hopes for the collection's impact on readers who happen to peer into the pages.
Where did you draw the inspiration for Mexicali Blues?
Joseph Grant: The inspiration for Mexicali Blues comes from living in Los Angeles for nearly 20 years and observing everyone and everything and putting it down on paper as best I can. Always having had a deep abiding interest in all things Mexican, it was a wonderful place to soak up the local Mexican-American culture.
What was the biggest hurdle you had to overcome in order to finish writing it?
Joseph Grant: I think the biggest hurdle comes from dealing with agents who are clueless on what is good literature and only looking for the quick buck. That is why the wonderful people at Literary Wanderlust are the right publishers. They are not hunters, looking to exploit a new writer but nurture them.
How many other works do you have, and what are you working on currently?
Joseph Grant: I have written over 300 stories and have seen 291 of them published. I just finished a story an editor asked me to write and now have some work to do on the second collection. I have been signed by the same publisher, Literary Wanderlust to write a second collection. I am writing two brand new stories for the collection.
There is a notable forward by John Hemingway, a sort of heir to literary royalty, how did that friendship develop?
Joseph Grant: I met John through friends who share a common writing interest. I think I emailed him and then we chatted on FB after initially becoming friends and then became good friends after that. We chat by phone or by text/IM about writing or whatever is going in life at the moment. John is a great guy and an excellent writer.
If you would like Mexicali Blues to leave readers with one key take-away, what would it be?
Joseph Grant: To travel and experience other cultures. It doesn't have to be Mexico. It can be wherever in the world. With this coming election, there is a lot of ethnocentric bias going on and I'd hate to lose that wanderlust, if I may. That is why this publisher is so important. They are not about the bottom line as much as they are about the written one. I would hope that someone would like my stories enough to want to write and write about other cultures and instead of our nation closing its mind and eyes to the world around us and building ridiculous walls (it didn't work in Berlin, it won't work here!), that we embrace other cultures as we do our own.
Thanks for taking time to chat, Joe.
After reviewing the collection, this was my quick review:
Joseph Grant's prowess of the pen is on full display. He bends words as if they were made of silk and wraps them around the reader's mind in subtle circles, simultaneously reeling us comfortably in, and yet making us feel alarmingly exposed. It is this dance, alongside a marvelous story, that keeps us enraptured and cements Joe as a rising literary star.
For those of you interested in an excellent piece of literature, feel free to pick up a copy of Mexicali Blues here at amazon.
Calling all HuffPost superfans!
Sign up for membership to become a founding member and help shape HuffPost's next chapter