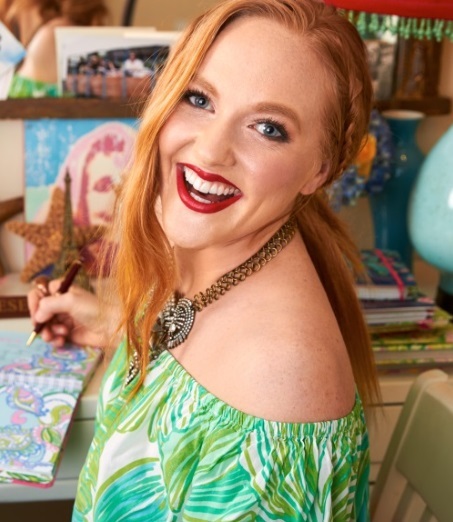 Joyously spirited, chef to the stars, Kate Von is more than she appears to be. Contemplating a conversation relating to food, I was ecstatically inspired when our heart to heart transformed into an enchanting and magical celebration of life.
Although Kate Von has catered to some of the biggest celebrities in Hollywood, as well as high powered business people, and rock stars, while traveling the world, she has also appeared on the "Food Network's" hit show, " Cutthroat Kitchen".
Preparing food as well as "life", comes naturally to Kate. Speaking to her was like a refreshing blast, filled with laughter, fun and authenticity. Her dream is to reach and help as many people as she can lead a happy and healthy existence, through a conscious lifestyle, and she genuinely means it, from her heart.
So tell me exactly what is it that you do?
It's a whole world that I create. It's a conscious lifestyle. How can you eat in a way that really fuels your body with food and medicine...it comes down to conversation, your daily actions, choices, how to really live a life to love. Food is a big, big part of the conversation, and part of what I do. I feel that, that's a gateway into the other possibilities of living a sound lifestyle filled with happiness and love, gratitude, and creating. People that don't love their existence or their jobs or their lifestyle, is because they don't have that passion. Anyone that I've worked for brings me in to focus on food, and very quickly they realize that doors open so that we can focus on a whole context of a truly, happy lifestyle.
Do you create diets, and food plans for your clients?
I do a lot of diets and food plans and at the end of the day, those people want me to put them on a special diet, and what I say to that is, "Yes, let's do a special diet". It's about creating consistency, getting to the gym, and getting active. People want a quick fix, but the reality is, there is no quick fix. The most important aspect of working with anyone nutritionally, is, how can we create balance in the body by adding nutritious food without a label, or without 30 ingredients and preservatives that are breaking down the body.
How did you become interested in this?
I grew up in the Midwest, and I had a stay at home mother, and my father worked, and their values were really on a foundation of good nutrition. My mother cooked all of our meals, my father had a huge garden. He even had bees in our backyard as a hobby, and he still does to this day. So it was kind of the culture I grew up in. My family was very traditional, and they had these alternative ways that really weren't that alternative. They were living a healthy, balanced life. I spent my life at home creating in the kitchen. I entered pie contest, and won them. Because my parents were conscious about their food choices, eating salads at 5 years old was just something I did. I had an inspirational family who had values, on how can we find clean ways to eat. Who has time anymore to cook? We live in a fast food nation. Everybody is in a rush, and getting a meal on the table is the last thing they are thinking about. So I'm ever grateful that I grew up in a family where my mom could make cream puffs with me.
Did you ever taste McDonald's?
As a matter of fact during my younger years, when I had more freedom to make choices, I was all for Wendy's, McDonald's, Dairy Queen... It was what everyone else did. I made those choices, but to be honest with you, I never really felt good.

What's the weirdest food you've ever sampled?
As a chef I'm very adventurous, but I'm not always adventurous with my own pallet.
What was it like to be on "Cutthroat Kitchen"?
That show is absolutely bananas.
I never did a cooking challenge, and I won so hard. I was just all in.
Were you mean to the other competitors?
Well it's funny because I'm just such a positive person, that literally I can find the best thing in the meanest person. I don't have it in me to be mean. If I could be the most joyful mean person, then yes. I spent so much money in the challenges. I like to spend money in the real world too, so I was like, " well this is all about spending"...and poor Alton Brown, he doesn't get many people like me coming on his show too often.
Out of all of the people that you have worked with, can you recall one of your favorite experiences?
I can easily say that one of the best experiences and one of my favorite all American families are the Shivers, and the Kennedys. I have so much love and gratitude and appreciation for their family. I spent one summer in Hyannis Port. There is something that really rings a bell for me about our culture and the American dream. Being inside of John F. Kennedy's home, and being on Eunice's sailboat, and Taylor Swift running around in bare feet in a little summer dress, I mean, that's a remarkable family. I have to say every single person that I met, whether it was Maria Shriver, or Eunice, they are just really good Americans that just love to have fun. So I worked with that family, and let me tell you they are huge family. They are just such a joy to be around, and I swear I miss them every day.
Is there anything else that you would like to promote about yourself?
I'm just putting myself out there in the world. I would like to work with Oprah Winfrey, I don't know if you can say things like that...
She's bold and beautiful and has a great message, now she's like a spiritual leader. Everyone that I've ever worked for, when we finish, they are like totally different people. If I started to work with someone like Oprah, it would change her conversation, so that she could impact ten fold. It's all about helping each other, and then helping each other help others.
For more information:
www.katevon.com
https://twitter.com/epicbykatevon
Calling all HuffPost superfans!
Sign up for membership to become a founding member and help shape HuffPost's next chapter