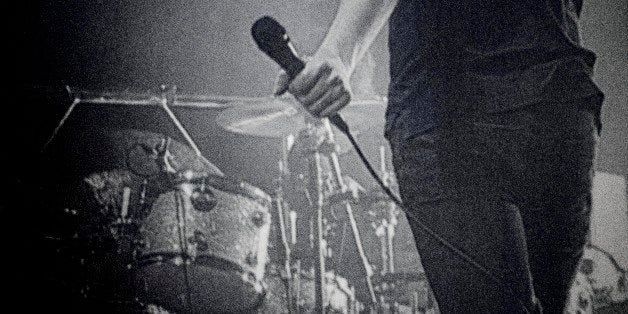 Small Faces were simply the best band I have ever been in or ever likely to be in.

-- Kenney Jones, drummer for The Who, 1979-1989.
A few weeks back, I interviewed Ian "Mac" McLagan, here on the Huffington Post, keyboardist for the Small Faces, Faces with Rod Stewart and The Rolling Stones. The folks who set up the interview at Charly Records, have just released an incredible Small Faces' box set called Here Comes The Nice, available exclusively at Amazon, and were so happy with my "Mac" chat, that they decided I should have a go at his surviving Small Face brother, drummer Kenney Jones.
That was more than fine with me. These two men are undiluted heroes to me, members of one of rock's greatest bands of all time, Small Faces.
[Trans-Atlantic beeps and books... phone is now ringing].
Binky: [slightly dazzled]: Hi. Ken, Uhhh, wow. Look, right up front, I'm not really a journalist, I'm a musician. Playing guitar 50 years this February.
Kenney: [laughs] Join the club.
Binky: Also, I have been a huge Small Faces fan since January 1967, very, very early for an American kid. Also, I'm a stone Who freak.
Kenney: Good to know, thanks very much.
Binky: I think we have in common that we didn't do it for the money.
Binky: I say that because it's well known that the Small Faces never made money with either tough guy Don Arden as your manager, or wacky visionary Andrew Loog Oldham. Any comments on those two?
Kenney: They were total opposites, that's all I'll say.
Binky: Okay, then. I have to tell you. Kenney. as we move forward here, I believe the Small Faces belong in the pantheon of those shitty bands, The Beatles, The Stones, The Who, Led Zeppelin...
Kenney: Well, I might agree with you entirely [lots of giggles]. Really, I feel very fortunate to have grown up at the same time as The Beatles and The Stones, and guys like that. I feel very fortunate to have played with The Who, to have played with the Stones. But, Small Faces rule! There ya go.
Binky: Ha! Indeed! What I'd kinda like to do here, Ken, is a chronological order type of interview... but, before I do, I just wanna say, in the early 90s, I thought your band, The Law, with singer Paul Rodgers, had a killer killer cut with 'Layin' Down The Law.' Monster groove from you, sir.
Kenney: I came up with that title, 'Layin' Down The Law.' Gave it to Paul, and he put it together 'round that. Yeah, that song was nasty.
Binky: Okay, why the drums, Kenney? Why did you choose an instrument that takes five times longer to pack up than a guitar and amp?
Kenney: Uhhh...They run outta banjos, that's why.
Binky [thinking this is a Mumford joke]: Yeah, all right...
Kenney: When I was growing up with of bunch of friends in the East End of London, and sorta out of the blue one day, as he and I were washing a car, actually, one of my mates announced that we we should form a Skiffle group. 'What's a Skiffle group?' My pal said, 'Well, you get a banjo, you get a tea chest or wash tub and broom handle and a piece of string and that's your bass, and then you get your Mum's washboard, and you get some thimbles from her sewing kit and stick 'em on the end of your fingers and scrape 'em up and down the washboard. Well, I thought he'd gone mad [laughs]. He then said, 'Look, there's a Skiffle band on TV tonight, let's go and watch that.' It was Lonnie Donegan.
Binky: I knew that was coming!
Kenney: Yeah, he was playing the "Rock Island Line" and that's when I fell in love with the banjo.
Binky: Oh! [slightly stunned] You weren't joking about the banjo!
Kenney: Oh yeah, I just fell in love with the banjo. The very next day, I saw a banjo in a pawn shop next to Bethnal Green tube station. I realized I'd seen it before. it had been there awhile. So me and my mates went to get the banjo from that pawn shop the day after with no money in our pockets, just enthusiasm [more laughs]. When we got there, the banjo was gone. 'Where's the banjo?!' I asked. 'Well, the guy paid us back and took it home, didn't he.' I said: 'Well, get it back!' Then, we had to leave and I was upset. So, a friend of mine said, 'Man, you're really disappointed. Look, I have a friend with a drum kit. I'll get him to bring it over this afternoon.' I was okay with that. The drum kit turned out to be a snare drum and a bass drum and two sticks and one of them was broken in half [laughs]. I spent that afternoon trying to glue it back together decades before superglue. It never worked. Anyway, so, I learned by bashin' around on that. That was my introduction to drums.
Binky: So, it really was...
Kenney [actually wistful]: Yes, it really was the banjo.
Binky: Yes, but, now you were a drummer. One of the things I always found incredibly exciting about your style was that you had kind of a rubbery looseness... I don't know quite how to put this any other way, but, as a British East End teenager, you were playing like a 45 year old black guy. How did the 18 year old you wind up with that style? Was it Hal Blaine in the Wrecking Crew or Tamla-Motown, Stax-Volt or... ?
Kenney: To be honest, I used to listen to [soul-jazz organist] Jimmy McGriff. Then, Booker T and the MGs with one of my favorite drummers, Al Jackson. He deserves every credit any drummer could ever have the credit for. He played slightly behind the beat. Just a natural. Al Jackson taught me that a drummer should know his place. In other words, you're the backbone and you push the feel.
Binky: I have long believed that Al Jackson came up with about 50 percent of every loose funky groove ever cut. I totally hear him in your playing... I recently listened to all the early Decca stuff the Small Faces did as well as three of the four discs, so far, in this amazing new Here Comes The Nice ultra-box set on Charly that you and Mac curated. I have to say, disc one with all your Immediate singles in their original mono-mixes, just utterly blew me away. And, no shit, your playing, in particular, Kenney, really jumps out. I don't mean in the mix. I mean you are one bad ass drummer, man.
Kenney:Thanks much. Yeah, they sound great.
Binky: You know, on that early Decca stuff, you go around the kit sounding a lot like Keith Moon. Yet, you had more 'soul' feel and your fills themselves were never cops. It's as if you two guys seemed to come up with those sorta 'falling down the stairs' shambling fills independently.
Kenney: No, I never tried to copy Keith at all. It just came naturally to me. If anything, I was really more the Al Jackson type. I was playing me and we were so damn young, and wound up so experimental. When I got confident enough to actually hit the tom toms, what they are actually for, well, at that point, I just played anything, y'know. Prior to the Small Faces, I did my first session at 15 or 16. I played on lots of other people's records. I didn't charge any money. I didn't care. I wanted to play. I ended up playing some big band stuff.
Binky: Really! Big bands?!
Kenney: Yeah... Whatever I learned, I brought with me. I loved playing orchestrally with those great big fills and staggered fills and big big moments and makin' 'em powerful. And I took that and put it into the Small Faces as I was improving as a drummer.
Binky: Well, early on, at least until Mac McLagan showed up for your second album, you were, to my ears, the true natural musician in the band... And I LOVE Steve Marriott and Ronnie Lane's playing. Let's talk abut the Decca material a bit. To this day, almost 50 years later, I find 'C'mon Children' to be one of the most exciting moments ever put down on tape by anyone, in any genre. One of my personal Top Ten songs of all time, truly. The thing that blows me away about the Decca stuff is it sounds just utterly spontaneous, Kenney. They almost don't seem like songs, they seem like Captured Moments.
Kenney: Y'know what it was, we all had that charge, we cut them live. One of the great things about the Small Faces; we were very telepathic, we'd play with each other and just know what we were gonna do without 'learning' it.
Binky: That is exactly what it sounds like!
Kenney: Yeah, that's really it.
Binky: Love it! How many takes were you doing on those wild Decca cuts like "E Too D" or "You Need Lovin'?"
Kenney: We used to make an album in a day.
Binky: Ummmm, yep. One of the most striking things about Small Faces is the maturity, the artistic growth, between the raw Decca stuff and the first Immediate-released album, recorded and released within a year of your Decca debut. It was as if the Small Faces went from their Please Please Me album to their Rubber Soul within one fucking record.
Kenney: I'll tell you why. We'd been playing for awhile and really learning to write songs by the time we got to Immediate. Once there, we had unlimited studio time. We were in there all the time.
Binky: I have to say, I never understood why Steve and Ronnie always put down their own musicianship in interview after interview. They were both fantastic players.
Kenney: Oh, they could be very excited about even discovering another NOTE. [lots of laughter] As far as our sound, we were just very complementary to each other, we just played it all naturally.
Binky: Having listened to those Immediate singles in this box set, I was struck by something else, powerfully. There are so many moments in those songs, virtually every one a stone smash in the UK, folks, where I swear I hear bits of The Who's Sell Out, or Something Else by The Kinks, Between The Buttons by the Stones, maybe even some Sgt. Pepper. Like, your most monolithic colleagues/competitors would listen to a new Small Faces single and say, 'Ooo, that's nice. I'll have that, thanks.' The chronology bears me out, I think.
Kenney: You know, you're right. Binky, I feel the same way. I love that Led Zeppelin and Robert Plant are the first to admit how heavily they were influenced by Small Faces.
Binky: Well, how could they not? They just STOLE shit from you guys.
Kenney: Well, yes, I know, but, it's a nice compliment.
Binky: I brought this next subject up with Mac a few weeks back and he thought it was very funny. But, one of the things that was a huge draw for me, even before I heard your music, and stuck with me, was that the Small Faces were easily the best dressed, coolest looking band, period. And I LOVED the way The Who dressed, too. But, you guys... class, elegance, forward thinking. So cohesive. You looked like a band. Did you, Kenney Jones, buy into the look, or was someone like, say, Ronnie, pushing you go along?
Kenney: Well, we really were all the same. Apart from learning how to play our instruments, we were all so young, just discovering clothes. I grew up in the East End. Remember, we were the first teenagers after World War Two, and I remember growing up in black and white. Really. Clothes were black, gray, and white. That's it. The minute we saw anything with color, we put it on. We made it up as we went along. We realized we were creating a look.
Binky: Can you conjure up a typical day in your life at the height of the Small Faces success? Mac told me Immediate had put the four of you in your own house...
Kenney: Yes, they did. I'd wake up in the morning, get in my Mini or my MGA [I wish you coulda heard the teenage pride when Kenney uttered that phrase] and drive over to Pimlico, which was where we had the house. I had the key to the door, my own room there. But, I never stayed there because I could never get any sleep. Everyone was always up all night, doing whatever they were doing. You know, I'd walk in, and there would be Paul McCartney hangin' out. Another day, it would be Mick Jagger. You'd be meeting lots of different people.
Binky: Mac told me that was where he first met Ronnie Wood.
Kenney: Yeah... That house was a musical experience. There were guitars just laying all over the place. You might indulge in hash in a cigarette, that sort of thing. And then, it would be time to go to the studio, put down whatever music we'd been working on at the house.
Binky: Sounds like a life in Hell!
Kenney [laughs]: It was wonderful... Not to mention the women.
Binky: Oh, let's not! [laughs] Back to the box set, finding all this material that you and Mac combed through, this must've been heavy, emotionally, for you guys. Can you give me an idea of what the greatest surprises were, and maybe the saddest moments for you?
Kenney: The greatest surprise was the amount of 'new' studio stuff, and times where you hear us to talking to each other... you can SMELL the damn studio. I mean, you are there. The saddest moments... Listening to this stuff, you just really really missed Ronnie and Steve. That's as simple as it gets. You just wanted to go back into that time, straight away. And, this box, well, I've been there again.
Binky: Do you have a 'mission statement' about this Small Faces Here Comes The Nice box set, Ken?
Kenney: [pause] Anyone who buys it will just be delighted with it. One of the nice things we've seen is interest from teens, the same age we were when we were starting out. It seems like every year, we get younger fans. You buy this set and you hear the energy, the truthfulness, that feel... The idea is to enjoy the moment.
Binky: Oh! Beautifully put. The Steve Marriott/Ronnie Lane songwriting partnership was one of the strangest I can think of. You had a mad fireball like Marriott, and with Ronnie, almost a holy man. What a combination. Oh, and I've been in bands long enough to know that you and Mac were contributing without credit.
Kenney: Oh yes! You've got that right.
Binky: I think Marriott/Lane might be the single most underrated songwriting team in the history of rock 'n' roll.
Kenney: Yeah, I think so. I think you're right. The great thing about their songs... I find something new in there with almost every listen. Shit, I go straight back to Memory Lane again, y'know. The thing I like about the Decca stuff leading into the Immediate stuff is how you can hear, as you said, the amount of learning we'd been doing.
Binky: Let's move up a decade... Anything you want to say about the Rod Stewart/Ronnie Wood Faces era? I saw you live with Rod and Ronnie three times and loved that band, too.
Kenney: I've got quite a lot of happy memories from the Faces. The good thing, we always got together whenever we could, over the years, have a drink, do a TV show, and we've been trying to get back together for years. But, I feel a lot of seriousness in the air now about a possible reunion. We've been talking to Ronnie and Rod's managers about a 2015 tour.
Binky: I gotta tell you, I'm not one for reunion tours. But, Faces, I would LOVE to see again. Somehow, I still like Roddie the Moddie.
Binky: So, Kenney, there are four very very important musicians in rock history that you had direct first-person contact and interaction with, all of whom are gone. Allow me to throw the four names at you, and if you would, give me a quick summary of your feelings or whatever you'd like to say...
Binky: First up, Steve Marriott...
Kenney: What can I say about Steve? [long pause... then very wistful] Such a small guy had the most powerful and soulful voice I've ever heard.
Binky: Amen! Ronnie Lane...
Kenney [suddenly really affected]: Ronnie Lane... was... the kindest... and my best friend from the onset, y'know. We started this together. That being... he's... he's... I... I... I miss him every day.
Kenney: Oh, John. God, I miss John. I loved John. Apart from doing things together in Small Faces and The Who, like that Australian tour, we used to do sessions together. John and I used to hang out, especially once I'd joined him in The Who, just all the time. My old drinking partner. I learned to lip-read from John. He'd played his bass so loud and yet he'd talk so quietly, [laughs] I had to lipread him. I developed a really quick foot playing with John. All those triplets he'd do with his fingers, I had to do with my foot. I learned a lot from John.
Binky: You guys locked in beautifully, I remember. Lastly... Keith Moon.
Kenney: Oh, Keith... Keith... We used to hang out. He was lovely. Always willing to send anyone up, he'd never sent me up. He was just a great guy, a great drummer. Sadly missed, again. Wish he was back in The Who. I wish I'd never joined The Who. Wish he was here.
Binky: You just brought up that Australia tour. Mac and I talked about that, too. He told me a very funny Keith story that I'd never heard...
Kenney: What happened with me with Keith in Australia... We were in Melbourne. Keith called and said 'Come up to my room. I want to show what I've got.' So, up I went, walked into his room, and... he had... oh, I dunno... 15 or 16 snare drums of all different sizes all lined up in a row. I said, "Keith, what you gonna do with all them?!" He sorta growled, 'I'll show what we're gonna do with all of them...' He picked one up and threw it straight through the window. We were overlooking Melbourne High Street, at least 10, maybe 20 floors up, I dunno. We looked out the window and saw this snare drum fallin' to bits and rollin' down Melbourne High Street. We quickly ducked back from the window and acted like nothing had happened. That's how nuts he was, but, he was lovely. That said, he was wonderful wonderful drummer.
Binky [laughs]: Okay, I've never heard that one either, Kenney! Wow! Moon the TRUE Loon!
Binky: We've been doing it for the last five minutes, anyway... Do you mind if we delve into your ten year tenure with The Who, one of the top five most influential bands in rock history?
Kenney: I've got nothing to hide when it comes to The Who...
Binky: I'm gonna be a bit blunt. Sadly, you legacy with the band seems to be Roger kinda trashing your playing. I saw your first tour with The Who in 1979 and it was fucking brilliant, and I'm a Moon worshiper. Maybe my single all time favorite musician. Then, I saw the Shea Stadium show in '82 and, I have to say, both Pete and Roger seemed pretty sour. Was there real tension by then?
Kenney: Yeah, I think, by then, there was a bit. We were off to Toronto the next day for the world's first global simulcast. That was nerve-wracking, just thinking about it. I recall feeling like I had to Superglue my hands to the drumsticks that night. Roger just could never get used to the fact that he'd turn around and Keith wouldn't be there. And one of the things I didn't do was was copy or emulate Keith Moon. I couldn't and I wouldn't. I could only play me. I mean, there were certain fills that were part of the arrangement, you could get near to the point. The arrangements really remained the same. We played within that structure. I could play with John, but, Roger would look for Keith and he wouldn't be there. I think it really upset him more than anything else. We toured for four years, from 1972 through 1982. Then, over the years, we got together to do different TV things, Live Aid, The Concert For Kampuchea, things like that. The time I had with The Who, especially in the later stages, was the best time I ever had with The Who without Keith Moon.
Binky: They were still The Who when you were with them, not The Who Revue.
Kenney: I was an equal member in every respect. They respected me, I respected them. And we went on like that. We had some good times together.
Binky: I feel I have to go here, Kenney, and I don't mean to get painful. But, how did you learn that Keith had died and how and when did The Who get in touch with you?
Kenney: [long long pause] It is very clear... very... vivid to me. I was with Keith Moon the night before he died. We were at Paul McCartney's party at The Pub in the Park before the Buddy Holly film. Normally, you have an after-party. But, they had a pre-party, too. I'd just gotten back from America that day. I'd been in the middle of forming a Trans-Atlantic band with Glyn Johns' help. I was sitting with Keith telling him about this new band while we were at a table with Paul and Linda McCartney, Paul's brother, Michael and David Frost.
Kenney: I've got a picture of us somewhere... So, Keith, who I hadn't seen in awhile, started up about me being in America... 'But, Keith, what about you? How are you?' He said, 'I'm good. I'm on these pills I have to take to keep me off drinking. I can't drink, otherwise I get violently sick. I haven't had a drink for about six months or so.' Well, that was something! Anyway, so, then we went off to see the film. I think the film started at midnight. We got out of there about half past one in the morning. Keith and I said goodbye to each other and we both went home. I woke up the next morning and switched the TV on. The news was on and was announcing that 'rock star Keith Moon' had died from a drug overdose. His body had been found during the early hours of the morning. I said this is fuckin'... this is... This is crazy! This is wrong. It can't be. I was with him just a few hours ago. That... that's how I found out.
Binky: God, I've never known you were with him the very night before... Wow, Kenney... Well, Okay, so, Keith's gone...
Kenney: One thing I must say, although he was nuts to everybody else, whatever, Keith was always gracious to me.
Binky: That doesn't surprise me, Kenney. So, who from The Who actually called you to say, 'Hey, we need you playing drums with us.'?
Kenney: As I said, I'd been busy forming this band with Glyns, and about three months after Keith died I got a call from Bill Curbishley, The Who's manager... He said, 'Hey, Kenney, I'm gonna get straight to the point, The Who have had a meeting and they want you to join the band. I'll tell you their exact words were... "Won't you please going the band, we won't consider anybody else." I said, "Well, thanks for this compliment, but I've formed a band.' And then Bill said that Pete was coming by his office this afternoon and why don't I drop by and have a chat with Pete about this. I was happy to have a chat with my friend, Pete. I came 'round towards the end of the day and Pete and Bill and I sat around a couple of hours having a real laugh over mutual stuff from the past. Pete just turned around and said, "Look, you've got to join the band. You're one of us. You're a Mod." Stuff like that. He really got to me. You know, Pete had been a good friend for quite awhile. I'd worked with Pete prior to joining The Who. I'd been over to his house several times when he was working on demos and we wound up kinda working on each other's demos. We got to know each other pretty well from it. As you know, we met back in the 60s. When I was in the Small Faces, we toured with The Who all over England, Europe, Australia. I have the utmost admiration for Pete. He's a fine musician. I'm privileged to have worked with him. He's great. He and John. Working between Pete and John I was contending with two lead guitarists [laughs]. The only one playing a bass part was my bass drum [more laughs].
Binky: Oh, that's good! One of my favorite collaborations of yours with The Who is the Ken Russell's Tommy version of "Acid Queen". Your groove in that track is just incredible, Kenney.
Kenney: Thanks. Those Tommy were great sessions. I love the movie. I though it was great.
Binky: Yes. Ken Russell took the badly needed piss out of the whole deal and brought Tommy back to entertainment for me. Back to the moment you joined The Who, the announcement that you were Keith's replacement seemed like some kind of cosmic Zen symmetry to this rabid Who freak.
Kenney: The thing that convinced me... Pete said that Yes, Keith was a nutcase and all that, and was a great stylist. But, now we, The Who, with me on drums, had a chance to actually do something completely different now. I said, "Great. Then, I'll join the band on that note." But, we never did anything completely different.
Binky: Yeah, well, by then, they were already a bit of a hit machine in their live shows. Once you joined, did you find The Who's recording methods different or unusual?
Kenney: It was pretty much along then same lines I was used to. But, when we did the first album, Face Dances, I was taken aback by their choice of Bill Szymczyk as the producer.
Kenney: I thought, Oh God, this ain't right. I mean, we had an edge to our sound. Bill was brought in and we ended up sounding like The Eagles.
Binky: Damn, you took that right out of my mouth, Kenney! For me, It's Hard is a far superior album, particularly the material and natural production. Do you have favorite cuts that you were part of on either or both albums?
Kenney: First, understand, I love Bill Szymczyk. He is a fantastic guy. I just always thought he was wrong producer for The Who.
Kenney: My drums sounded like pudding!
Binky: Oy! Sticking with a food metaphor, it sounded to me like The Who, pureed.
Kenney: I do like the second album very well. Glyn Johns did that one. I'd worked with Glyn for years, y'know. As far as tracks, I like 'Eminence Front'. That was different. 'You Better, You Bet' is great. Funnily enough, I liked 'Athena'.
Binky: Ahhh, 'Athena', yes! I love 'Don't Let Go The Coat'. I also dug how Pete took the three most tired chords and created something really good with the title track, 'It's Hard'.
Kenney: Oh, and I really like 'Cry If You Want', too.
Binky: Okay, major ugly gear switch, and I really do hate to ask you about this, but, can you give me an idea what that Cincinnati tragedy where eleven kids died trying to get into a General Admission show was like for you and the band?
Kenney: Ahhhhh... to be honest, that was one of the darkest days of my life. I've joined the band. I've been in it for five minutes, and biggest tragedy on the planet that day happened. I just could not believe it. Those poor kids who died. I feel so sorry for their families. What people might not know was the band was taken back and questions by different lawyers, just layers of lawyers in the same room. I was questioned for at least two hours and half hours. Pete was questioned for over four hours. We had no idea.
Binky: I felt sick about it for the kids and the band for a long long time. Back to our chronology, things wound down. I'm hoping you and Roger get along.
Kenney: Yeah, we do, we do. I see him here and there and it's very... polite [chuckles].
Binky: Besides the possible Faces reunion in 2015, is there anything else you want to cover here?
Kenney: I have two projects in connection with the Small Faces that I want to get out of my system. Both dealing with our 1968 album, Ogden's Nutgone Flake.
Binky: Folks, Ogden's is, in my opinion, one of the Top 25 Albums ever recorded. Sorry, Ken, I needed to state that. Oh, and that round cover... So very very cool!
Kenney: Take your time. [chuckles]. One is the animation film of Ogden's Nutgone and I've done a classical version of Ogden's as well... I've had the album transcribed into a classical piece.
Binky: WOW! Damn, Kenney! What awesome ideas! An animated film and a classical rendition of one of the great rock albums of all time! I am so impressed! Wow, again! I have to say, you've laid at least 6 or 7 real revelations on me today. Is there anything we haven't covered?
Kenney: Well, yeah, we covered some ground today. I suppose all's well that ends well.
Binky: Man, Kenney Jones, I can't thank you enough for your time and righteous forthrightness.
Kenney: It's been a pleasure, Binky. Thank you.
REAL LIFE. REAL NEWS. REAL VOICES.
Help us tell more of the stories that matter from voices that too often remain unheard.