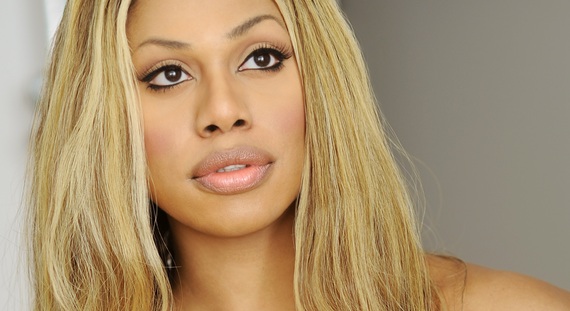 MTV and Logo TV have joined forces to simultaneously premiere Laverne Cox Presents: The T Word on October 17, 2014 at 7 p.m. The 60-minute documentary highlights seven transgender youths from varying walks of life with one of the world's most famous trans icons in the center of it all -- Orange is the New Black's Laverne Cox.
The Emmy-nominated actress recently made history when she became the first transgender person to grace the cover of Time magazine on May 29, 2014. Spinning her newfound fame into affecting policy change and acceptance, Cox has stepped into the role of a lifetime with her upcoming special where she serves as executive producer.
Joining Cox in the documentary is co-host Su-chin Pak. The pair will conduct a post-show livestream where they'll discuss more about the issues people in the transgender community face, as well as answer questions from a live audience.
"I believe this group of seven young people from the ages of 12 to 24 is so amazing and courageous. In this world it is still a big deal to come forward publicly and say that you're trans. You open yourself up to all kinds of discrimination, potential violence, stigma, and for these young people to come forward on national television and say 'This is who I am' and to tell their story so openly and truthfully, I think they should be applauded," said Cox. "I love every single one of them, and I hope that this documentary can be a critical intervention in terms of how we think about trans people, especially trans young people in this country, and really just humanize them. At the end of the day, I think it's hard to look at this group of young people and think that they should be denied anything in terms of equality and in terms of having full access to things everyone should enjoy in this country."
Cox said her main goal with the documentary was to educate viewers by sharing personal stories.
"We have a little Trans 101 at the beginning in terms of terminology. Part of it is we have to educate people a little bit, because there [are] a lot of folks who still don't understand what it means to be trans. But I think at the end of the day when we tell our stories and we're truthful about our stories, that is how we connect as human beings. And so I'm really interested in connecting this group of young people with the audiences that'll be watching the show," Cox shared. "Hopefully through that connection then we can begin to break down the misconceptions that people might have about people who are transgender. Those are really my goals, and really to just also diversify the visions that people might have of who transgender people are. We're not a monolithic group of folks, we're really diverse, and I think this group of young people represents some of that diversity -- not all, but some."
Not only did Cox teach others through distributing Laverne Cox Presents: The T Word, she also learned quite a bit herself.
"I'm just blown away by how resilient [these young people are]. I've had a pretty challenging life. And then I think about the group of young people that we profile and how challenging - like what Daniella has been through, for example, some of the things that she's been through. I'm not sure I can go through what she's gone through and come out the other side so empowered and so enthusiastic about changing the world around me," she said.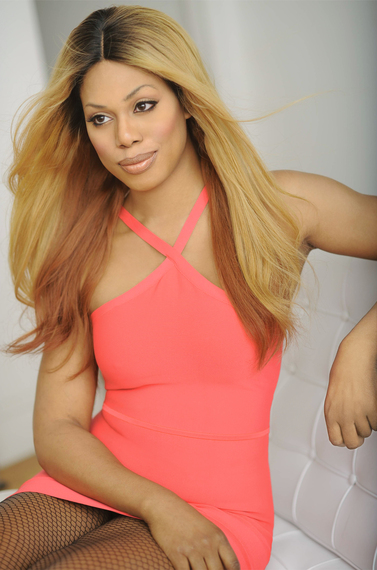 Gracing the cover of Time magazine certainly catapulted Cox to the mainstream in a hurry. How she decides to utilize her power position next will shape the future of her career. What is most important to the Orange is the New Black star?
"Well I am the executive producer of Laverne Cox Presents: The T-Word. And for me, I'm interested in having a say in how to tell our stories differently. I think most trans folks are familiar with how trans folks have been represented in mainstream media [in the past]; the focus has been on transition and surgery and body. And I'm interested in changing that conversation," Cox said. "I think hopefully The T Word will be a critical intervention in changing the conversations in terms of how we talk with and about trans people ... I see my role as trying to elevate other people's stories as much as possible and giving other people a platform to tell their stories so that hopefully we can be moving toward a culture that is more just when it comes to trans folks and more just when it comes to people who are at intersections of various marginalized identities."
Before Cox, there was another transgender icon for the younger generation - Dirty, Sexy, Money actress Candis Cayne. Still, Cayne's popularity never quite reached the pinnacle of what Cox is currently experiencing.
"I've said many times that I would not be here if it were not for Candis Cayne. Candis Cayne has been a huge inspiration to me. Candis Cayne's work on Dirty, Sexy, Money and that historic moment for me made me believe it was possible for me to have a career as an actor, so I wouldn't be here without Candis Cayne. So one thing leads to the next, I think these things could have happened incrementally," she said. "Honestly I feel like - I'm on a really great show that's insanely popular. And people's love for Orange Is the New Black is so intense [and our fans] love the show so much that I just got really lucky that I am on this show that people love so much."
Orange is the New Black absolutely changed Cox's life and trajectory in the public eye. It also changed the course of internet television.
"I actually feel like there's something else going on, too, culturally in terms of trans folks and the internet. I think when Dirty, Sexy, Money hit seven years ago, the internet was obviously a thing, but because Orange is an internet show and the internet has sort of exploded with Twitter and Facebook in a different way than was happening in 2007, that has given the trans community a platform to really say 'This is who we are; this is what we want,' and so we just have more of a voice as a community. The support that I've gotten from the community has reverberated in a different way," Cox said.
Cox even used popular social media interface MySpace at the time to vent about Cayne's demise on Dirty, Sexy, Money.
"I remember we were supporting Candis hardcore. I know I was, just writing about it, talking about. This was on MySpace, I actually wrote a piece called "In Memoriam" when Candis' character Carmelita was killed off on Dirty, Sexy, Money. So, this is where things are different when we think about where Dirty, Sexy, Money was and where we are now. Facebook wasn't even a thing."
The youth are highlighted as a large part of the trans movement in Laverne Cox Presents: The T Word. The result was purposeful.
"I think young people tend to be more optimistic and politically active and activated. I think there's just something, there's a sense of hope that young people often have that maybe when people get older they become more and more jaded and a little more cynical about the world around them. There is this hope that I think every single young person who has participated in this show, in this special, believes that they can change the world around them," she said, tearing up. "I actually just got really emotional. I really do believe that every young person who's involved in this project believes that they can change the world around them. And I think that it is incumbent upon all of us to not disappoint them; to not allow the world around them to stay the same, where we are treating each other in ways that are just reprehensible, that we continue to have systems in place that disadvantage certain people when there's young people who have this insistence of hope, who put themselves on the line in a really intense way by going on national television, we should live up to the hope that they have and try to make this world better for them."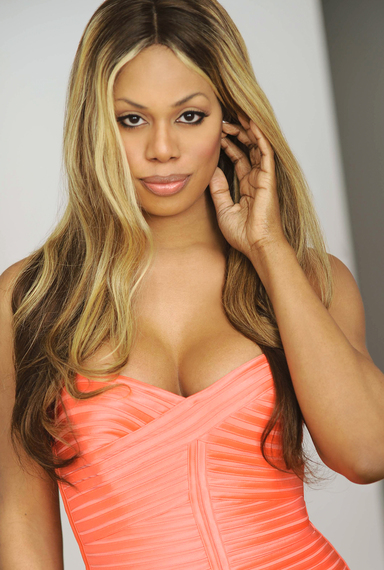 In a message consistent with Kinky Boots on Broadway, the takeaway in Cox's special is really that we are all the same, regardless of labels.
"I'm consistently struck that a lot of folks who are in the LGBTQ community don't understand trans people, don't feel that trans people should be included in our overall movement, don't value trans voices. I mean it's pretty shocking. I would hope that people who are not trans in the LGBTQ community will just see our humanity and see and understand that we are who we say we are and we should be treated in ways that are consistent with that," she said. "I mean, obviously we still live in a sexist society; we still live in a racist society, so those things need to be changed as well, they need to be addressed, because people live at intersections of multiple identities. At the end of the day, I hope [the audience] sees us as who we are and not as who they want us to be. And I think that goes for LGBT people and for not LGBT folks as well; that we are who we say we are and we should exist on our own terms, not terms that you want to place onto us."
Cox has been vocal in the media about her violent upbringing and coming to terms with her identity. Working with the youth in Laverne Cox Presents: The T Word was enlightening for the star.
"Wow, well I was in middle school. Jesus Christ, wow. I was not living as myself. I was pushing down every single feeling about being a girl that I could. And I was in a lot of denial. It's well-documented that I was a year out of a suicide attempt when I was 12 -- so I tried to kill myself at 11 years old. I was a good student. I was a straight-A student. I was vice president of student council. I was an overachiever, but I was not myself. And I was in a lot of pain, actually. I was in a tremendous amount of pain. I think when I look at [12-year-old] Zoey [in the documentary], I get -- it makes me really emotional, because I just wonder. I think things happen for a reason, but I just think I'm so happy that her mother Ophelia -- and I got to meet her mom and her sister, and the support that she has is so unbelievable," Cox said.
The same support that eluded Cox as a child seemed to lift Zoey up in the documentary.
"There was just no space for me when I was that age in Alabama with where I was from and what I knew and what my parents knew, for me to really take the steps to be who I am at that age. And it just makes me so happy that she has that and that other trans people at that age have that. I was just in a lot of pain that I didn't know what to do with and how to deal with and I was really confused. And even though I was an overachiever I wasn't happy. I wasn't happy," Cox said.
Nowadays, things are heading in an upward spiral emotionally for Cox. Her mother, Gloria, accompanied her to the GLAAD Media Awards earlier this year and has shown incredible support for her daughter publicly.
"On my mother's first national television interview at the GLAAD Awards earlier this year, Access Hollywood interviewed her and they asked her, 'What would you say to parents out there who maybe they have a trans child and are struggling with these issues?' And what my mother said -- so brilliant, I didn't tell her to say this -- my mother said, 'Listen to your children. Listen to your children.' And I think that that hopefully will be what inspires -- what will be the takeaway for parents is to listen to their children about who they know they are and let them take the lead when it's appropriate. I mean, children are still children, but listen to them and respect their voices."
To become part of the solution is what Cox has vowed to achieve -- and she expects others to do the same. In fact, she demands it.
"I can't help but think of what my sister Lourdes Ashley Hunter said in a recent speech. It was at the Islan Nettles Call to Action a month or so ago. She said that if you are at an LGBT organization and there are no trans people of color on the board in leadership positions you are part of the problem," Cox said. "And I thought that was a bold statement, I thought that was a powerful statement, but I think that at the end of the day we need people of color, and particularly trans people of color, not only with seats at the table, but seats that are in positions of power where they're making decisions about where our movement should be going. And sometimes it isn't always about LGBT organizations, it's about having a voice in the media when you can and -- what I'm trying to do is give these young people a space to tell their own stories in their own terms; set the terms of what they want to talk about. And they will take this and do what they will with it, and I think that's what we should be doing as a community."
Just being there isn't enough either, she said.
"If you are a trans person or a trans person of color at these organizations, just to be there; that it's important to have an oppositional world view that is really about looking through an intersectional lens and understanding that the social justice is not just about marriage equality, it's also about ending stop-and-frisks, it's also about ending the profiling of people of color, who are also LGBT and often trans women," Cox said. "So the agenda is really broad -- ending mass-incarceration -- so these are the things that we should be talking about as an LGBTQ community as well as marriage, as well as non-discrimination laws. All of these things are important, because when people exist in the intersections of multiple identities they're being affected by a lot of different things."
Popular in the Community