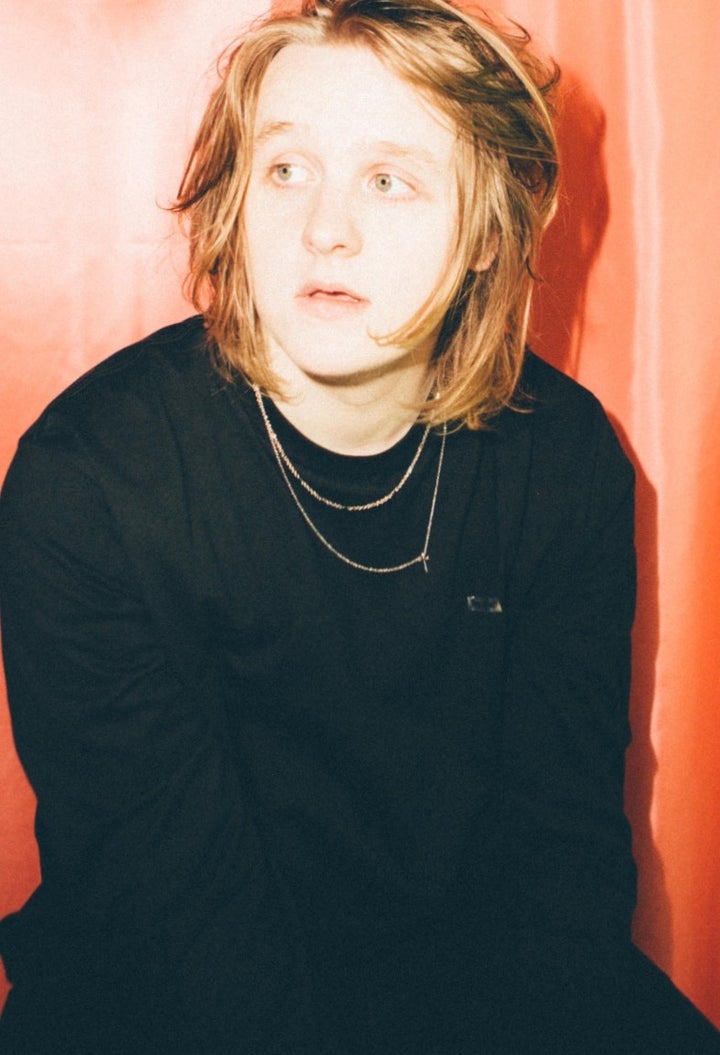 After releasing a new EP entitled "Bloom", Scottish singer/songwriter Lewis Capaldi has embarked on a massive tour covering the Us and Vancouver. The EP in lures his new single "Fade" which he co-wrote with Grammy award winner Malay.
Recently nominated for a "Breakthrough Artist of the Year Award' at the Scottish Music Awards, Capaldi first begin playing guitar at nine and started writing songs at 11. He would try to play at pubs at 12 years old, hiding in the bathroom then jumping out to do his set quickly before anyone know he was a 12-year-old kid.
I shared questions and answers with Lewis in the midst of his tour.....
What inspires your music most of all? It really depends for me, it varies from song to song. I feel like I'll always try to write from personal experiences and that's probably when I write the best tunes, but for me I find it really hard to write about something as it's happening to me. For example, if I'm feeling down for whatever reason, if I was going through a break up or something like that, I would really struggle to write about that at the time and the same goes for whenever i'm feeling any other kind of emotion, I find it really hard to write about things I'm experiencing as they're happening to me, most of my songs are written in retrospect and I'll just sing them in the present tense, I think having the benefit of hindsight when I'm not so wrapped up in my own feelings allows me to really look at a situation from all angles and write the most fully rounded song. Like my EP Bloom there aren't any songs on there that are me saying 'we've broke up and now I think you're horrible cause you left me', like I'm not trying to paint myself in a positive light or anyone I'm talking about in the songs in a negative light in the songs, cause for me no one in any relationship is a saint. Everyone can be a shit from time to time. I love your newest release, what were you thinking when you wrote that? Thanks so much! Again, I wrote that song with the benefit of hindsight, so it wasn't really about any feelings I had at the time, but for me "Fade" was just me wanting to write about the moment in a relationship you realize that you're so enamored with someone, so much so that you couldn't imagine yourself living without even all the bad traits they have. I think it's a really interesting point in a relationship because it's the moment you go from 'aw yeah I'm seeing this girl' to like ' aw shit I never realized I'd end up liking them this much' and I think that the moment you realize you've fallen for someone, you realize how hard it'll be if you lose them. Growing up, whom did you listen to on the radio? My parent's introduced me to stuff like Fleetwood Mac, Genesis, Elvis and Queen at a really young age, we used to drive to France to go on holiday when I was wee and those four would always be on repeat, so that got things off to a good start I suppose! And as I grew up I started getting into heavier stuff that my brother was listening to, everything from Foo Fighters to Slipknot, but it wasn't until I came across a video of Joe Cocker singing "With A Little Help From My Friends" on this BBC documentary on the Beatles that I realized I wanted to sing with the kind of grit and power that he had and that kind of informed what I started listening to from then on, artists like Paolo Nutini and Ray Lamontagne became increasingly influential in the music I was writing. Can you recall the most favorite experience you've had while playing live? I was booked to play this festival in Ireland called Electric Picnic and having never even been to Ireland to visit I was almost certain the tent would be absolutely empty for me playing, the lineup was great and the tent I was in was massive so I just expected the worst and was fully prepared to walk out to no one in the tent. So I'm standing at the side of the stage about 15 minutes before I go on and I'm looking out to an empty tent as expected, which was totally fine cause as I said never been to Ireland or played a show there and wasn't sure if anyone in Ireland had ever heard of me. Anyway, I went and did all my vocal warm ups to get ready for going on and walked straight onto the stage to an absolutely rammed tent it was crazy, it was around 4 or 5000 kids all buzzing and it blew me away, to this day it's probably been my favorite show and not because I played the best I've played cause I definitely didn't but the atmosphere was insane, I was playing songs that aren't even out yet and by the end everyone was singing along and then when we played "Bruises" it just went mental, still crazy to think about! Where do you see yourself in 5 years and what advice looking back would you give to your younger self? I'm not really sure I don't even know where I see myself in six months to be honest! I think as long as I'm making music every day I'll be quite happy, at whatever level that is as long as I'm writing and recording I don't really mind! As for the advice I'd give to my younger self it'd probably just to be patient, I know that sounds weird considering it took me 8 years from when I first started gigging and writing songs at twelve to release my first single at 20, but I can always remember being really frustrated with myself that I wasn't making the type of music I wanted to! I think as well, growing up in the generation when things like YouTube and Sound cloud were and still are helping new artists find success and get signed by labels or racking up millions of views online, whenever I would post a cover or song of my own online when I was around 13/14 it almost felt like 'oh why am I not racking up these views, or being discovered etc' I think I was hoping for some sort of instant gratification for putting a few covers up and when it didn't happen I was thinking I wasn't good enough! By the time I was 15 I wasn't thinking that way at all of course and looking back at seems really stupid but I think it'd be nice to put a my twelve-year-old-self's mind at ease! Do you believe that music can influence the world and if so which one of your songs would you choose to do that? I don't think a single song can ever really influence the world as a whole but I do think a song or multiple songs can change one person's perception of a certain situation, something going on in the world or even something as little as how a person is feeling in that moment or that day which I think is influencing the world in some small way. The amount of messages I get from people saying that my music has helped them through a hard time or inspired them to do something in their own life, whatever it may be, is honestly so humbling and that to me is seems like an amazing way music influences. What's next for you in 2018 and beyond? I've got a lot more touring, I'm out on tour supporting Milky Chance in the US and Canada for the whole of January as well as doing my own headline show In LA on the 4th at the Moroccan Lounge! I also have my own headline UK and Europe tour in February, which there is still a few tickets for! In terms of new music I'm looking to get something out early next year and just continuing to try and get my music out to the most amount of people I possibly can.
Find Lewis Capaldi on Facebook at facebook.com/lewiscapaldi
Support HuffPost
The Stakes Have Never Been Higher
Related
Popular in the Community