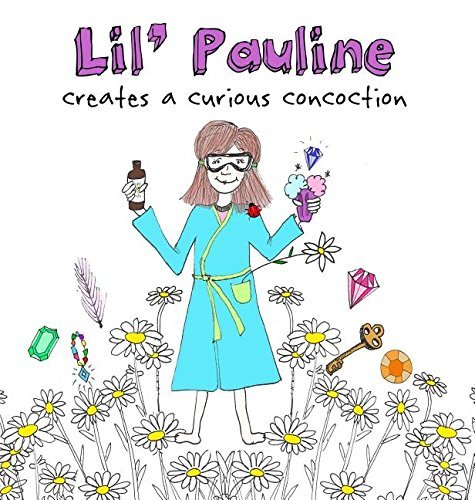 Charlotte Fassler is the illustrator for the first of the Lil She and Lil Me series of children's books about the early lives of accomplished, daring, and creative women. They are designed to inspire boys and girls by sharing moments that illustrate a curious and passionate way of looking at the world. The first book is Lil' Pauline Creates a Curious Concoction, based on the early life of Pauline Brown, Chairman of luxury goods company Louis Vuitton Moet Hennessy Inc.
Fassler answered my questions about her own role models and what she learned from Pauline Brown's story.
Tell me about the Lil She and Lil Me Collection. How did it start and how did you get involved?
I was brought on to this project through Lara Avsar, a Barnard graduate I knew from school who is currently studying at Harvard Business school. She and several peers had developed this idea and pitched it to me and I was immediately sold.
Who were some of the real-life women you enjoyed reading about when you were in school?
In elementary school learning about women such as Eleanor Roosevelt, Rosa Parks, Alice Paul, and Jane Goodall were very memorable. Any woman who was fighting for justice and equality or who occupied a role in a male-dominated field was important to be exposed to at a young age.
Who were some of the illustrators you enjoyed?
Some illustrators, particularly in the field of children's books that inspire me are Tomi Ungerer, Hilary Knight, Maurice Sendak, Peter Sis, Ludwig Benelmans and Rose O'Neill.
What kind of research did you do to create the illustrations for this book? Did you have to study the plants? The styles of the rooms and clothes and hair?
I use a lot of real photos as inspiration especially when it comes to something like a plant, but the most external research I had to do was looking at illustrations of kids from a vast array of books, comics and animation. I quickly realized that kids aren't just miniature adults but they have entirely different proportions (big heads and squat bodies). Understanding the elements of scale that go into drawing a kid was challenging. I also had a few photos of Pauline as a child which were instrumental in designing her as a character.
You were illustrating a book about something that cannot be seen -- scents. How did you handle that challenge?
The copy really lent itself to colorful depictions of the quirky ingredients Pauline added to her concoction. Many of the ingredients included were those which have such a strong universal olfactory resonance like vanilla extract, toothpaste or a daisy flower that it made my job easier to illustrate these items which are intrinsically tethered to scent.
What did you learn from Pauline's story?
I identified with Pauline's story seeing as the takeaway trait we are preaching to young girls is curiosity. My parents have always emphasized the importance of questioning the world around you and that the root of learning about anything is engagement and exploration. It's such a universal message and one that I always stress in my own life, so it felt fitting to create a story centered on a topic that has a personal resonance that I hope others can learn from.
Calling all HuffPost superfans!
Sign up for membership to become a founding member and help shape HuffPost's next chapter