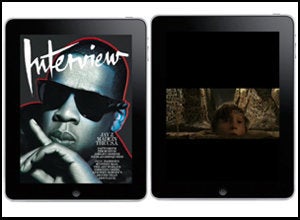 Interview magazine is celebrating its 40th anniversary Tuesday night in New York, and in celebrating its past will take a look into the future by unveiling its capabilities on the Apple iPad.
Interview, which was launched by Andy Warhol 40 years ago, will introduce several issues on iPad when the device launches next month. The iPad version, seen below, will be previewed at Tuesday's anniversary party and hints at magazines' capabilities on the iPad: photography and text mesh seamlessly with audio and video interviews.
"When Andy Warhol founded Interview four decades ago, he did so with an ethos that
embraced the new," the magazine said in an announcement. "As with his art, Warhol re-wrote the rulebook with Interview, creating an innovative, intelligent, sophisticated, cutting-edge magazine that was culturally impactful, pushed the boundaries of the medium, and reinvented what a magazine could be. So it's entirely fitting that Interview is once again at the forefront of reinventing the magazine experience for Apple's iPad, combining the benefits of the digital age with the familiar advantages of Guttenberg's printing press to deliver a groundbreaking, knock-out reader experience. One could call Interview magazine on the iPad 'an affordable Warhol screenprint.'"
Interview will introduce its 40th anniversary issue, featuring Kristen Stewart on the cover, as well as its December/January 2010 (Penelope Cruz), February 2010 (Jay-Z) and March 2010 (fashion) issues, all "reconfigured, redesigned, and re-imagined for Apple's iPad."
Interview's anniversary event will take place at the newly opened Good Units space in New York's Hudson Hotel.
Popular in the Community