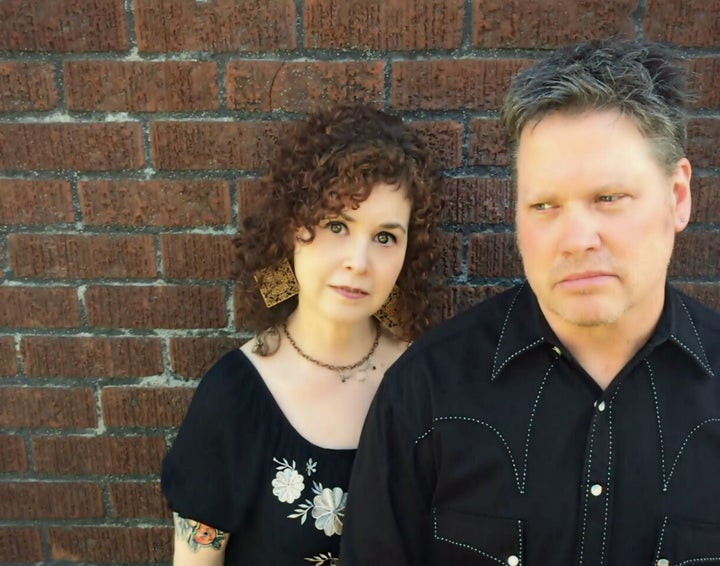 I recently had the distinct pleasure of reviewing Let Go Or Be Dragged, a "good old country western" album by Silver Lake 66, a duo composed of Maria Francis and Jeff Overbo. The duo writes and records in the Portland, Oregon area.
Silver Lake 66's music is what I call "elegant simplicity," i.e. the real McCoy. The kind of music that harks back to George Jones, Patsy Cline and Hank Williams, completely unlike the mechanical and predictable tripe that passes for country western nowadays.
So I sat down with them and asked a few questions about where they find inspiration for their songs and who influenced their style of music. Enjoy!
What is the most trouble you've ever gotten into?
Jeff: I grew up in rural Minnesota, out on a farm, and about the time I turned 16, I decided that a good career choice would be stunt car driver. I couldn't help but notice that the driver's education class offered in my school didn't include any training called 'Stunt Driving 101,' so I decided it would be a good idea to teach myself. I carefully watched reruns of 'The Dukes of Hazzard' to get stunt driving ideas and went out in my old car to practice on the Minnesota country roads. About a year later, after wrecking several cars, getting into countless scrapes and pretty much running into anything that protruded from the Earth within about 50 miles of my house, I decided I should reconsider my career choice.
What are the five things you can't live without?
Jeff: Guitars- mostly telecasters, Coffee – Dark roasts, Red wine – preferably a big ass reds from Washington, songwriting is a huge release for me, some quiet alone time every day helps me stay centered, (it's also when I write).
Maria: Good friends; laughter and lots of it; sunshine, although I am going a bit crazy this time of year in Portland; our pug Frannie (she comes on the road with us when her schedule allows), Guitars, my two favorite beverages – wine and coffee, and singing. Oops. . .that's six things if you count the beverages as one! I must be a bit high maintenance . . . haha!
What's your favorite song to belt out in the car or the shower?
Maria: "To Love Somebody" by the Bee Gees (I love Nina Simone's version so I guess I am singing that one!)
Jeff: "She Thinks I Still Care" (George, key of G, more or less)
What kind of guitar do you play?
Jeff: Ok, guitar geek mode. Whenever someone asks me how many guitars I have, I answer, "One too few." My main guitar is a mid '80s Fender Custom Telecaster with a Bigsby drop D tuner and Seymour Duncan Vintage Stack Pickups. I pair this with a nice fender tube amp with tremolo. I keep it simple.
Maria: I play an older Taylor Grand Concert 000 size acoustic guitar. I love the size of the guitar and it sounds great. I have had the guitar a long time, since it was new; it is like an old friend. I am in the market for an older Gibson or a Martin, though.
What musicians influenced you the most?
Jeff: I kind of have two sets of influences, one set for guitar and one as a singer-songwriter. Guitar wise I love Freddie King, Steve Cropper, Pete Anderson, Don Rich and Scotty Moore.
Maria: We both love tight harmonies, like Buck Owens and Don Rich; and The Everly Brothers. Also the classic male/female duets like Gram Parsons and Emmylou Harris; and George Jones and Tammy Wynette. I adore Lucinda Williams, her songwriting and her voice – amazing. Growing up, we listened to a lot of The Rolling Stones, Neil Young, The Byrds and Linda Ronstadt; and I love the early 70's California country vibe. I also love Sandy Denny from Fairport Convention, an English folk-rock band from the early 70's.
In my review of your album, I described your musical style as "good old country western music." How would you describe it?
Jeff: I like that term. I had someone else use a term similar to that recently and it works well. I have mostly been using Americana to describe our music, I guess because it gives us a lot of songwriting latitude between folk, blues and country. But as long as people are listening, it is cool regardless of the label.
Maria: Labels are difficult – it is all in the ears of the beholder. I like the term "good old country western!" I tend to use Americana. I like the term because it takes into account the blend of folk, blues and classic country, even a little bluegrass and rockabilly. I think we fold all of that into our music whether we are conscious of it or not.
Where do you find inspiration for your songs? Jeff: I try to find inspiration with personal experiences. It seems that the lyrics always turn out more authentic, if I can visualize a specific experience and location.
Maria: Observations of everyday life, pain and disappointment. I like the intersection of where sorrow meets heartbreak, hangs out there for a while, and then decides to move forward with life.
What is your songwriting process? Does the music come first and then the lyrics? Jeff: I will either have some turn of phrase that I picked up somewhere, or a specific experience that I want to write about. I almost always write in the morning, ok, not too early, drinking my coffee, sitting with an acoustic guitar. When the morning is quiet and junk hasn't happened yet. Sometimes the songs just come all at once and are pure inspiration; all I have to do is write them down. Sometimes they are a little more work and I have to apply some songwriting craft to make it work. Then I bring it to Maria and it gets made into 'our' song.
Maria: A phrase attached to a melody may come to me all at once, and I build the song and story from there. Usually it starts with a hook. A few songs have come to me in a dream – that's really nice if your lazy. . . haha! I have to wake up and write it down or record it. Thank god for smart phones with voice recorders! Sometimes we will write together, but one of us will have the majority of the song done and then bring it in to collaborate.
So far, has Let Go Or Be Dragged been well-received by the critics? By listeners?
Jeff: It has been great. We have gotten some great reviews and continue to get more. We are still getting it out in front of people, but it has been charting on the RMR (Roots Music Report) and the response has been terrific. Definitely happy with the direction things are going.
Where did you come up with the title for the album? Is there some special, personal meaning to the title?
Jeff: Maria came up with it. She almost got at tattoo with this phrase. I'll let her explain it.
Maria: It is a Zen Proverb, but we just love the concept of the phrase. Essentially, just let go and get out of your own way. Don't wear your old baggage like a ball and chain, cut that thing off and get on with life! I still might get that tattoo!
Will you be touring in the near future? If so, where?
Jeff: We are working a lot in the Northwest and are looking at heading down the West Coast later this year. Look for more videos, too. Frankly, we just love to play.
Maria: We love to play live and look forward to touring!
Are you working on any new songs? And when might your fans expect another album?
Jeff: We are always writing songs and are currently working some of the new songs into the live set to see how they feel. We generally have a lot more songs than we have room for on an album. Regarding a new album, we will probably start some preproduction later in the year and take it from there. No real timeline.
Have any major labels expressed an interest in your music?
Jeff: Not yet, if you know someone, send 'em our way. Seriously though, we are really enjoying being our own bosses, so to speak, and being independent has a lot of advantages. We have been doing this a while and understand the upside and the downside of signing a record contract.
Maria: We are from the "DIY school" and really enjoy the process.
Did you study music in a formal setting, or pick it up on your own?
Jeff: I haven't studied in a formal college sort of setting, but I have had lessons on and off over the years and a lot of stage experience. Like a lot of musicians I listened to my favorite records and figured out what the guitar player was playing, or how the singers had worked out their harmonies. I have always been a little on the geek side though. I will always pick something apart to understand how and why it works and not just learn a lick. That way I can tear it apart and use it in different ways.
Maria: I had piano lessons as a kid; of course, I hated them. I started playing drums as an adolescent, then moved on to playing guitar and singing because I began writing songs. I am mostly self-taught and a by-ear kind of player.
The production values on your album were superb. Who produced it?
Jeff: Maria and I produced the album and we are really proud of how it turned out. We had this process that we called "Pruning," where we would get all of the tracks recorded and premixed. We would then start taking out parts in various places in the song; if the song was just as good without it, we would leave it out. I also have to give a lot of credit to our engineer, Bryan Daste. In addition to engineering, editing and mixing, he played pedal steel and dobro tracks. We also recorded and mixed in his studio, The Magic Closet, near where we live in Portland, OR. We made a really good team.
Maria: Jeff and I produced the album. It was so fun and effortless! Like Jeff mentioned, lots of Kudos to Bryan Daste, engineer and musician extraordinaire. The musicians on the record did such an amazing job as well. Toupee Zehr on Bass, Chaz Holmes on drums, Hank Rasco on keyboards and Kyleen King on fiddle. These guys are like the dream team of Americana music in the Pacific Northwest.
Related
Popular in the Community