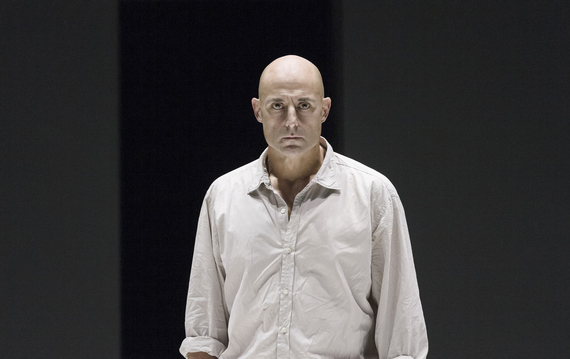 Mark Strong in Arthur Miller's A View from the Bridge. Photo: Jan Versweyveld
British actor Mark Strong is making his Broadway debut as Eddie Carbone in director Ivo van Hove's production of Arthur Miller's A View from the Bridge. Strong, a 52-year-old actor recently seen in such films as "Zero Dark Thirty," "The Imitation Game" and "Kingsman: The Secret Service," sat with us before a recent preview in his dressing room at the Lyceum.
You have a busy film and television career, but your background is in theatre?
MARK STRONG: I studied at the Bristol Old Vic Theatre School, which was founded by Laurence Olivier, and has alumni like Jeremy Irons and Daniel Day Lewis. It's a very erudite institution; its ethos, really, was always theatre-based. Then I did a year in rep, and then went to the Royal Shakespeare Company and did a year there playing various monks and lepers and spear holders. I kind of fell in love with theatre and the stage, and then went on to the National Theatre and all the respected theaters in London, like the Royal Court, the Donmar and the Almeida. I pretty much did that for ten years, and that's kind of all I thought I was going to do. Then a TV part came up, I had some success with it, so the movies got interested and I had some success with that. Suddenly twelve years go by, I haven't done a play.
You are customarily cast as the villain?
MARK STRONG: That's a kind of honorable entry to Hollywood for many of us Brits. Look at Alan Rickman or Jeremy Irons or Anthony Hopkins. People might have you believe it's the accent, but I actually think there's something more going on. The American culture reveres the hero, the homecoming king, the quarterback. But we have Richard the Third, and we have Macbeth. We have a kind of tradition of villains as heroes, if you like, so we're unafraid of tackling the dark side. I quite enjoy it, to be honest; often in the movies, if you're not playing the lead, the next best part is the antagonist. Because you get all the best lines, and all the best clothes.
How did you come to do this production?
MARK STRONG: I'd finished doing a TV series in Detroit, and there was a pile of scripts to read. One was A View from the Bridge, and I just realized that it was head and shoulders above everything else I was reading in terms of construction and the world it created, and the kind of complexity of the character. I thought, "Wow, I would love to play that part." I found out it was being done at the Young Vic, which is one of the best theatres in London at the moment. A fantastic experimental space that dares to be a little different, that has a great audience, a wonderful auditorium, and is putting on great stuff. So I thought, I'd like to do that, so if they'll have me I'm up for it. Then I was told that it was Ivo van Hove, an avant garde Belgian theatre director, who was going to be directing it. We met and we got on, he offered me the part and I was absolutely delighted.
You did the Kevin Spacey production of The Iceman Cometh in London, but you didn't come with it to Broadway.
MARK STRONG: No, I've never moved on with a play. I did the original Closer in London, but didn't transfer to the West End or Broadway with it. The same is true of Iceman, I didn't go to the Old Vic or Broadway with that. I don't know, I feel an allegiance often to the play where you do it first, in the theatre that it's in; you do it for that space. The same thing happened with A View from the Bridge at the Young Vic. I was quite loathe to take it anywhere else. I thought if we would come to Broadway that would be fascinating, because it's a New York play, but I wasn't keen to go to the West End because I thought the play would be just a little too heavy--and a little too different--for that kind of crowd. I was completely wrong, of course. We sold out, and got theatre lovers and had a fantastic response.
Eddie Carbone is a strenuous role. Is this the most emotionally intense part you've done?
MARK STRONG: Yeah, since Death of a Salesman. I played Biff in '96 at the National. Biff has an enormous breakdown in front of his father, at the end of the play. That I found really taxing, I literally described it as like having a nervous breakdown eight times a week. And this is not dissimilar.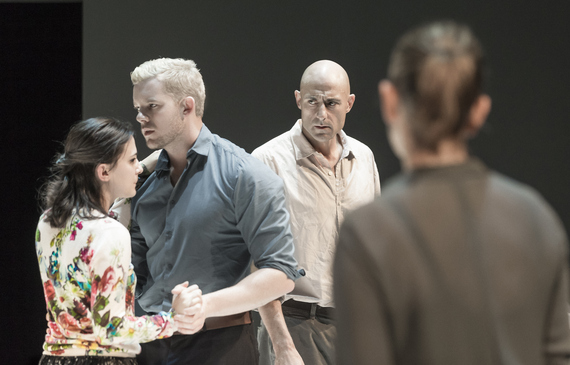 Phoebe Fox, Russell Tovey, Mark Strong and Nicola Walker
in Arthur Miller's A View from the Bridge. Photo: Jan Versweyveld
Do you find parallels between A View from the Bridge and Death of a Salesman?
MARK STRONG: The parallel is, that all is not rosy in the garden. At the time, America was having an economic miracle--Europe was blighted by the war--but America was doing very well. There were hopes and dreams for your own backyard, your own washing machine, whatever; and in that environment there's Arthur Miller, scratching the veneer of the civilization saying it's not all great underneath. There's a murkiness underneath, it exists in Salesman and in A View from the Bridge as well. He dares to reveal the darkness, beneath the apparent perfection.
Did you meet Miller while you were doing Salesman?
MARK STRONG: We were rehearsing one day and David Thacker, the director, said there's a theatre conference going on over in Salzburg and the guest of honor is Arthur Miller. David had done a couple of his plays, he was a big champion of Miller back in the '80's, when he was not so popular over in America. David said, he's invited us to go and meet him. So Alun Armstrong [who played Willy Loman], Marjorie Yates [Linda], Corey Johnson [Happy] and I got on a plane and went over to Salzburg. We stayed in the Archbishop's House, that beautiful house on the lake which was used in "The Sound of Music." Once Miller finished his duties in the morning, we'd go to his private rooms. We'd sit around, just like this, and do the play, talk about the play, every day for about a week. He used to joke and say "which part of the play am I auditioning for today?" because we'd get him to read every part. He was very generous with us, saying "Do it how you feel is right." That's the abiding memory I took away. He wasn't precious about his play; it was something that he had done, and he wanted us to take it and run with it. And I think he'd be fascinated to see this production of A View from the Bridge.
[READ PART 2 OF OUR INTERVIEW here]
Arthur Miller's A View from the Bridge is currently in previews for an opening on November 12, 2015, and continues through February 21, 2016, at the Lyceum Theatre