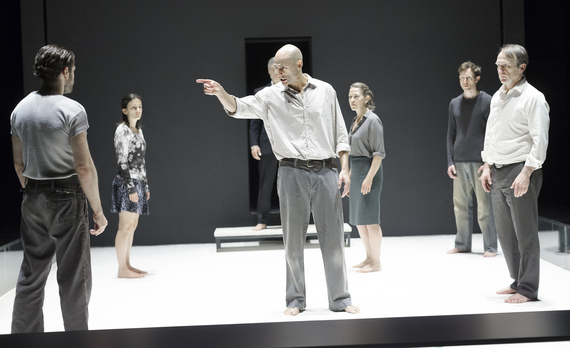 Mark Strong (center) and Company in Arthur Miller's A View from the Bridge.
Photo: Jan Versweyveld
British actor Mark Strong is making his Broadway debut as Eddie Carbone in director Ivo van Hove's production of Arthur Miller's A View from the Bridge. Strong, a 52-year-old actor recently seen in such films as "Zero Dark Thirty," "The Imitation Game" and "Kingsman: The Secret Service," sat with us before a recent preview in his dressing room at the Lyceum.
PART 2: THE PERFORMANCE
At the Lyceum Theatre in New York, there is audience seating on the sides of the stage. How was the play done in London?
MARK STRONG: At the Young Vic we were kind of in the round; we had the stage that you see here, but with the audience at the side and also in the back. So it was like a pit, a bear pit, or a Petri dish; so that's why when we perform, we perform for each other rather than for the house. We don't play out to the audience. When we moved to the West End we were at Wyndham's, a proscenium theatre, so it dictated that we had to be aware of sight lines and also to project a bit more to send the play out. We had seating on the stage; Ivo very cleverly realized that the play had originally been staged in the round, so to have people on the sides encouraged us to keep it like that. It also reinforces the whole idea that's the bedrock of this particular production, which is that it's not about reality. We're not trying to pretend that this is real; everybody knows it's not real, you can see the lights, you can see the audience on stage, we're barefoot, there's no props or set. That isn't the point of this production. It's not about trying to persuade the audience it's real; it's about delivering the dialogue and the story in as clean and as effective a way as possible. Which is, I think, what it does ultimately.
Working with a non-traditional director, did you have to adjust to his method of rehearsing?
MARK STRONG: Not really. I didn't know that there would be no set, and no props. We hadn't talked about his plan at all. But it became really fascinating when we turned up on the first day and we saw the model box, no set. Originally, we were wearing shoes; at the end of the first week, he said, "let's lose the shoes, they just feel too sort of heavy in the space." We all thought, "What?" But okay, we got rid of them and we never looked back. He had ideas that the Italians would not have an Italian accent. There was a big revolt. "How can that be? They've got to be Italian." And after a week of them doing American accents, nobody thought about it again. I listened, the other day, to a radio version of the play. When the Italians come on doing the Italian accent, it sounds just so artificial, so theatrical that it puts it firmly in the realm of a fiction. Whereas in this production, I feel it's constantly real, this dilemma you're experiencing, there's nothing to alienate you from the truth of the horror of what's going on.
How did you, as an actor, respond to rehearsals?
MARK STRONG: During the rehearsal process, I would go home to my wife on any given day and say, "Jesus, we're not wearing shoes anymore," or "there's no furniture, there's nothing to hang on to." But there were great days as well, when I would come home and say, "a fantastic thing happened today," or another day, "oh my God, this is what happened, he's making us do a scene in which there are huge pauses. Can you do that? They'll be flocking for the exits, they'll be bored senseless." Of course, this is one of the most tense and exciting scenes in the play, so what do I know?
What is your view of the play's central relationship, between the dockworker Eddie and his teenage niece Catherine?
MARK STRONG: I see Eddie as a protector, rather than predator. He's sometimes played as somebody who is sexually interested in his niece, and therefore wants the boy out of the way because it's muddying his patch, but I don't see that. I see a man who is determined to protect somebody, but doesn't have the intellectual or emotional capacity to know how to do that properly. He's trying to do the best he can, but in doing so he just ruins everything. I totally believe that he thinks he's doing the right thing. You have to remember that this man is an Italian Catholic who has promised a dying woman he's gonna take care of his baby. He will burn in hell if he doesn't do what he's promised her.
One of the most striking images is the way Catherine repeatedly comes running at Eddie, to be lifted up. Where did that come from?
MARK STRONG: The first day -- because we'd learned our lines before the start of rehearsals, that was the one stipulation -- we stood up and started. I was standing on the stage, Phoebe [Fox] came running through the door, she jumped on me. I didn't know she was going to do that. I don't know if she had been told to do that by Ivo, or whether Phoebe realized that Catherine says in the text, "you throw yourself at him like you were a little girl." But it's just perfect, isn't it? That image, right at the very top, of these two people entirely comfortable with each other -- but literally everybody else in the theatre, the audience and Beatrice, all they can see is something terribly inappropriate. There's also the bit when I stroke her leg. Eddie's talking to Beatrice, there's a girl sitting there with her knickers out and everything, he's stroking her leg and I can feel people going "Stop! Stop doing that! You shouldn't be doing that!" I can feel it, while I'm chatting with Beatrice, and it's great; because what it is, is sort of an unconscious kind of affection that they've had since she was a toddler. It's only now that it's inappropriate, but they can't see that. How much of it was Ivo's intention and how much of it came from us rehearsing? I have no idea, because he never told us what to do. He never had this plan and made us do his plan, it was always collaborative and he had a very light hand on the tiller. If it all was his master plan, he guided us in such a way that we didn't even really know what was happening.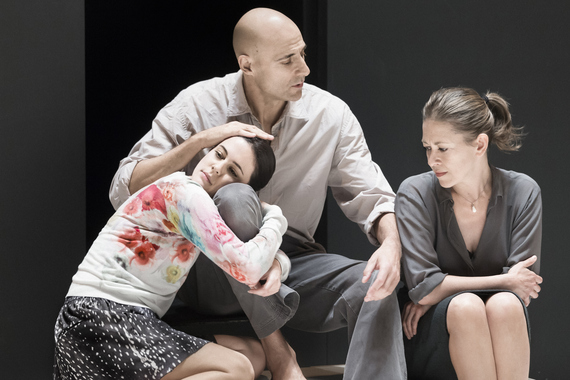 Phoebe Fox, Mark Strong and Nicola Walker in
Arthur Miller's A View from the Bridge. Photo: Jan Versweyveld
Is it more than unusually difficult to walk out the stage door every night, after doing this emotionally wrenching performance?
MARK STRONG: You have to get to such a level with this play that it takes me hours to wind down. Often I'll walk home, because I need the time to calm down before I go to sleep. I love the fact that we're doing this play here, and I walk out the door and we're in New York. There's a line in the play: "I don't want her hanging around Times Square, it's full of tramps over there," and every night I say that, I think -- literally -- it's a hundred yards away! The actual Times Square is a hundred yards away. In London, it was exotic, but here it's present. So being in New York and doing this play is just an amazing experience.
Some actors tire of doing especially strenuous roles. This is a limited engagement, but how long do you think you could play Eddie Carbone?
To be honest with you, I could do this play almost forever. There's something about it; it doesn't matter how tired or exhausted you are, or what is going on in your life before the play starts: it just gets hold of you, grabs you by the scruff of the neck, and drags you through to the end. Because I'm on stage for eighty of ninety pages, I'm right in the middle of it for two hours, and it's an incredible privilege. Some jobs you do, they're just jobs. Others are life experiences.
[READ PART 1 OF OUR INTERVIEW here]
Arthur Miller's A View from the Bridge is currently in previews for an opening on November 12, 2015, and continues through February 21, 2016, at the Lyceum Theatre