I was recently given the opportunity to conduct an interview with the founders of A-Team Studios, an artist development agency headquarted in Miami, Florida. With the skills that helped develop talents of successful entertainers including NSYNC and Jason Derulo, Anita Wilson and Athena Cameron have perfected the formula to create stars.
During my Q&A session with these ladies, they revealed their struggles, women who have inspired them, and their definition of success. Their ambition and positivity lead me to feel both inspired and empowered; feelings that are too good to not to share.
What pushed you to start this company together?
We had been working together for about eight years prior to opening our facility. We were in two separate locations. So in 2012, we decided to put both businesses in one facility and bring together our full team and do all of our work in a one-stop shop!
What is the biggest struggle you faced while you were on your way?
We both had the experience of working with young artists in the beginning of their budding career who are now famous. Just to name a few, Anita worked in the early years of The Backstreet Boys and myself Jason Derulo. But when we started put our experience to the test with artists we had a formula that worked, it took a little time to gain that trust in our ability. I would have to say that proving our abilities might have been the biggest struggle. But not for long though. The work speaks for itself.
Do you think you faced bigger challenges because you are women of color?
I think the fact that we are women in general is a challenge itself. I don't think being women of color has been a factor so far.
What is the best advice/support you've given to one another?
When Athena and I first decided to do this, I was the one who was at ease while Athena was a nervous wreck. My advice to her is to always stay true to the artist and work with honesty and integrity and we will reap positive results. One thing we also practice is that nothing and no one could ever separate our team. It's all or nothing.
Are you inspired by other women? Who and why?
Anita: Of course. When I look at women like Oprah Winfrey, who is one of the favs, I see someone who never allowed anything to cloud her focus. That inspires me. I'm moved to go after anything I want no matter how big the obstacle. I greatly admire women like Sylvia Rhone and Lisa Ellis. These are great women who rose to the top of the Music industry despite the obstacles of being a woman.
Athena: I am inspired by women like Debbi Allen and Lauriann Gibson. They both took their God given gift to new heights. They not only set out to do what they love but they inspire and encourage others in the process.
What would you say to younger female entrepreneurs?
We love an entrepreneur's spirit. We would encourage any your woman to stop talking about it and Just Do It! As a woman, you already have an innate nature to just make things happen. Use it!
How do you define success?
There are many ways you can view success. Money, Respect, Accomplishment, etc... But when you set a goal or you have a dream and you triumph in that goal or dream and all of its attributes, that's success.
We believe our success goes through many levels and dimensions. We have experienced some phases but we still have some more levels to reach. And we're enjoying the ride.
Is your goal/mission different today from the goal/mission you had when you started?
I wouldn't say different but it enhances as time goes by. We add to our list as we grow.
What are your hopes for the future of your company?
We plan to build a legacy. We want to see success pouring out and blossoming in every aspect of the Music Industry.
Aside from your previous training, what drew you towards the music industry?
We believe we were born to do what we're doing. So, it had to be destiny that drew us in and it seems that it will never let us go!
Can you see yourself doing something similar in another industry?
Not at all! We will retire in it!
For more information about Anita, Athena, and A-Team Studios, click here.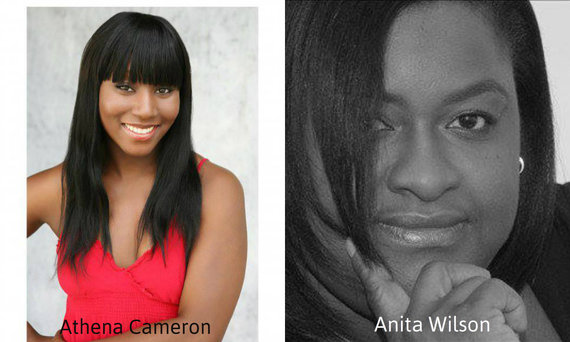 REAL LIFE. REAL NEWS. REAL VOICES.
Help us tell more of the stories that matter from voices that too often remain unheard.