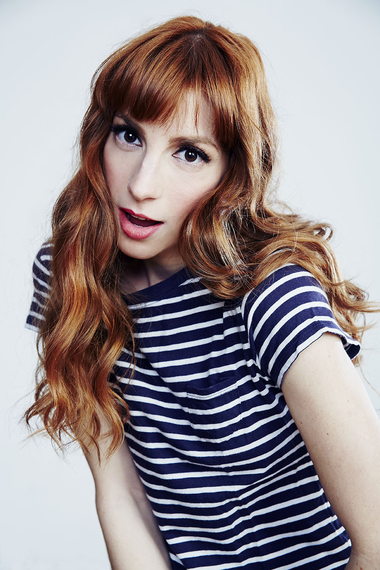 "Lauren Heller", the edgy, uninhibited fashion publicist who bears no lines of demarcation, is identified as "pan sexual", and enjoys a vibrant lust for life, is perfectly portrayed by the high spirited, vivacious, sparkling Molly Bernard, in TV Land's celebrated dramedy, "Younger".
The show has just been picked up for a third season, with it's cast of well-knowns including "Sutton Foster", "Debi Mazar", "Miriam Shor", "Hilary Duff", "Nico Tortorella", and of course "Molly Bernard". The creator of the series, "Darren Star" is no stranger to success, as he was the developer of HBO's "Sex In The City".
Molly Bernard was simply born to be an actress. Besides "Younger", she has appeared in, "The Intern" beside "Robert DeNiro" and "Anne Hathaway", and "Pay It Forward", with "Kevin Spacey", as well as various television shows. She will also be in the film, "Sully", beside Tom Hanks", and directed by icon "Clint Eastwood". Born in Brooklyn, she studied in Russia and revived her MFA in acting from "Yale University/Yale School of Drama".
Speaking with Molly was like a burst of fresh air, entering a hot stuffy room. She was lively and fun, and her responses were scintillatingly brilliant, and extraordinarily candid. She spoke about her character, as well as herself in the most sincere fashion.
I want to congratulate you on the announcement of "Younger's" third season.

Yes, that's very cool. Thank you.
So how do you like being a lesbian?
Omg, isn't it the best! It's so fun. It's only made better that I get to be a lesbian with Debi Mazar. It's the hottest and she's so fun. We just have this comfort level, that it's never even crossed my mind that it's lesbian. They're just love scenes, and we're in a relationship. It's never been " Omg, I play a lesbian on TV, it's just my girlfriend Debi Mazar on TV.
Did you have to prepare for that role, or did you just fall into it?
I'm always preparing for it, but part of me also falls into it. She's much wilder and crazier than I am, by nature, and she's much more brave and fierce. I can be a little neurotic in my head, and I don't think Lauren is at all. It's a great gift to play her because it's an escape from my own neuroses.

How did you get the role to begin with?
I auditioned for it way back when it was a pilot. It was a six line scene that I auditioned for. At first when I read it, I thought, "do I want to talk about Sutton Foster's overgrown pubic hair on national television"? I called my manager and asked her if I should really go out for this, and she said "yeah, I think it will be great, maybe Darren will fall in love with you and write you into the show". I did the audition and Darren really worked with me a lot. It was a long audition for six lines. He gave me a lot of adjustments, for example he loved that I was appalled by the pubic hair, but asked me "what if you are also curious". Lauren is always opened to the experience of it. So then I filmed the pilot and my manager contacted me, saying that they were making that character a big part of the show, and they wanted me to audition again for it. Up to that point I was fresh out of Yale", and I was this little novelist. I didn't have any comedy on my reel. By the time I got on set I knew exactly what I was doing. It was awesome. It wasn't an easy job to get. I had to jump through a lot of hoops to get it, but I love it.
What do you like best about your character, what do you think Lauren's best quality is ?
This is a great question, and I think on different days I can give you different answers. I think my all time favorite quality about Lauren is that, she would not bat an eye for anything. She has a solution for everything. The fact that I get to be in someone else's head, who knows how to get her way out of any problem and is completely together. She knows it all, and she's not a bad know it all. She actually knows everything.
What is your favorite quality about Molly?
As much as I give myself shit for my neuroses, I love that I'm neurotic. I think it's kind of endearing. I'm smart and I'm funny, but I also doubt myself. I think that keeps me very forward moving and active in the world.
I'm very impressed by the fact that you went to "Yale".
Thank you, it meant the world to me, and I went on a full scholarship.
That's amazing. So there are a lot of cool people on the series. Do you have a bestie?
I have a lot of beasties. Hilary and Nico are probably my two besties. When I'm on set Debi and I are very close. She and I are close as actors. We talk a lot about a acting and the business. She always imparts her wisdom on me, which is invaluable, because she's such an icon. Season 2 was my first day on set as a series regular, I was naked in front of Debi Mzar, we were making out, and it was shot at 5 in the morning. Debi called me later that day, and told me that she was so insecure today. I told her I was in my room crying about how insecure I was and how bad I was today. She said, "we gave it our all, and that's why we felt weird about it". It was a hard scene. It was an intimate, vulnerable scene, and she really helped me understand that. Not all acting feels good. If you think you've nailed it, chances are you probably haven't ,but if you reach that point of uncomfortable, you've done something right. I actually love the fan response, it's been so big. There needs to be a character like Lauren on TV, because she's not exclusively gay. She's pan sexual. She'll sleep with anything that moves. She's wild, she's got it together. I'm sure as the series goes on she'll also have a boyfriend.
What inspired you to become an actress?
It's in my blood. My grandfather co-founded "The Strasburg Institute", with Lee Strasburg in LA. He was an acting teacher. I leaned how to read going to his acting classes. I always wanted to do it. As I've gotten older, it's become more my thing than my grandfather's thing. I have never doubted it. I pursued it when I was 9. I asked my grandfather where the best place to study acting is and he said, "Yale, you are going to go to Yale one day". He told me to also go to Moscow to study, so I did that too. If you tell a kid that they can actually accomplish their dream, they might actually do it.
So you are in the new film "Sully", with Tom Hanks. What king of character do you play?
I play a cute little character who represents the turning point that the pilot Sully realizes that he's a hero. I found out from the writer that I'm the only fictional character. Everyone else in the movie is a real person. I get why the movie needs it. It's a sweet moment that an average man becomes an extraordinary icon.
If you could tell your fans something about you that they don't already know, what would that be?
Maybe that I'm the world's biggest nerd. Maybe that I'm nervous all the time. This job is so fun and so exciting, but also, everyone is nervous. It's kind of part of being an actor. It doesn't come without complicated feelings about it.
Is there anything else that you'd like to talk about, that I haven't covered?
I'm doing a play at "Soho Rep." In New York. It will be my off Broadway debut , and I'm really, really excited. I've been waiting to work in the New York theatre scene since I graduated from "Yale". That starts up in March. It's an amazing play by a British playwright named, Alice Birch. It's a very challenging, very difficult play, nothing like "Younger". It's called "Revolt. She said. Revolt Again.". It begins April 5th at "SoHo Rep.".
REAL LIFE. REAL NEWS. REAL VOICES.
Help us tell more of the stories that matter from voices that too often remain unheard.