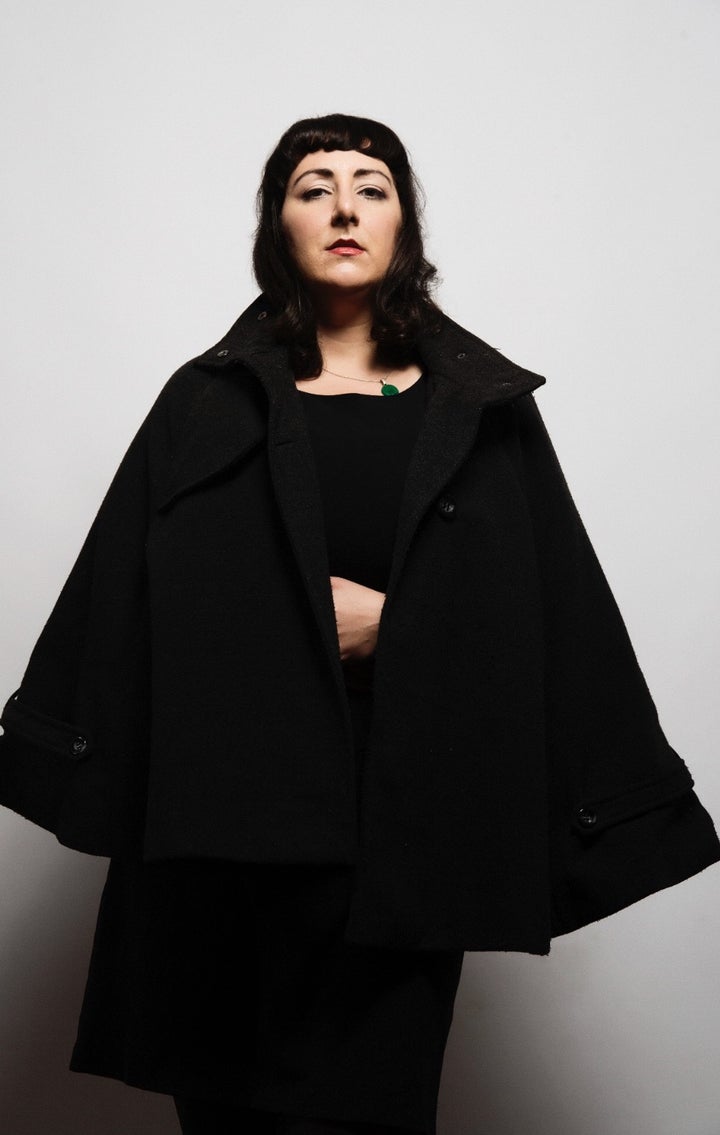 The internationally recognized culture journalist, Nadja Sayej, has just launched her new book in print, entitled, "The Celebrity Interview Book", the first volume, containing 21 of her "greatest hits" from the last seven years, of conversations with some of the world's biggest stars.
The book encompasses never before seen photos of celebrities from Sayej's private archive, an introduction explaining what is was like meeting them, and the actual unedited interview. This volume includes A-list artists such as Susan Sarandon, fashion designer, Jean Paul Gaultier, Yoko Ono, James Franco, Dita Von Teese, Wyclef Jean, and Faith Evans, the wife of the late Biggie Smalls.
The book is also filled with unexpected humorous anecdotes including sneaking into VIP parties, as well as sneaking out of the boring ones, speaking up, shutting up, and allowing quirks of the rich and famous to speak for themselves.
The author has celebrated hundreds of celebrity interviews over the past 15 years, and writes for The New York Times, The Guardian, The Economist, Harper's Bazaar, and Forbes, among others. She conducted the very first ever "jpeg interview" with Douglas Coupland, and is the host of "ArtStar"which has stirred up the world of art with fabulous and scandalous interviews with the cultural elite.
From the words of the author: "each interview I've had with celebrities, artists, writers and musicians reveal who they really are, and shed some wisdom we can reflect on for our own lives". Nadja continues to say, "Getting an interview with the celebrity is never easy. I've had to chase people for years and travel across countries for 15 minutes slots, but the anxiety fades away after the first minute upon speaking with them. It's just what makes the chase worthwhile".
Let's here a little about the author: when did you start your writing career and what inspired you to go into journalism?
When I was at art school in Toronto in 1999, I came to the realisation I was better at writing about art than making it. That's probably because I was an abstract painter (I painted a few stripes and made up 20 pages of philosophy to go along with it). I took it as a sign to start writing about art, starting with the school paper, then got an internship at a local art magazine, then started taking classes at a journalism program at Ryerson University, where I learned how to write articles. Since I had a background in art, started covering culture for Canada's national newspaper, The Globe and Mail, who I stayed with for five years.
Who is the first celebrity that you ever interviewed and how nervous were you?
Is Malcolm Gladwell a celebrity? Some would consider him a famous writer. When he released his book, Blink, in 2005, I called him on behalf of The Globe to talk about it. I was pretty nervous but it didn't hold me back from having fun with the interview - he was in a cab in New York City. It was so loud, I remember writing about the sounds I heard between his words. He was affable and I was lucky he was a writer because I felt like he probably knew where I was coming from. I was kind of a rookie.
Who else stands out in your mind as either a great interview or a disaster us one?
It depends on in which way: When I interviewed the famed public artist Christo in St. Moritz, he stood up in the middle of our interview and walked across the room to go talk to his friend, the architect Norman Foster. So I followed him and brought my audio recorder with me and continued the conversation by butting into their conversation. That was hilarious. So when an interviewee is difficult, it's usually a blessing in disguise because it always makes for a great story. Yoko Ono was a bit frosty, but she was on point with her message about one love, so I can't hold it against her for being personally distant. It's an interview, not a friendship. Who are some of your major interviews? Do you have a favorite?
Susan Sarandon was compelling because she is devoted to a cause larger than herself; she is a humanitarian. She is a wonderful role model of how she uses her celebrity to help those who don't have a voice, namely the refugees the helped on the Greek island of Lesvos, which I interviewed her for back in 2015. Inspiration and insight are the keys to a good interview, in my mind.
Was there someone whom you were just dying to interview, as in a bucket list interview, and did you finally get that story?
Wyclef Jean, a rapper with The Fugees, is someone I spoke to this summer. I've been a fan of the rap group since the 1990s. So it was surely a "finally" moment sitting down with him to chat, and it was such a smooth conversation. He had thoughtful answers. I also had an "aha" moment interviewing Patti Smith, who talked about how much she loves her alone time, versus being in the spotlight. That's what she really relished in, solitude, and that helped me understand her art so much better.
How many publications do you write for?
Sometimes, freelancing can feel like a constant string of one-night stands. So, I try not to focus on quantity but quality. But if I'd have to estimate (I haven't counted), I'd say I've written for around 100 publications over the past 15 years. Nowadays, I'm more interested in long term relationships with editors who get my vision and vice versa. That's what brings out the best in me. Also, I love editors who are risk takers, being fearless is always the best way to go about interviews.
Do you have any juicy stories that you just couldn't bring yourself to print?
I would never say! Yes, I would. They're in my book and they're usually what happens before or after an interview with someone famous, so the book is a diary, in a way. After the opening of Marina Abramovic's exhibition in Vienna, she had a dinner and sat at the head of a table like Jesus, while fans stood around and photographed her eating, which was strange - the fame machine never sleeps. When I met the celebrity photographer Mario Testino, his PR told me "no selfies" but I took one anyway with the artist and got yelled at. Meanwhile, during our interview, Testino said it's okay to break the rules.
Yes, there will be many sequels of The Celebrity Interview Book, this is just the first volume. I'm working on the second volume right now and I have plans to keep going until I stop, which is probably when I die.
Any advice for those wishing to do what you do?
You're not ever going to be an overnight success, so what looks like someone's "big break" was probably 15 years of work, or more. But take your chances and be willing to think on your feet. The most valuable resource in life is not money, it's time. Don't waste it.
Popular in the Community